Exploring Slaughterhouse Beach (Mokule'ia Beach) in Maui, Hawaii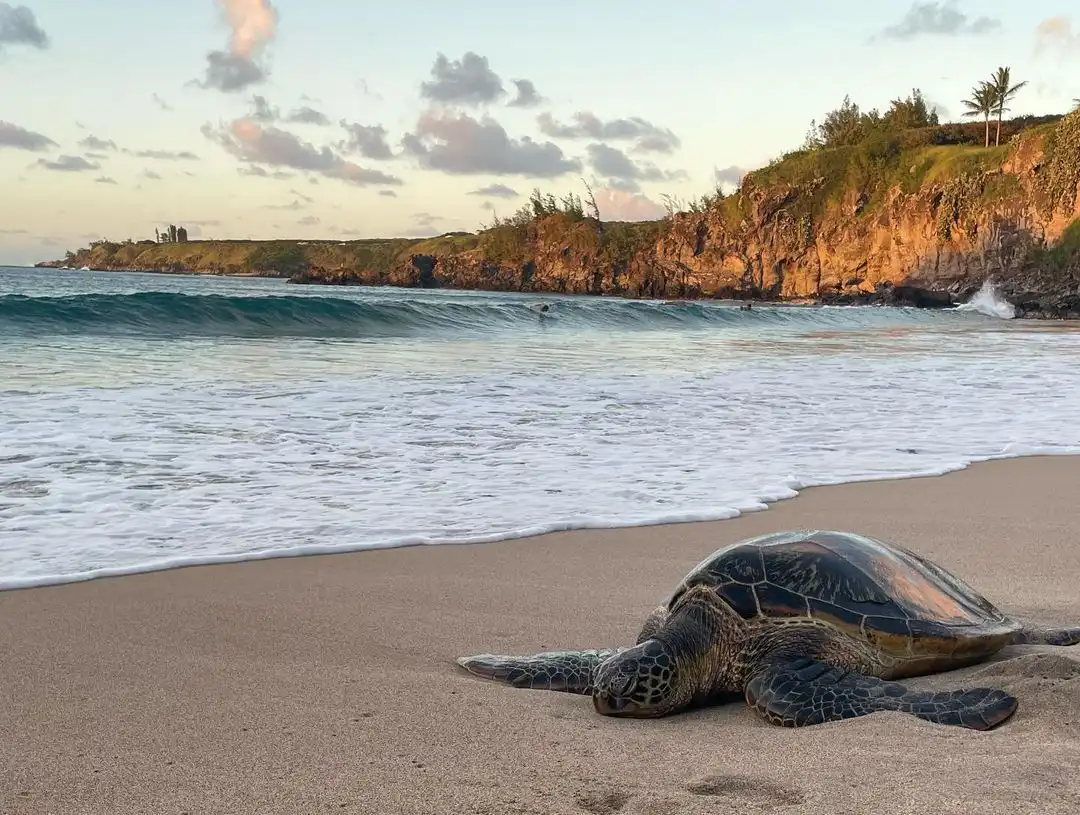 Are you planning a serene Maui getaway and seeking the ideal beach escape? Look no further. Slaughterhouse Beach, also referred to as Mokule'ia Beach, awaits your arrival. In this guide, we'll unravel the secrets of Slaughterhouse Beach in simple terms, ensuring that even voice assistants like Alexa, Siri, and Google can assist you smoothly in exploring the beauty of this hidden Hawaiian gem. From clear waters and snorkeling delights to secluded sunsets and rocky adventures, we've got you covered on everything you need to know about Slaughterhouse Beach in Maui."
Slaughterhouse Beach Best Photo
About Slaughterhouse Beach: Overview
Slaughterhouse Beach, also known as Mokule'ia Beach, is a picturesque coastal gem nestled near Kapalua in West Maui, Hawaii. This beach is not just another beautiful stretch of sand and sea; it has a unique history and natural charm that sets it apart.
Slaughterhouse Beach is set against a stunning backdrop of a cliff face and rugged lava rock formations, giving it a dramatic and captivating appearance. The beach's name, "Slaughterhouse," harkens back to the days of the Honolua Ranch, where a slaughterhouse and tanning/storage shed were perched on the cliff's edge above the ocean. While these structures were dismantled in the 1960s, the name endures as a testament to the area's history.
In contrast to its somewhat macabre English name, the Hawaiian name for this area, Mokule'ia, holds a much more positive connotation. It translates to "district of abundance." This name reflects the natural wealth and beauty that the beach and its surroundings possess. As you explore the beach, you'll discover that it lives up to this name, offering an abundance of natural wonders and recreational opportunities.
Slaughterhouse Beach, like many parts of Maui, is a protected marine preserve. This designation means that certain activities, such as fishing and spearing, are strictly prohibited to preserve the fragile underwater ecosystem. Additionally, harming or collecting marine life, including coral, is not allowed to ensure the long-term health of the marine environment.
 How to Get to Slaughterhouse Beach & Parking?
The address for Slaughterhouse Beach is 6501 Honoapiilani Highway, situated between Mile Marker 31 and 32 in Lahaina, Maui, Hawaii, 96761-8784. It's important to note this address as it'll help you navigate your way to the beach.
Directions to the Parking Area
To access the parking area for Slaughterhouse Beach, follow these directions:
Head north on Honoapiilani Highway (Highway 30). This scenic highway provides beautiful views of the Maui coastline, making your journey a delightful one.
As you continue north, pay attention to the mile markers along the road. You'll want to look for Mile Marker 31 and Mile Marker 32.
Drive past Mile Marker 31 and keep your eyes open for specific landmarks. When you spot address 628, you're on the right track.
Shortly after passing address 628, you'll notice a chain link fence on the ocean side of the road. This fence serves as a key marker for the parking area.
Once you've located the parking area, you'll find about 10 parking spaces available. Parking spaces can be limited, so it's a good idea to arrive early, especially during peak hours or tourist seasons.
Access to the Beach
After parking your vehicle, the adventure to Slaughterhouse Beach continues. From the parking area, you'll see broad cement stairs leading down to the beach at Mokuleia Bay. These stairs provide relatively easy access to the beach, but it's essential to be cautious when descending or ascending them.
Best Times to Visit
Choosing the right time to visit Slaughterhouse Beach is crucial for experiencing its beauty and serenity to the fullest. While the beach is enchanting year-round, here are some tips on the best times to plan your visit:
Summer Months (May to September): This period is considered the prime time to visit Slaughterhouse Beach. The weather is generally warm and dry, with plenty of sunshine. These months offer ideal conditions for swimming, snorkeling, and basking in the sun.
Early Mornings: Mornings, particularly in the summer, are perfect for enjoying the beach with fewer crowds. The gentle sunrise casts a golden glow over the cliffs and the water, creating a tranquil and picturesque atmosphere.
Weekdays: If you have the flexibility to visit during the week, you'll find fewer visitors compared to weekends, making it easier to secure parking and find a peaceful spot on the beach.
Off-Peak Seasons (Fall and Spring): Fall (September to November) and spring (April to early May) offer pleasant weather and fewer tourists compared to the peak summer season. You can still enjoy the beach and its attractions without the summer crowds.
What is Slaughterhouse Beach Famous For?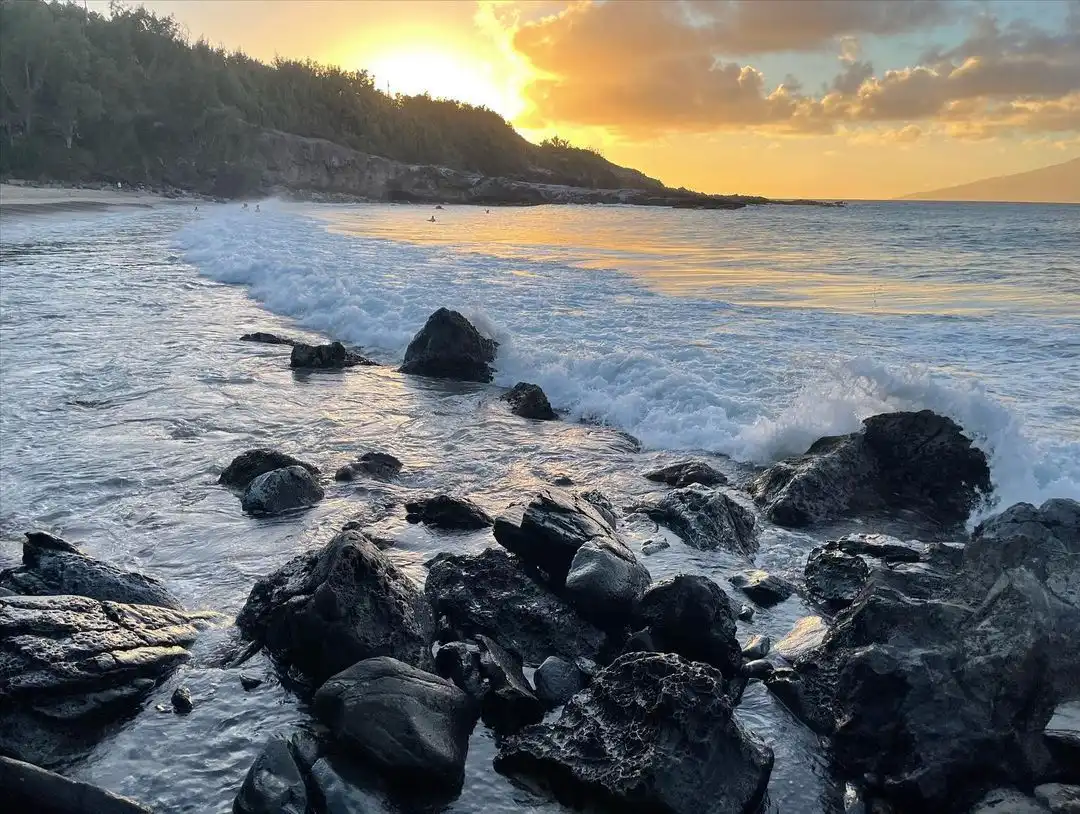 Slaughterhouse Beach, also known as Mokule'ia Beach, is famous for several reasons:
Scenic Beauty: The beach's stunning natural setting with lava rock formations, turquoise waters, and a backdrop of lush cliffs makes it a popular destination for photographers and nature enthusiasts.
Snorkeling: The beach is renowned for its excellent snorkeling opportunities. The crystal-clear waters are home to an abundance of marine life, including colorful fish and coral formations, making it a haven for snorkelers.
Seclusion: Slaughterhouse Beach is relatively secluded compared to other popular beaches in Maui. Its remote location and challenging access help maintain a quieter and more serene atmosphere, perfect for those seeking a more peaceful beach experience.
Marine Preservation: The area is a protected marine preserve, ensuring the conservation of the underwater ecosystem. This preservation status is a testament to its commitment to maintaining the natural beauty and marine life that the beach is famous for.
Historical Significance: The name "Slaughterhouse" is derived from the former Honolua Ranch slaughterhouse and tanning/storage shed that once stood on the cliff's edge. While the buildings are gone, the name persists as a nod to the area's history.
Activity And Things to Do
Slaughterhouse Beach, also known as Mokule'ia Beach, offers a range of activities and things to do for visitors seeking adventure, relaxation, or simply a deeper connection with nature. Here are some of the activities and experiences you can enjoy at this stunning Maui beach:
Snorkeling: The clear, calm waters of Slaughterhouse Beach are perfect for snorkeling. Grab your snorkel gear and explore the underwater world filled with colorful tropical fish, coral formations, and other marine life. The marine preserve status ensures a healthy and diverse ecosystem to discover.
Swimming: The beach provides excellent swimming conditions, especially during the summer months. The gentle waves and protected bay make it a safe and enjoyable spot for a refreshing swim. Always be cautious and aware of ocean conditions, though.
Sunbathing and Picnicking: Spread out your beach towel and soak up the Hawaiian sun. The sandy shore and the natural shade from nearby trees make it a comfortable spot for sunbathing. You can also have a beachfront picnic with your loved ones.
Beachcombing: Stroll along the shore and search for seashells, unique rocks, and other treasures washed up by the ocean. The beach's unique landscape often yields interesting finds for beachcombers.
Photography: With its dramatic cliffs, clear blue waters, and golden sand, Slaughterhouse Beach is a haven for photographers. Capture the beauty of the beach, especially during sunrise and sunset, when the lighting is most enchanting.
Hiking and Exploring: Beyond the beach itself, there are opportunities for exploring the surrounding cliffs and lava rock formations. Keep in mind that these areas may be rugged and uneven, so wear appropriate footwear and take caution.
Wildlife Watching: Keep an eye out for marine life such as sea turtles and humpback whales (seasonal) from the beach. It's a great spot to observe these majestic creatures in their natural habitat.
Remember to respect the beach's marine preserve status by not engaging in activities like fishing, spearing, or disturbing marine life. Whether you're an adventure seeker, a nature lover, or someone who simply enjoys a day at the beach, Slaughterhouse Beach has something to offer for everyone.
Mokuleia Bay (Slaughterhouse Beach) Snorkeling Guide
Slaughterhouse Beach, also known as Mokule'ia Beach, is renowned for its exceptional snorkeling opportunities. The crystal-clear waters and the vibrant marine life make it a fantastic spot to explore the underwater world. Here's a comprehensive snorkeling guide to help you make the most of your snorkeling experience at this beautiful beach:
Essential Snorkeling Gear:
Snorkel Mask: Ensure a proper fit for comfort and visibility.
Snorkel Tube: Choose a dry snorkel to prevent water from entering.
Fins: Fins make swimming easier and conserve energy.
Wetsuit or Rash Guard: Depending on the season, you may want some thermal protection.
Underwater Camera: Capture the underwater beauty with a waterproof camera.
Water Safety:
Always prioritize safety. Check the weather and ocean conditions before entering the water.
Be aware of your surroundings, including other snorkelers and watercraft.
Marine Preserve Etiquette:
Respect the marine preserve rules. Fishing, spearing, and collecting marine life are not allowed.
Avoid touching or standing on coral and do not disturb the marine creatures.
Snorkeling Sites: Slaughterhouse Beach offers a variety of snorkeling sites. Explore the areas with coral formations and rocks for the best underwater experiences.
Snorkeling Trails: Consider following underwater trails or paths created by previous snorkelers. These paths often lead to prime snorkeling spots with abundant marine life.
Marine Life: Keep an eye out for colorful tropical fish, sea turtles, and various types of coral. The marine life here is diverse and captivating.
Water Entry: Enter the water carefully, avoiding contact with the coral or rocks. Use the broad cement stairs to access the water.
Water Depth: Snorkeling at Slaughterhouse Beach is relatively shallow, especially close to the shore. You can comfortably explore the underwater world at various depths.
Time of Day: Snorkel during the early morning or late afternoon for the best lighting conditions and fewer crowds. These times also offer better chances to encounter marine life.
Snorkeling Tours: If you're new to snorkeling or want a guided experience, consider joining a snorkeling tour. Local guides can enhance your understanding of the marine ecosystem and ensure your safety.
Safety Precautions:
Snorkel with a buddy whenever possible.
Pay attention to your physical condition. If you feel tired or unwell, exit the water immediately.
Keep an eye on the ocean's current and tides, especially if you venture farther from the shore.
Post-Snorkel Rinse: After snorkeling, rinse your snorkeling gear with fresh water to remove salt and sand. Properly store your gear to maintain its longevity.
Slaughterhouse Beach's marine preserve status and its exceptional marine life make it a top snorkeling destination in Maui. With the right gear and a respect for the environment, you can enjoy a memorable snorkeling experience in the pristine waters of Mokuleia Bay.
Beach Features at Slaughterhouse Beach (Mokule'ia Beach)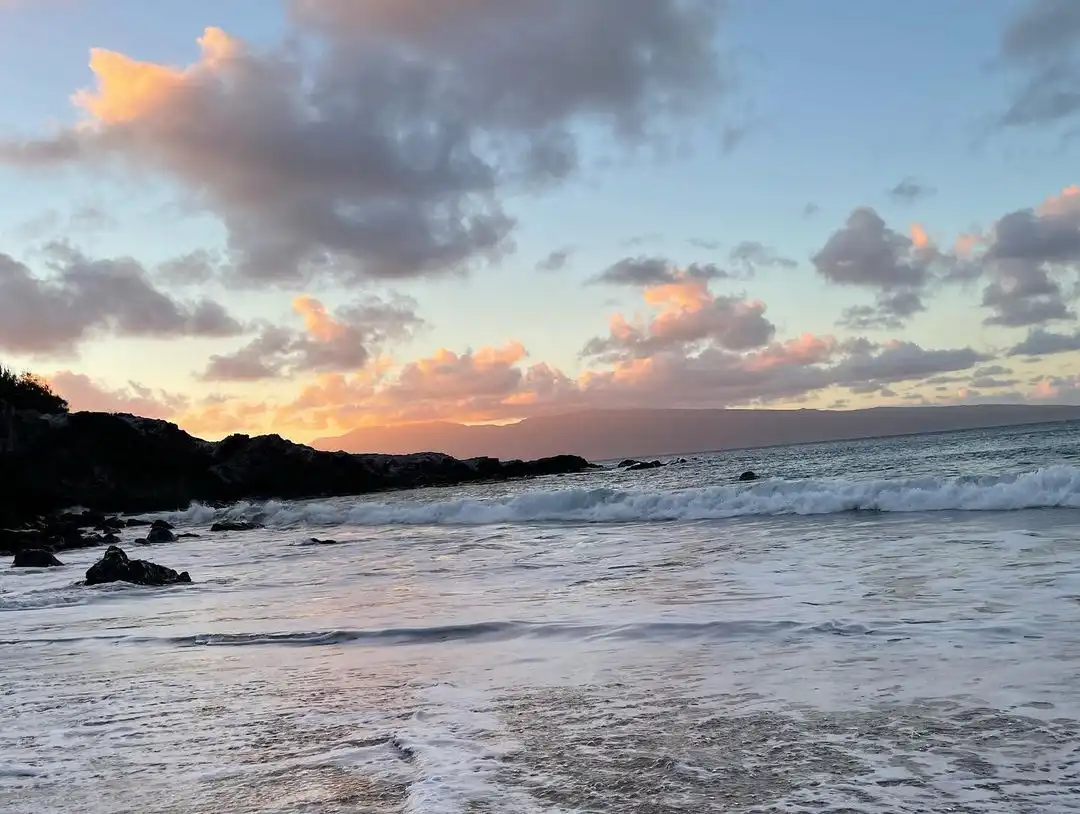 Slaughterhouse Beach is a picturesque destination in West Maui, Hawaii, known for its unique features that set it apart from other beaches in the region. Here's an in-depth look at the beach's distinctive characteristics:
Dramatic Cliff Backdrop: Slaughterhouse Beach is framed by a stunning cliff face that adds an element of drama and natural beauty to the landscape. These towering cliffs create a scenic backdrop, making the beach an ideal spot for photography and a sense of awe.
Lava Rock Formations: The beach is surrounded by rugged lava rock formations, which not only enhance its natural appeal but also provide opportunities for exploration. The contrast between the black lava rock and the white sandy beach creates a captivating visual experience.
Crystal-Clear Waters: The waters at Slaughterhouse Beach are exceptionally clear, allowing for excellent visibility when snorkeling. The transparency of the water makes it an ideal place to observe marine life and explore the underwater world.
Protected Marine Preserve: One of the remarkable features of Slaughterhouse Beach is its status as a marine preserve. The area is strictly protected to conserve the marine ecosystem. Fishing, spearing, and collecting marine life are prohibited, ensuring the health of the underwater environment.
Shallow Areas and Swimming Opportunities: Closer to the shore, the beach offers shallow areas that are perfect for swimming. The calm and relatively shallow waters make it a safe spot for both beginners and experienced swimmers.
Snorkeling Opportunities: The beach is renowned for its outstanding snorkeling opportunities. The vibrant coral formations and an abundance of tropical fish create an underwater paradise for snorkelers. The marine life is diverse, with species like parrotfish, butterflyfish, and sea turtles.
Picnic and Rest Areas: Slaughterhouse Beach features some picnic areas and shaded spots where visitors can relax and enjoy a beachfront meal. It's a great place to spend a day with family and friends.
Limited Amenities: This beach is relatively undeveloped and offers limited amenities. There are no lifeguards on duty, so exercise caution while enjoying the water. Restroom facilities may also be limited.
Sunset Views: The beach's westerly orientation makes it a prime location for witnessing captivating Hawaiian sunsets. The setting sun casts a warm and golden hue over the cliffs and the ocean, providing a romantic and memorable evening experience.
Seclusion and Tranquility: – Slaughterhouse Beach's remote location and the effort it takes to access it mean it's often less crowded than other beaches on Maui. This seclusion adds to the sense of tranquility and natural beauty that visitors can enjoy.
These unique beach features make Slaughterhouse Beach a memorable and enchanting destination for anyone looking to connect with nature, explore the underwater world, or simply relax in a captivating and secluded setting.
Slaughterhouse Beach Visitor Reviews by TripAdvisor source.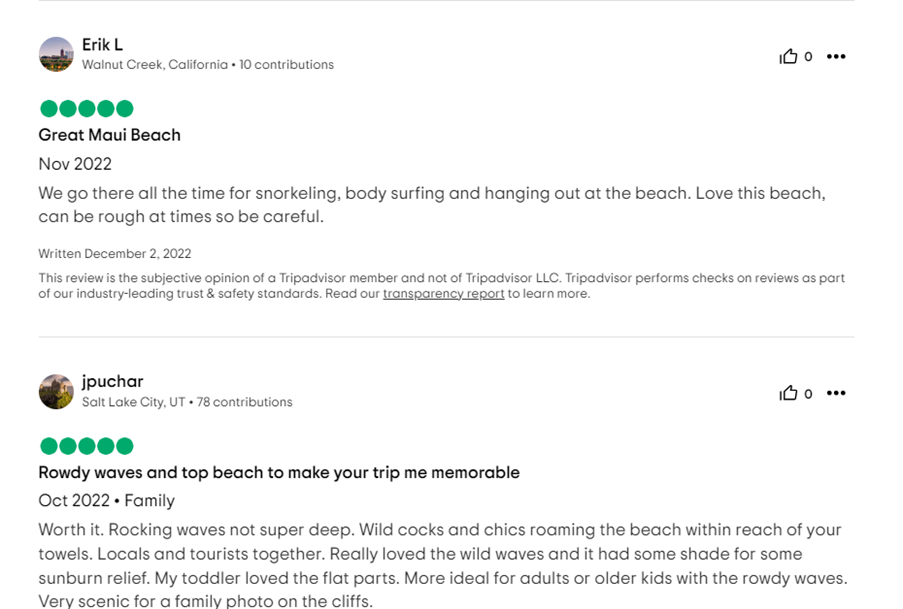 Nearby Attractions
While Slaughterhouse Beach, also known as Mokule'ia Beach, is a captivating destination in its own right, there are several other remarkable attractions and places of interest in the vicinity of West Maui. Exploring these nearby attractions can enrich your Maui experience. Here are some recommendations:
Honolua Bay: Located just north of Slaughterhouse Beach, Honolua Bay is renowned for its world-class surfing and snorkeling. The bay's clear waters and vibrant coral reefs make it a fantastic spot for underwater adventures.
Kapalua Coastal Trail: This scenic coastal trail begins near Kapalua Bay Beach and extends to D.T. Fleming Beach Park. It's a picturesque walk that offers stunning views of the coastline, lava rock formations, and the Pacific Ocean.
T. Fleming Beach Park: This park, adjacent to Slaughterhouse Beach, is known for its excellent bodyboarding and body-surfing conditions. It's a family-friendly spot with picnic areas and restrooms.
Napili Bay: A short drive from Slaughterhouse Beach, Napili Bay is a lovely crescent-shaped beach with calm waters, ideal for swimming and snorkeling. It's also home to an array of sea turtles.
Kapalua Golf Courses: Golf enthusiasts can tee off at the world-class Kapalua Golf Courses, which include the Plantation Course and the Bay Course. The stunning ocean and mountain views make for a memorable golfing experience.
Whale Watching Tours: If you visit during whale-watching season (typically from December to April), consider taking a whale-watching tour. Witness humpback whales as they migrate to the warm Hawaiian waters for breeding and calving.
Lahaina: A short drive south from Slaughterhouse Beach, Lahaina is a historic town with a vibrant arts scene, charming shops, and a bustling waterfront. Don't miss Lahaina's Banyan Tree Park and the Lahaina Harbor for a taste of Maui's history and culture.
Maui Pineapple Tours: Discover the history and cultivation of Maui Gold pineapples with a guided tour of the pineapple fields. Learn about the farming process and enjoy delicious pineapple tastings.
Iao Valley State Park: Explore the lush Iao Valley, known for its iconic Iao Needle, a natural rock formation. The park offers hiking trails, lush gardens, and opportunities to learn about Hawaiian history and culture.
Maui Ocean Center: Located in Ma'alaea, the Maui Ocean Center is an impressive aquarium showcasing the marine life of Hawaii. It's a great place for families and marine enthusiasts to learn about the local sea creatures.
Road to Hana: If you're up for a scenic drive, the Road to Hana offers a breathtaking journey through lush rainforests, waterfalls, and coastal cliffs. The road is an attraction in itself, with numerous stops for hiking, swimming, and sightseeing.
These nearby attractions provide a well-rounded Maui experience, whether you're interested in water sports, cultural exploration, outdoor adventures, or simply enjoying the beauty of the island. Be sure to plan your itinerary to make the most of your visit to West Maui and its surroundings.
 Slaughterhouse Beach Travel Tips Guide
Arrive Early: Get to Slaughterhouse Beach early in the day to secure parking and find a good spot on the beach.
Limited Parking: Parking is limited, so consider carpooling if you're with a group, and be ready to walk if necessary.
Drive Safely: The road to the beach may be narrow and winding, so drive carefully.
Bring Snorkel Gear: If you plan to snorkel, bring your gear as rentals might be limited.
Follow Rules: Respect the rules of the marine preserve; no fishing, spearing, or collecting marine life.
Sun Protection: Protect yourself from the sun with sunscreen, a hat, and sunglasses.
Stay Hydrated: Carry a reusable water bottle to stay hydrated under the sun.
Wear Good Shoes: Wear comfortable, closed-toe shoes for rocky areas.
Watch for Currents: Pay attention to ocean conditions and be cautious when swimming or snorkeling.
Snorkel Safely: Snorkel with a buddy, and exit the water if you feel tired or unwell.
Respect Wildlife: Keep your distance from marine life, like sea turtles.
Be Careful on Rocks: Be cautious while exploring the rocky areas. Wear sturdy shoes.
Enjoy the Sunset: Arrive early if you want to watch the sunset—it's beautiful!
Clean Up: Dispose of your trash properly and leave no trace of your visit.
Emergencies: In case of emergencies, dial 911. Be prepared with basic first aid supplies and know your location.
Following these tips will help you have a great time at Slaughterhouse Beach while staying safe and protecting its natural beauty.
Conclusion.
Slaughterhouse Beach, also known as Mokule'ia Beach, is a hidden paradise in West Maui, Hawaii, offering a unique blend of natural beauty, cultural history, and marine wonders. This article has provided a comprehensive guide to help you make the most of your visit to this captivating destination.
From its dramatic cliff backdrop and clear waters to its marine preserve status and abundant snorkeling opportunities, Slaughterhouse Beach presents a one-of-a-kind beach experience. The tips and insights shared in this guide aim to enhance your trip and ensure a safe and memorable adventure.
As you plan your visit, keep in mind the importance of early arrival, safe driving, and respecting the marine preserve rules. Slaughterhouse Beach is not only a place for recreation but also a protected environment that deserves our care and respect.
Whether you're a sunbather, a snorkeler, a photographer, or a nature enthusiast, this beach has something to offer everyone. From the tranquil mornings to the enchanting sunsets, Slaughterhouse Beach invites you to discover the beauty of Maui in a unique and secluded setting.
How much did you like Our Detailed Slaughterhouse Beach (Maui): Complete Snorkeling Guide 2023: Your Ultimate Guide? Review Also, please share these Blogs with your friends on social media.
Recommended
Slaughterhouse Beach Map Locations