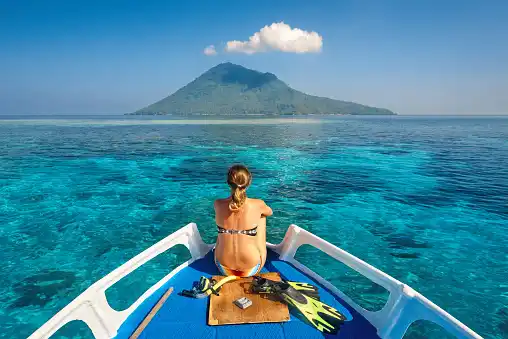 The Top 10 Reasons to Visit Bunaken Island, Indonesia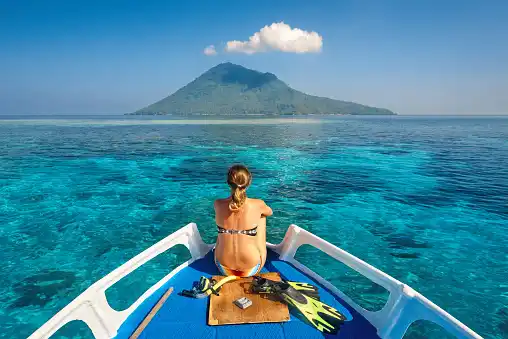 Bunaken Island is one of those places that everyone should visit at least once in their lifetime. It's a place of unparalleled natural beauty, where you can find some of the best scuba diving in the world. Here are 10 reasons why you should add Bunaken Island to your travel bucket list.
Location of Bunaken Island, Indonesia
Bunaken Island is a world-renowned diving destination, located in the West Pacific Ocean at the northern tip of Sulawesi in Indonesia. With crystal clear water and an abundance of marine life, it's no wonder that Bunaken is one of the most popular places to go diving.
Best Way to Reach Bunaken Island, Indonesia
The best way to reach Bunaken Island is by flying into the Sam Ratulangi International Airport in Manado, Indonesia. From there, you can take a taxi or rent a car to the port city of Bitung. Once in Bitung, you will need to take a ferry to reach Bunaken Island.
The journey takes approximately 90 minutes and runs several times per day. Tickets can be purchased at the port. When planning your trip, keep in mind that Bunaken Island is a popular destination, so it is advisable to book your accommodation and ferry tickets in advance.
The best time to visit
April to November.
Many people believe that the best time to visit Bunaken Island is during the dry season, which runs from April to November. The water is crystal clear during this time of year, and visibility can reach up to 100 feet.
This makes it ideal for both diving and snorkeling. In addition, the dry season is also the best time to see turtles laying their eggs on the beaches.
If you're interested in seeing turtles hatching, however, you'll need to visit between January and March. While Bunaken Island is beautiful at any time of year, these are some of the best times to plan your trip.
Also, Read- Top places to visit in Indonesia
The Top 10 Reasons to Visit Bunaken Island, Indonesia
Scuba Diving is world-class – Bunaken Island should be at the top of your must-visit list if you're a certified scuba diver. The island is encircled by a crystal-clear lagoon with a thriving coral reef system that is teeming with marine life. There are over 70 different types of hard coral and over 500 species of fish that call Bunaken home.
It's an easy place to relax – There are no cars on the island and the pace of life is slow and relaxed. One of the best ways to spend your days on Bunaken is simply lounging on the beach with a good book and soaking up the sun.
Rich marine life- Bunaken Island is home to over 3,000 species of fish and 700 species of coral. It's a veritable paradise for scuba divers and snorkelers.
It's a foodie paradise – beings surrounded by water, it's no surprise that seafood is plentiful on Bunaken Island. You'll find everything from freshly caught fish grilled over an open flame to more elaborate seafood dishes like lobster thermidor and crab curry. And if you're not a fan of seafood, don't worry – there are plenty of other delicious Indonesian dishes to choose from as well.
Exciting nightlife– If you're looking for a place to let loose and have a good time, look no further than Bunaken Island. There are plenty of bars and clubs to keep you entertained into the wee hours of the morning.
Accommodation options to suit every budget – Whether you're looking for a basic bungalow or a luxurious villa, there's an accommodation option on Bunaken Island to suit your needs and budget.
Stunning scenery everywhere you look – Bunaken Island is undeniably beautiful from the soaring limestone cliffs that dot the coastline to the gorgeous sandy beaches flanked by palm trees. It's also an excellent place for hiking and photography enthusiasts.
Warm weather all year round – With average temperatures ranging from 26-30 degrees Celsius, Bunaken enjoys warm weather all year round, making it the perfect place to escape the cold winters back home.
A wide variety of things to do – In addition to scuba diving and lounging on the beach, there are plenty of other activities to keep you busy on Bunaken Island including snorkeling, stand-up paddle boarding, kayaking, hikes, and jungle treks.
Friendly locals-The people of Bunaken Island are some of the warmest and most welcoming people you'll ever meet. They're always happy to help visitors enjoy their stay on the island.
If You are planning to visit Indonesia and looking for the best flight booking from your destination to indonesia then, So we recommend you book your flight with Singapore Airlines or Malaysia airlines
Things to Avoid
You should avoid some things if you want to enjoy your time on Bunaken Island in Indonesia.
First, avoid the temptation to spend all your time in the water. Although snorkeling and diving are great, there is much more to see and do on the island. Take some time to explore the hiking trails, visit the local markets, and meet the friendly locals.
Secondly, avoid staying up late and partying every night. Although Bunaken is known for its nightlife, getting a good night's sleep is essential so you can enjoy all the activities the island has to offer during the day.
Finally, avoid overpacking. Remember that you'll likely be spending a lot of time in swimwear, so there's no need to bring a lot of clothes.
By following these simple tips, you can ensure you have a great experience on Bunaken Island.
If you are looking to book budget-friendly hotels, resorts, Airport Taxis, cars, etc. So, we recommend you book your stay from Booking.com you will get plenty of deals along with verified hotels and a homestay.
If You are looking for a luxury experience with family, then we recommend you book your luxury stay with Radisson Hotels.
Conclusion.
There are so many reasons to visit Bunaken Island, Indonesia! Whether you're looking to dive or snorkel in world-class conditions, take a boat tour to spot dolphins and turtles, hike through dense jungle vegetation, relax on a white sand beach, or eat fresh seafood, Bunaken Island has it all. You can also shop for souvenirs, learn about the local culture, and stay in a resort with stunning views of the oceanfront scenery.
How much did you like Our detailed The Top 10 Reasons to Visit Bunaken Island, Indonesia blogs? Please share your view in the comment box. Also, please share this Blogs with your friends on social media.
Recommended