Cicada Market (Best Night Market) in Nong Kae, Hua Hin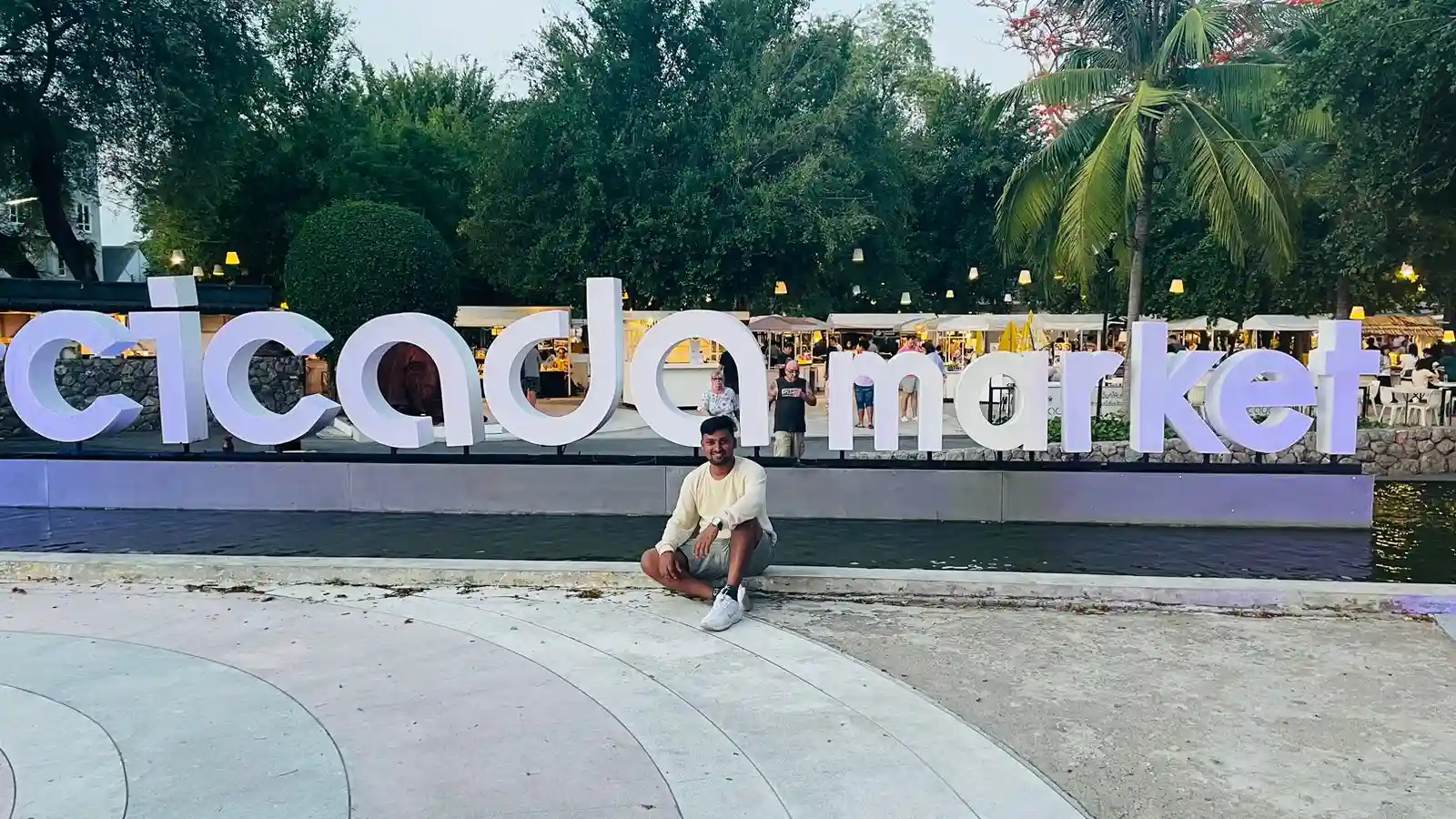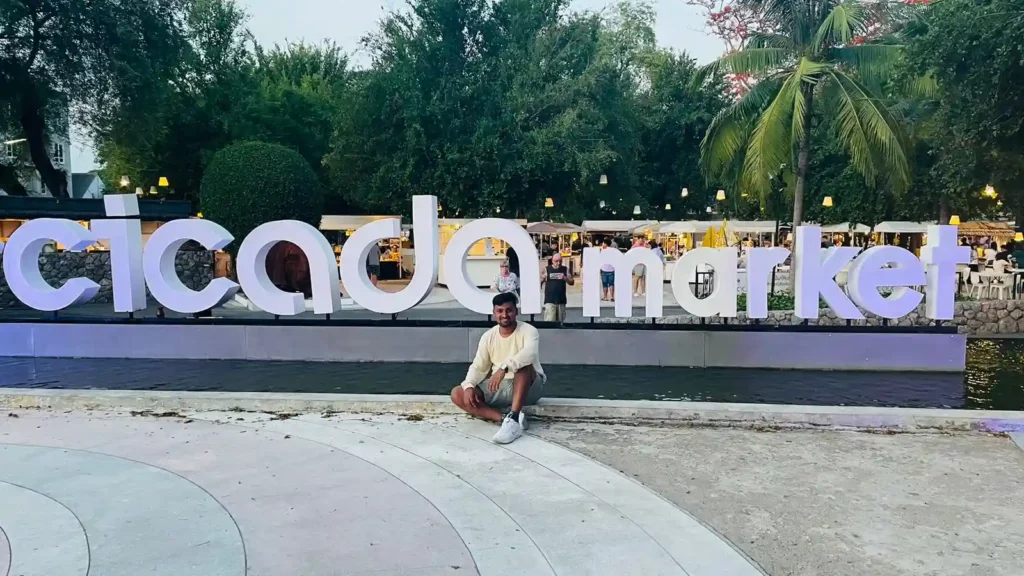 Welcome to the captivating world of the Cicada Market, the best night market in Nong Kae, Hua Hin. Immerse yourself in a vibrant tapestry of art, culture, and gastronomy as you explore this enchanting marketplace. With its pulsating atmosphere, diverse offerings, and lively entertainment, the Cicada Market is a must-visit destination for locals and tourists alike.
In this article, we will delve into the wonders of the Cicada Market, uncovering its vibrant ambiance, artistic highlights, delectable cuisines, and family-friendly atmosphere. Discover why this market stands out as the top choice for those seeking an immersive night market experience in Nong Kae, Hua Hin.
Location and Opening Hours
The Cicada Market is situated in Nong Kae, a charming district in Hua Hin, Thailand. It is conveniently located just a short distance from the city center, making it easily accessible for visitors.
| | |
| --- | --- |
| Day | Operating Hours |
| Wednesday | Closed |
| Thursday | Closed |
| Friday | 4–11 pm |
| Saturday | 4–11 pm |
| Sunday | 4–11 pm |
| Monday | Closed |
| Tuesday | Closed |
Please note that the market is closed on Wednesdays, Thursdays, Mondays, and Tuesdays. On Fridays, Saturdays, and Sundays, the market operates from 4:00 pm until 11:00 pm.
These hours may be subject to change, so it's always a good idea to check for any updates or specific announcements regarding the operating hours of the Cicada Market.
How to Reach Cicada Market
To Reach the vibrant Cicada Market in Nong Kae, Hua Hin, you can follow these directions:
Address: 83 159 ซอย หัวถนน 21 Nong Kae, Hua Hin District, Prachuap Khiri Khan 77110, Thailand
If you are traveling by car or taxi, you can input the address into your GPS or navigation system for precise directions. The market is conveniently located in Nong Kae, which is just a short distance from the city center of Hua Hin.
If you prefer public transportation, you have a few options. Taxis and tuk-tuks are readily available in Hua Hin and can take you directly to the Cicada Market. Make sure to negotiate the fare or request the meter to be turned on before starting the journey.
Additionally, you can inquire about local bus services that operate in the area. These buses often have designated stops near the market, allowing for easy access.
If You are planning your next travel vacation and looking for the best flight deals from your destination. So, we recommend you book a flight from expedia.com. 
Also, if you are looking best hotels and Homestay deals then we recommended booking your hotels and homestay with  hotels.com
What is Cicada Market Famous For?
The Cicada Market in Nong Kae, Hua Hin is famous for its vibrant art scene, delectable street food, and lively atmosphere. It is renowned for its diverse range of art galleries showcasing local talent, as well as its open-air market filled with delicious food stalls offering a variety of culinary delights.
Additionally, the market is known for its live performances, workshops, and cultural events that create an engaging and immersive experience for visitors.
Activity and Things to Do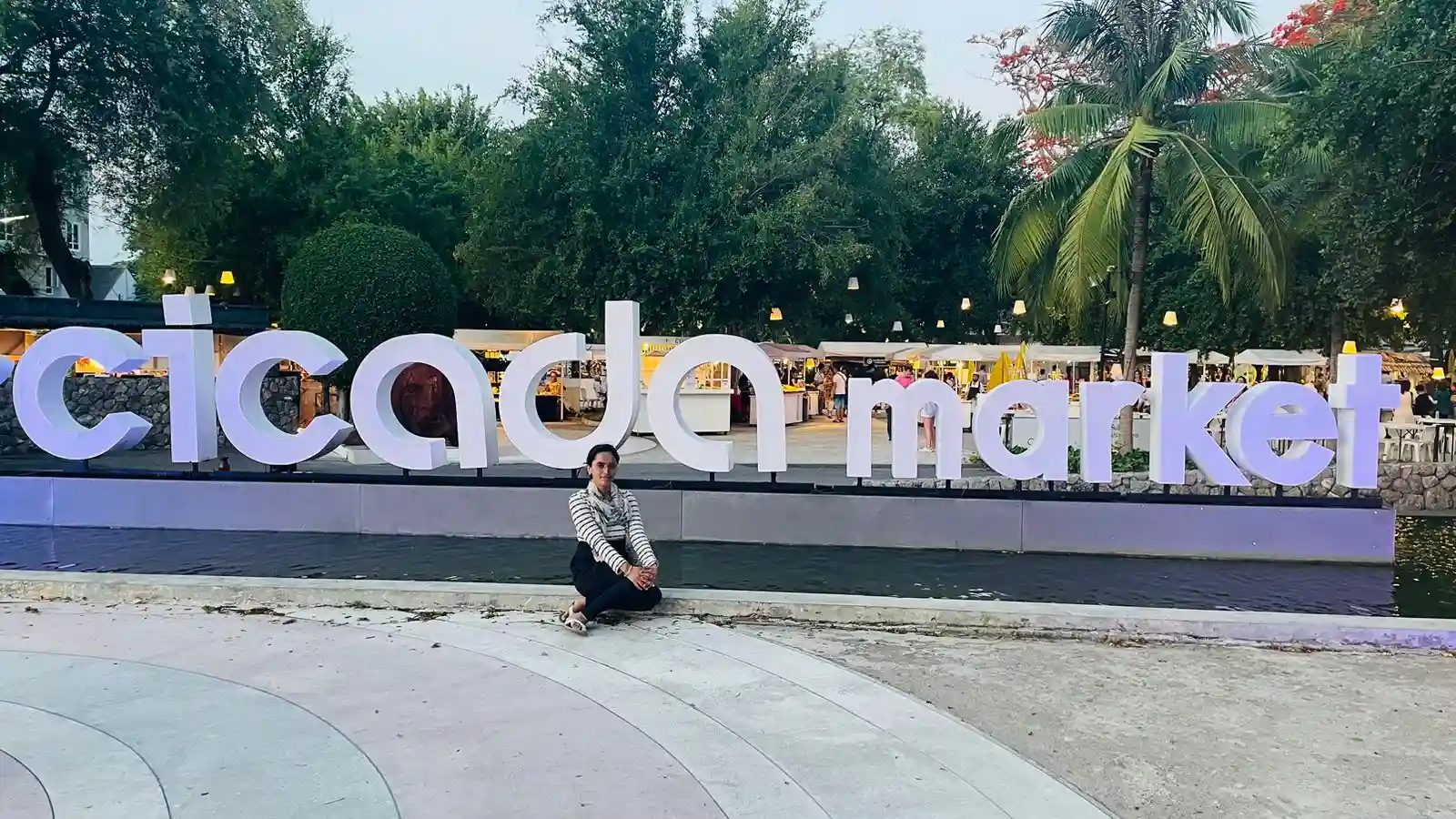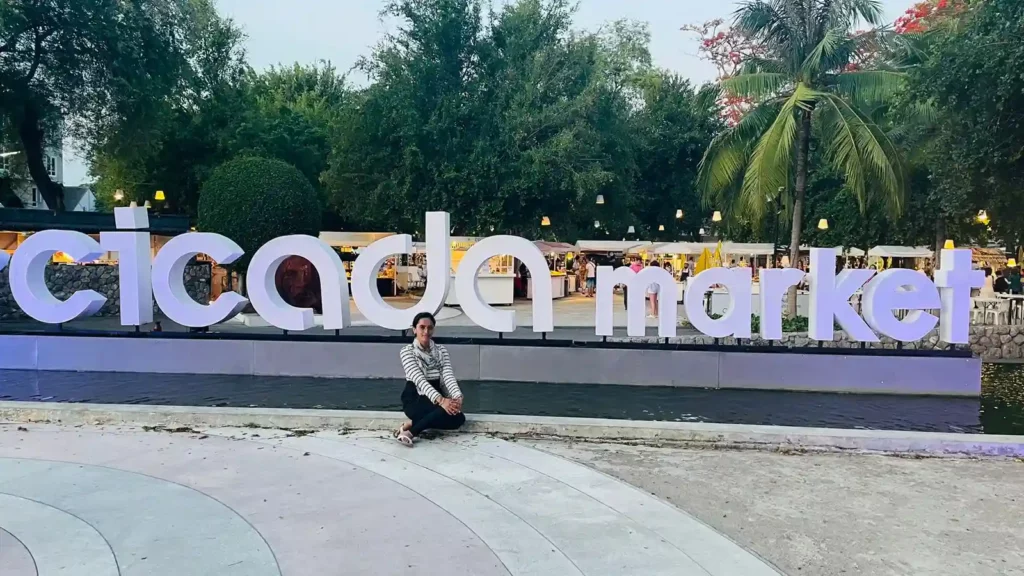 When visiting the Cicada Market in Nong Kae, Hua Hin, there are plenty of exciting things to do to make the most of your experience. Here are some suggestions for activities to engage in during your visit:
Vibrant Atmosphere and Cultural Experience
As you step into the Cicada Market, you will be immersed in a lively and energetic atmosphere. The market pulsates with creativity, showcasing the rich cultural heritage of Thailand. From traditional art and handicrafts to contemporary masterpieces, every corner of the market tells a unique story.
The vibrant colors, bustling crowds, and the melodic sound of live music create an ambiance that is truly unforgettable.
Artistic Highlights
Art enthusiasts will be delighted by the wide array of artistic highlights at the Cicada Market. The market is home to a diverse range of art galleries, showcasing the works of talented local artists.
Paintings, sculptures, ceramics, and photography exhibitions are just a few examples of the artistic wonders you can explore. Don't miss the chance to witness live art demonstrations and interact with the artists themselves.
Gastronomic Delights
Prepare your taste buds for a gastronomic adventure at the Cicada Market. The market is renowned for its delectable street food stalls and trendy eateries. From authentic Thai delicacies to international cuisines, there is something to satisfy every palate.
Indulge in mouthwatering dishes prepared with fresh ingredients and enjoy the unique blend of flavors that the market offers.
Shopping Extravaganza
Shopaholics will be in paradise at the Cicada Market. The market features a vast array of stalls and shops selling a wide range of products. From trendy fashion items and accessories to handmade crafts and souvenirs, you can find it all here. Support local artisans and take home unique mementos of your visit to the market.
Live Performances and Entertainment
Experience the vibrant energy of live performances and entertainment at the Cicada Market. Talented musicians, dancers, and performers take the stage, captivating the audience with their awe-inspiring acts.
Enjoy live music concerts, traditional Thai dance performances, and theatrical shows that add an extra touch of magic to your evening.
Family-Friendly Environment
The Cicada Market is a perfect destination for families. The market offers a safe and family-friendly environment, ensuring an enjoyable experience for visitors of all ages. Children can engage in creative activities such as art workshops and face painting, while parents explore the market's offerings.
The market also hosts special events and activities tailored for families, making it a memorable outing for everyone.
Sustainability Initiatives
The Cicada Market is committed to promoting sustainability and environmental consciousness. The market encourages the use of eco-friendly materials and practices among its vendors and visitors.
Recycling stations and waste management systems are in place to minimize the environmental impact. By supporting the Cicada Market, you contribute to the preservation of both culture and nature.
Nearby Attractions at Cicada Market
When visiting the Cicada Market in Nong Kae, Hua Hin, you'll have the opportunity to explore a variety of nearby attractions. Here is a step-by-step guide to discovering the enchanting destinations that surround the market:
Khao Takiab: Start your exploration by visiting Khao Takiab, a picturesque hill located just a short distance from the Cicada Market. Climb the hill and admire the stunning panoramic views of the Gulf of Thailand. Explore the iconic Wat Khao Takiab, a temple that houses a giant golden Buddha statue. Don't forget to interact with the friendly resident monkeys that inhabit the area.
Hua Hin Beach: From Khao Takiab, make your way to Hua Hin Beach, a pristine stretch of sandy shoreline. Take a leisurely stroll along the beach, feel the gentle breeze, and dip your toes in the crystal-clear waters. Relax under the shade of palm trees or indulge in various water sports activities, such as jet skiing or parasailing.
Hua Hin Night Market: Continue your adventure by heading to the Hua Hin Night Market, another popular market in the area. Open in the evenings, this market offers a vibrant atmosphere filled with food stalls, souvenir shops, and local vendors. Sample delicious street food, browse through an array of handicrafts, and embrace the lively ambiance of this bustling marketplace.
Wat Huay Mongkol: Next, visit Wat Huay Mongkol, a magnificent Buddhist temple situated approximately 15 kilometers from the Cicada Market. Marvel at the towering statue of Luang Phor Thuad, a revered monk, and explore the serene temple grounds. Take part in the ritual of offering lotus flowers and seek blessings for a prosperous journey.
Hua Hin Railway Station: Conclude your nearby attractions tour by visiting the historic Hua Hin Railway Station. Known for its iconic architecture, this railway station is one of the oldest in Thailand. Capture memorable photographs of the picturesque station building and witness the charm of its bygone era. Enjoy a leisurely walk around the station and soak in the nostalgic ambiance.
Safety and Security Measures
At the Cicada Market in Nong Kae, Hua Hin, the safety and security of visitors are of utmost importance. The market takes several measures to ensure a secure and enjoyable environment for everyone. Here are some safety and security measures implemented at the Cicada Market:
Security Personnel: Trained security personnel are present throughout the market area. They monitor the premises, maintain order, and provide assistance if needed. You can approach them if you have any concerns or require assistance during your visit.
Surveillance Systems: The market is equipped with surveillance cameras strategically placed to enhance security and deter any potential incidents. These cameras help monitor the surroundings and ensure the safety of visitors.
Well-Lit Environment: The market maintains proper lighting throughout its premises, including parking areas and walkways. Well-lit surroundings enhance visibility and contribute to a safer atmosphere during evening hours.
Emergency Exits and Evacuation Routes: The market has clearly marked emergency exits and evacuation routes to ensure a prompt and orderly response in case of emergencies. Familiarize yourself with these exits and routes upon arrival for your own safety.
First Aid Facilities: First aid facilities are available at designated locations within the market. Trained personnel can provide basic medical assistance if needed. In case of an emergency, inform market staff members or security personnel for immediate help.
Crowd Management: The market takes measures to manage crowds during peak hours or special events. This helps maintain a comfortable and secure environment for visitors. Follow any instructions given by market staff or security personnel to ensure a smooth flow of movement.
Personal Belongings: While the market strives to provide a secure environment, it's advisable to take precautions to safeguard your personal belongings. Keep an eye on your belongings at all times and avoid carrying excessive valuables. Use secure bags or backpacks and ensure that they are closed properly.
Awareness and Caution: Exercise general awareness and caution during your visit. Stay vigilant, especially in crowded areas, and report any suspicious activities or items to security personnel. It's always better to be proactive and help maintain a safe environment for everyone.
By following these safety and security measures, you can enjoy your time at the Cicada Market with peace of mind, knowing that your well-being is prioritized. Remember to be aware of your surroundings, take necessary precautions, and have a wonderful experience exploring the vibrant offerings of the market.
Tips for Visiting the Cicada Market
Arrive early to avoid crowds and find parking easily.
Wear comfortable shoes, as you will be doing a lot of walking.
Bring cash in small denominations for easier transactions.
Explore all sections of the market to discover hidden gems.
Engage with the artists and vendors to learn more about their creations.
Try the local street food for an authentic culinary experience.
Enjoy the live performances and immerse yourself in the cultural ambiance.
Take your time to soak in the vibrant atmosphere and embrace the artistic wonders.
Support sustainable practices by disposing of waste responsibly.
Capture memories through photographs but remember to respect the artists' copyrights.
Conclusion
the Cicada Market in Nong Kae, Hua Hin, stands as a vibrant and captivating destination that offers a remarkable night market experience. From its immersive art scene to its diverse culinary delights, the market truly has something for everyone. The lively atmosphere, live performances, and engaging workshops create an ambiance that is both culturally rich and entertaining.
Located in close proximity to various attractions such as Khao Takiab, Hua Hin Beach, Hua Hin Night Market, Wat Huay Mongkol, and the historic Hua Hin Railway Station, the Cicada Market serves as a hub for exploration and discovery. Visitors can easily access these nearby destinations, enhancing their overall experience in the area.
Safety and security measures are diligently implemented at the market to ensure the well-being of all visitors. Trained security personnel, surveillance systems, and well-lit surroundings contribute to a secure environment. Additionally, first aid facilities and clear emergency exits are in place to handle any unforeseen situations.
As you explore the market's art galleries, indulge in gastronomic delights, shop for unique souvenirs, and enjoy live performances, you'll find yourself immersed in the vibrant energy that the Cicada Market exudes. It's a place where art, culture, and community come together, creating an unforgettable experience.
Cicada Market Map Locations
How much did you like Our detailed Cicada Market (Best Night Market) in Nong Kae, Hua Hin? Review Also, please share these Blogs with your friends on social media.
Recommended
Cicada Market FAQ