Hua Hin Beach: Best & Clean Beach in Prachuap Khiri Khan, Thailand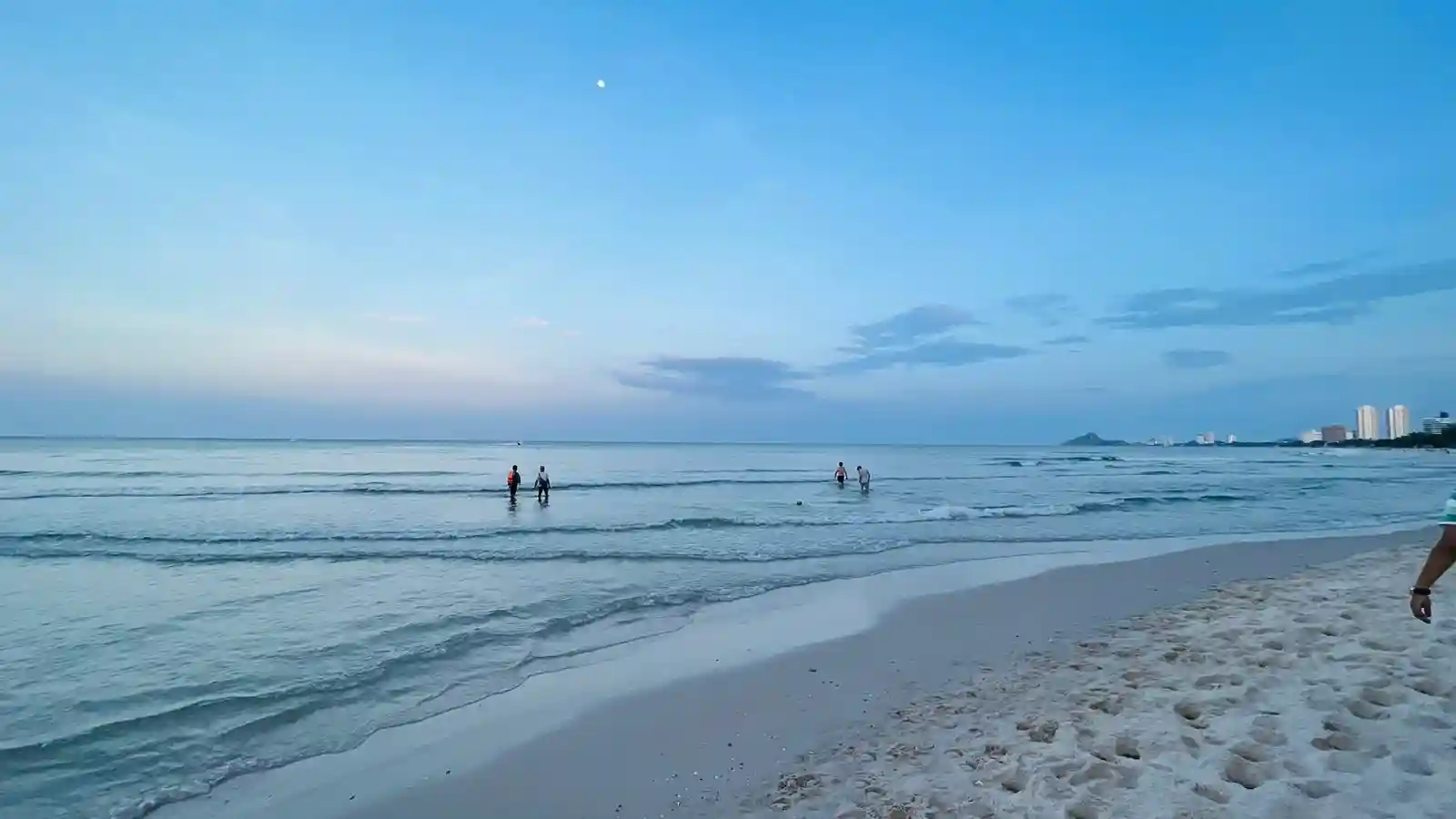 Welcome to Hua Hin Beach, the best and cleanest beach in Prachuap Khiri Khan, Thailand. Nestled along the breathtaking coastline of the Gulf of Thailand, Hua Hin Beach stands out as a true gem, offering an unparalleled beach experience.
With its pristine shores, crystal-clear waters, and a wide range of attractions, Hua Hin Beach has become a sought-after destination for travelers in search of natural beauty, relaxation, and adventure.
About Hua Hin Beach
 Hua Hin Beach, situated in Prachuap Khiri Khan. And it's a popular coastal destination known for its stunning beauty, serene atmosphere, and charming attractions. As one of the most beloved beaches in the region, Hua Hin Beach offers a memorable experience for both locals and tourists seeking a tranquil and picturesque getaway.
Located approximately 200 kilometers southwest of Bangkok, Hua Hin Beach stretches along the Gulf of Thailand for about five kilometers. Its soft, golden sands, gentle waves, and clear turquoise waters create an idyllic setting for relaxation and recreation. The beach's wide expanse provides ample space for visitors to bask in the sun, enjoy leisurely walks along the shoreline, or engage in various beach activities.
What sets Hua Hin Beach apart is its well-maintained and clean environment. The local authorities and community take great pride in preserving the beach's natural beauty. Regular cleaning efforts ensure that the sands remain pristine and free from litter, allowing visitors to fully appreciate the unspoiled coastline. Hua Hin Beach has earned a reputation for being one of the cleanest beaches in the region, making it a preferred destination for those who appreciate cleanliness and hygiene.
How to Reach Hua Hin Beach
Hua Hin Beach is located in Prachuap Khiri Khan, Thailand, to reach the reach you can use several modes of transportation options which are as follows.
Option 1: Tuk-Tuk
Step 1: Find a tuk-tuk stand or flag down a tuk-tuk on the street.
Step 2: Inform the tuk-tuk driver that you want to go to Hua Hin Beach.
Step 3: Negotiate the fare with the driver before starting the journey because the local drivers are very clever they seek an extra fare for travelers.
Step 4: Sit back and enjoy the ride as the tuk-tuk takes you to Hua Hin Beach. The driver will drop you off at a convenient location near the beach.
Option 2: Car
Step 1: If you have a car, ensure it is fueled up and in good condition for the journey.
Step 2: Set your navigation system or map to guide you to Hua Hin Beach.
Step 3: Follow the main roads and signs leading to Hua Hin.
Step 4: Drive towards Hua Hin Beach, and as you approach the area, look for signs indicating the beach or beachfront parking areas.
Step 5: Find a suitable parking spot near Hua Hin Beach and park your car.
Step 6: From the parking area, walk a short distance to reach the beach.
Option 3: Bus
Step 1: Find a bus station or bus stop in your current location.
Step 2: Check the bus schedules and routes to determine which bus will take you to Hua Hin Beach.
Step 3: Purchase a ticket for the appropriate bus heading towards Hua Hin.
Step 4: Board the bus and find a seat. If you have luggage, stow it in the designated storage area.
Step 5: Enjoy the journey as the bus takes you to Hua Hin.
Step 6: Once you arrive at Hua Hin, disembark at the nearest bus stop to Hua Hin Beach.
Step 7: Follow the signs or ask for directions to reach Hua Hin Beach, which should be within a short walking distance from the bus stop.
By following these step-by-step instructions, you can reach Hua Hin Beach comfortably and conveniently using a tuk-tuk, car, or bus.
If You are planning your next travel vacation and looking for the best flight deals from your destination. So, we recommend you book a flight from expedia.com. 
Also, if you are looking best hotels and Homestay deals then we recommended booking your hotels and homestay with  hotels.com
Best Time to Visit Hua Hin Beach
The best time to visit Hua Hin Beach is during the dry season, which typically extends from November to April. During this period, the weather is sunny and ideal for beach activities. However, Hua Hin Beach welcomes visitors year-round, and each season offers its own unique charm.
What is Hua Hin Beach famous for?
Hua Hin Beach is famous for several reasons, making it a highly sought-after destination for locals and tourists alike. Here are some of the reasons why Hua Hin Beach has gained recognition:
Pristine Beauty: Hua Hin Beach is renowned for its pristine beauty. The beach features soft, golden sands that stretch for kilometers, meeting the crystal-clear waters of the Gulf of Thailand. The picturesque scenery, with its stunning sunsets and panoramic views, attracts visitors looking to immerse themselves in nature's splendor.
Cleanliness: Hua Hin Beach has earned a reputation for being one of the cleanest beaches in the region. The local authorities and community take great pride in maintaining the beach's cleanliness and ensuring that the shores remain free from litter. This commitment to cleanliness creates a pleasant and hygienic environment for beachgoers to enjoy.
Tranquility: Unlike some of the more crowded and bustling beaches in Thailand, Hua Hin Beach offers a peaceful and serene atmosphere. The beach's expansive shoreline allows visitors to find their own private spot to relax, unwind, and escape from the stresses of everyday life. It is an ideal destination for those seeking a tranquil and rejuvenating beach experience.
Water Sports: Hua Hin Beach is a haven for water sports enthusiasts. The favorable wind conditions make it an excellent spot for activities such as kiteboarding, windsurfing, and sailing. Adventure seekers can also enjoy thrilling water sports like jet skiing and parasailing, adding an element of excitement to their beach visit.
Family-Friendly Environment: Hua Hin Beach is known for being family-friendly, making it a popular choice for travelers with children. The calm and shallow waters allow for safe swimming and paddling, and the wide stretch of sand provides ample space for families to build sandcastles, play beach games, or simply enjoy quality time together by the sea.
Vibrant Nightlife: In addition to its natural beauty, Hua Hin Beach offers a lively nightlife scene. As the sun sets, the beachfront comes alive with vibrant night markets, offering a wide array of local street food, handicrafts, and entertainment. Visitors can experience the bustling atmosphere, indulge in delicious flavors, and immerse themselves in the local culture.
Accessibility: Hua Hin Beach's location, just a few hours' drive from Bangkok, makes it easily accessible for both domestic and international travelers. Its proximity to the capital city has contributed to its popularity as a weekend getaway destination, attracting a diverse range of visitors seeking a beach retreat.
In summary, Hua Hin Beach is famous for its pristine beauty, cleanliness, tranquil ambiance, water sports opportunities, family-friendly environment, vibrant nightlife, and convenient accessibility. These factors combined make it a beloved destination where visitors can immerse themselves in nature's splendor, create cherished memories, and enjoy a wide range of activities and experiences.
Attractions near Hua Hin Beach
 Exploring the attractions near Hua Hin Beach can be an exciting adventure. Here is a step-by-step guide to help you make the most of your visit within a 10 km range:
Start your exploration by visiting the iconic Hua Hin Railway Station, located just 2 km away from Hua Hin Beach. Admire its unique architecture, which combines traditional Thai design with Victorian influences.
Continue your journey to the vibrant Cicada Market, situated approximately 3 km from the beach. This bustling market is a hub of creativity, featuring local artwork, handicrafts, live music, and delicious street food.
Head towards the beautiful Khao Takiab, a scenic hill located around 7 km from Hua Hin Beach. Climb the hill to reach the Khao Takiab Temple, also known as the Monkey Temple, where you can enjoy panoramic views of the surrounding area and interact with friendly monkeys.
If you're a golf enthusiast, make a stop at one of the world-class golf courses near Hua Hin Beach. Within a 10 km range, you'll find renowned golf clubs such as Banyan Golf Club and Sea Pines Golf Course, where you can tee off amidst stunning landscapes.
Discover the rich history of Hua Hin by visiting the Hua Hin Arts and Crafts Center, located around 6 km away. This center showcases traditional Thai art forms, including wood carving, silk weaving, and pottery, providing insights into the local culture.
Explore the lively Hua Hin Night Market, situated approximately 4 km from the beach. Stroll through the bustling streets, browse through a variety of stalls selling clothing, accessories, and souvenirs, and taste delectable street food.
For nature lovers, a visit to the Khao Hin Lek Fai viewpoint is a must. Located around 5 km from Hua Hin Beach, this viewpoint offers breathtaking panoramic views of Hua Hin and its surrounding landscapes. The best time to visit is during sunset to witness the magical colors painting the sky.
Experience the thrill of water sports at the Vana Nava Water Jungle, situated approximately 8 km away. This water park offers a range of exhilarating rides, slides, and pools, providing fun for visitors of all ages.
 Indulge in a day of relaxation and pampering at one of the luxurious spas near Hua Hin Beach. Within a 10 km range, you'll find top-rated spas offering a variety of treatments, massages, and wellness therapies.
Conclude your exploration by taking a leisurely stroll along the Hua Hin Beach Promenade, located right by the beach. Enjoy the serene atmosphere, breathe in the fresh sea breeze, and appreciate the natural beauty of the coastline.
Activity and things to do
When visiting Hua Hin Beach, there are a variety of activities and things to do that cater to different interests. Here are some additional activities to consider:
Sunbathing and Swimming: Hua Hin Beach's soft sands and calm waters make it an ideal spot for sunbathing and swimming. Relax on the beach, soak up the sun, and take refreshing dips in the turquoise sea.
Water Sports Activities: For thrill-seekers, Hua Hin Beach offers an array of water sports. Try activities like kayaking, paddle boarding, or even snorkeling to explore the underwater world and get an adrenaline rush.
Horse Safari: Experience the beach from a different perspective by embarking on a horse safari. Ride along the shorelines, enjoying the sea breeze and the scenic beauty of the beach.
Beach Picnic: Spread out a mat on the beach and indulge in a delightful picnic. Enjoy a tasty meal, sip on a cold beer, and appreciate the stunning coastal views as you relax and unwind.
Sunset Watching: Hua Hin Beach is renowned for its breathtaking sunsets. Find a cozy spot on the beach, sit back, and witness the sky transform into a canvas of vibrant colors as the sun dips below the horizon.
Create TikTok and Reels: Capture your memorable moments at Hua Hin Beach by creating fun TikTok videos or Instagram Reels. Take advantage of the picturesque surroundings, unique landmarks, and captivating beach views to create engaging content.
Local Shopping: Explore the local markets near Hua Hin Beach to indulge in some shopping. From handicrafts and souvenirs to clothing and accessories, you'll find a variety of items to browse and purchase.
Remember to check the local guidelines and regulations regarding activities like horse safaris, water sports, and beachside drinking to ensure a safe and enjoyable experience. Hua Hin Beach offers a diverse range of activities that cater to different interests, allowing visitors to create memorable experiences and make the most of their time in this beautiful coastal destination.
Hua Hin Beach: A Family-Friendly Destination
With its calm waters and gentle slopes, Hua Hin Beach is an ideal destination for families. Children can build sandcastles, fly kites, and splash in the shallow waters, while parents relax and soak up the sun. The beach's family-friendly atmosphere and various activities cater to all age groups, ensuring a memorable vacation for everyone.
Accommodation Options near Hua Hin Beach
Hua Hin Beach offers a wide range of accommodation options to suit every traveler's preferences and budget. From luxury beachfront resorts to cozy boutique hotels and guesthouses, there is something for everyone. Many of these accommodations provide stunning views of the beach and easy access to its pristine shores.
Exploring the Local Culture
Immerse yourself in the local culture by visiting the vibrant night markets near Hua Hin Beach. These markets showcase the region's traditional arts, crafts, and street food. Don't miss the opportunity to witness the traditional Thai dance performances and experience the warm hospitality of the locals.
Day Trips from Hua Hin Beach
Hua Hin Beach serves as a gateway to several exciting day trip destinations. Visit the Khao Sam Roi Yot National Park, known for its limestone mountains, caves, and diverse wildlife. Explore the beautiful Pala-U Waterfall, where you can take a refreshing dip in its emerald pools. These day trips offer a chance to discover the natural wonders surrounding Hua Hin Beach.
Health and Wellness at Hua Hin Beach
Hua Hin Beach is renowned for its health and wellness offerings. Numerous spa and wellness centers along the beachfront provide rejuvenating massages, therapeutic treatments, and yoga classes. The tranquil setting of the beach enhances the overall experience, allowing visitors to achieve a state of complete relaxation and well-being.
Hua Hin Beach: A Photographer's Paradise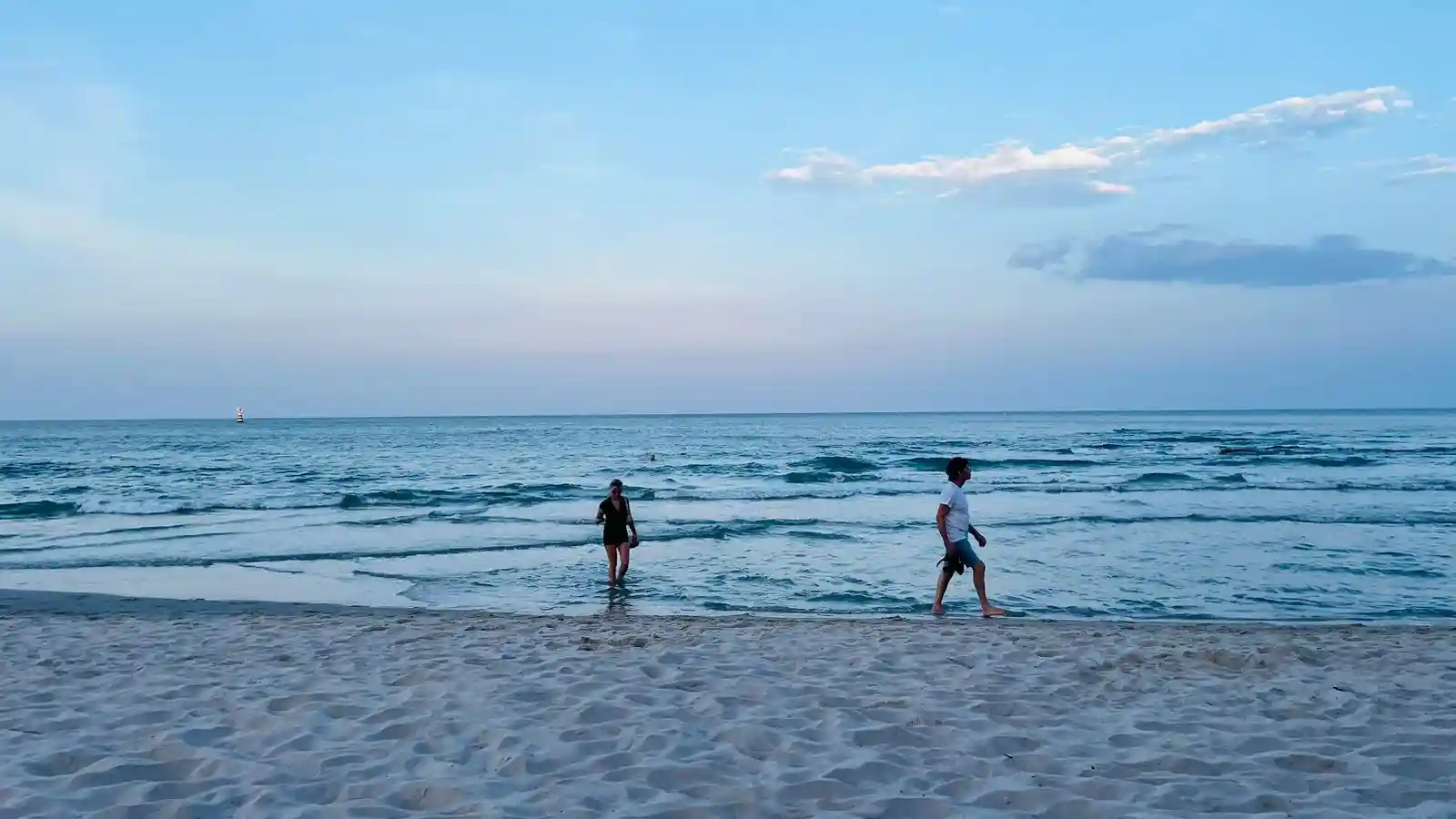 With its picturesque landscapes and vibrant colors, Hua Hin Beach is a paradise for photographers. Capture breathtaking sunsets, gentle waves crashing against the shore, and vibrant beach umbrellas dotting the coastline. The stunning visuals make Hua Hin Beach a favorite subject for both amateur and professional photographers alike.
Sustainability and Environmental Conservation
Hua Hin Beach takes pride in its commitment to sustainability and environmental conservation. Efforts are made to keep the beach clean, reduce plastic waste, and protect the marine ecosystem. Visitors are encouraged to respect the environment and follow responsible tourism practices, ensuring that Hua Hin Beach remains pristine for future generations to enjoy.
Conclusion
Hua Hin Beach in Prachuap Khiri Khan, Thailand, stands out as one of the best and cleanest beaches in the region. Its unparalleled beauty, a wide range of attractions, water sports activities, culinary delights, and family-friendly atmosphere make it a must-visit destination. Whether you seek relaxation, adventure, or cultural experiences, Hua Hin Beach has something to offer every traveler.
Hua Hin Beach Map Locations
How much did you like Our detailed Visit to Lamsala (Laem Sala Beach) | Khao Sam Roi Yot National Park? Review Also, please share these Blogs with your friends on social media.
Recommended