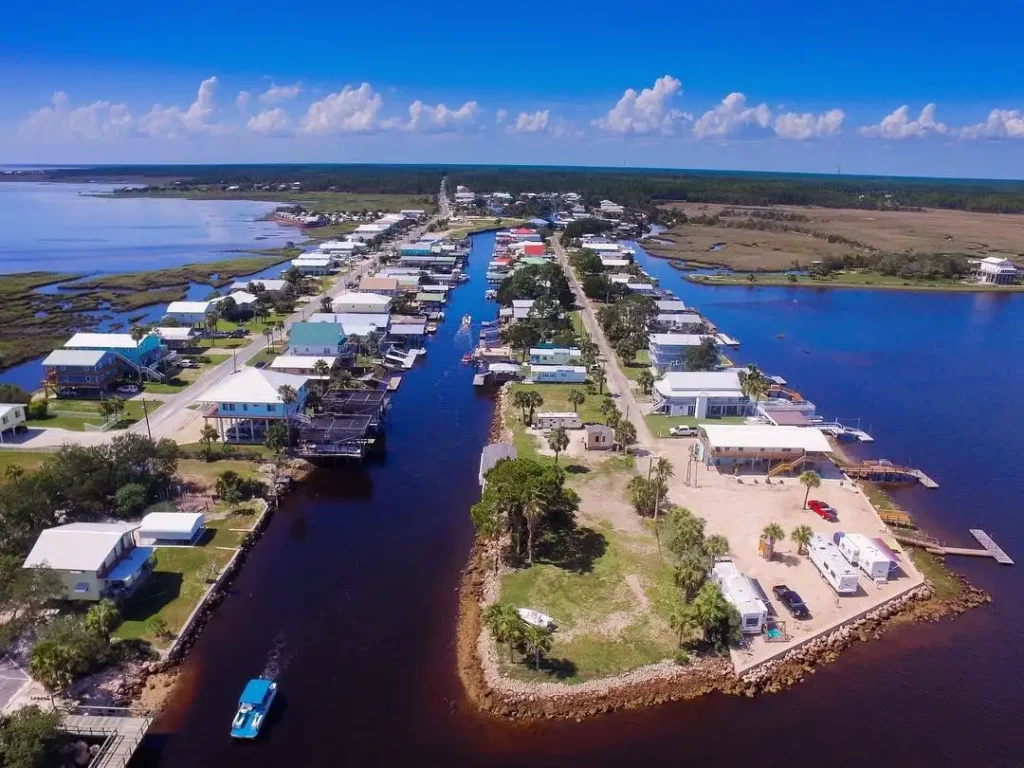 Keaton Beach | Podcast
A Brief History of Keaton Beach, Florida
Keaton Beach, Florida, got its name from two brothers, Abb and Sam Keaton, who were some of the first folks to live there and probably owned the land. At first, their family used to grow cotton in the area, but things changed when mullet fishing became a big deal in Taylor County. Back in the early 1900s, people from South Georgia and North Florida came to Keaton Beach to buy these fish, which they'd salt down to eat during the winter. Mullet fish became a big part of the local diet.
The place really started to grow when Captain W. Alston "Cap'n" Brown, who owned a turpentine works at Blue Springs Creek, got involved in the early 1920s. The Keaton Brothers worked with him, and he decided to name the beach after them. Over the years, different people owned Keaton Beach, but now it's mainly a neighborhood with families owning the homes.
In the old days, Keaton Beach had just a couple of houses, a big outdoor area called a pavilion, a sawmill, a church, a store, and some houses for workers along Blue Creek Spring. The pavilion, which Captain Brown built, started out as a place to fix fishing nets during the day, but it soon became a hangout spot for families and friends in the evenings. They even used it for dancing.
Keaton Beach in Florida USA should be at the top of your list if you're looking for a destination to visit this summer! Located on the Gulf Coast, this beach offers crystal clear waters and plenty of activities to keep you busy all day long.
From fishing to camping and snorkelling to swimming, there is something for everyone! And if you're looking for a map and directions to get there. 
In this blog post, we'll discuss all the amazing things Keaton Beach has to offer as well as provide a detailed map with directions so you can plan your summer getaway stress-free. Let's dive in!
About Keaton Beach & Its Locations  
Keaton Beach is a beautiful is situated south of the county seat of Perry United States. It is one of the best beaches in the area and offers plenty of activities for visitors to enjoy.
The beach is situated on the Gulf of Florida and offers stunning views of the water. Visitors can enjoy swimming, sunbathing, fishing, and kayaking at Keaton Beach. There are also several restaurants and cafes near the beach where visitors can grab a bite.
Where is Keaton Beach located in Florida (How to Reach)  
Keaton Beach is located is situated at 29.8244° N, 83.5949° W. Keaton Beach is located 22.5 miles south of the county seat of Perry, Florida, United States. The best way to reach Keaton Beach is by car. The address of Keaton Beach is 20969 Keaton Beach Rd, Perry, FL 32348, United States.
If you are coming from Tallahassee, take I-10 E and FL-363 S/S Byron Butler Pkwy to US-19 S/US-98 S in Taylor County. Take exit 102 from I-10 E, then follow US-19 S/US-98 S to your destination in Steinhatchee.
If you are coming from Jacksonville, take I-95 S and FL-20 W to US-19 S/US-98 S in Madison County. Take exit 262 from I-10 W/FL-53 W then follow US-19 S/US-98 S to your destination in Steinhatchee.
What is Keaton Beach Famous For?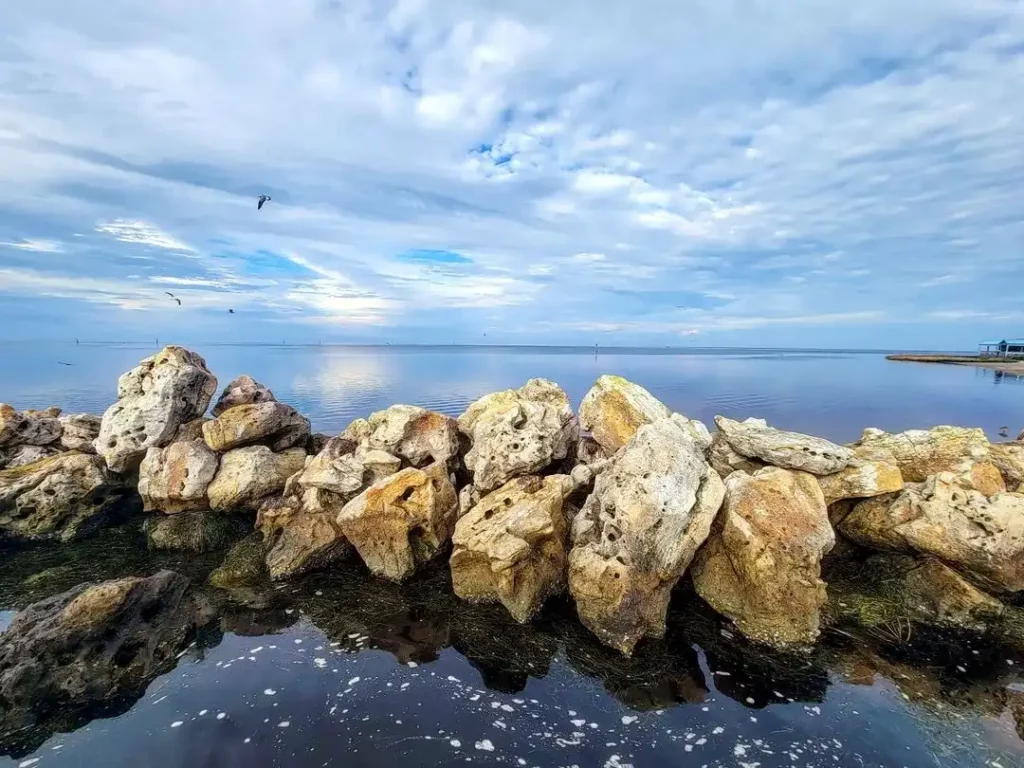 Keaton Beach is famous for its excellent fishing and boating opportunities. The area is known for its abundance of redfish, trout, and flounder, making it a popular destination for both recreational and commercial fishermen.
Several charter companies operate in the area, allowing visitors to go deep-sea fishing or on a guided tour of the Gulf of Mexico.
Some Beautiful pictures of Keaton Beach Florida
Activities and Things to do in Keaton Beach  
 There are plenty of activities and things to do in Keaton Beach with children and family. A beach is a great place for kids to play and have fun. There are also many parks and playgrounds in the area that are perfect for family outings.
One of the best things to do in Keaton Beach with children is to visit the Gulf State Park. This park is full of activities for kids of all ages. There is a playground, a splash pad, a nature center, and much more. The park is also a great place to take a walk or ride a bike.
Another great activity in Keaton Beach is fishing. Many charter companies offer fishing trips for both beginners and experienced anglers. Keaton Beach is known for its excellent fishing opportunities, so it's worth trying.
Finally, Keaton Beach is also home to several delicious seafood restaurants. Whether you're looking for a casual meal or something more upscale, you'll be able to find it here. There are also many bars and clubs in the area if you're looking for some nightlife.
Attraction Point near Keaton Beach Florida USA  
If you are looking for an attraction point near Keaton Beach, Florida USA, 
-Firstly, Reel Epic Charters of Florida. Reel Epic Charters of Florida offers a variety of charter fishing options including inshore, offshore, and backwater fishing trips.
-Keaton Beach Boat ride is also a great option for those who want to experience the beauty of the area from the water.
-Go Dekle Beach is another popular attraction near Keaton Beach. This beach is known for its crystal-clear waters and white sand beaches.
-Fish Creek is another great place to visit if you are interested in fishing or just want to enjoy the beautiful scenery.
-Perry South is also worth considering if you are looking for things to do in Keaton Beach. This area is home to the Forest Capital Museum State Park which offers a variety of interactive exhibits and activities.
Where to Stay
Keaton Beach offers a variety of accommodation options to suit every budget. From camping and RVing to upscale vacation rentals, there's something for everyone.
If you're looking for a truly unique experience, consider staying in one of the area's many waterfront cottages. You can wake up each morning to the sound of the waves crashing against the shore, and fall asleep each night under a blanket of stars.
Also, if you are looking best hotels and Homestay deals then we recommended book your hotels and homestay with priceline.com
Things To Avoid  
There are a few things to avoid if you're looking to avoid a shark attack.
First, stay out of the water at dawn and dusk when sharks are most active.
Secondly, don't wear brightly colored clothing or swim near areas where there is a lot of fish activity, as sharks may mistake you for prey.
Finally, Be aware of tide time at Keaton Beach
Conclusion
Keaton Beach, Florida USA is the perfect destination for a getaway. With its beautiful sandy beaches, vibrant nightlife, and incredible restaurants, there's something for everyone to enjoy.
Whether you're looking for an adventurous day of fishing or exciting activities like jet skiing, Keaton Beach has it all. Check out our map and guide for more information on what this charming beach community has to offer when you come to visit us in 2023!
Keaton Beach FL, TripAdvisor.com  Public Review

How much did you like Our detailed Keaton Beach Florida USA: Things to do & Map Directions 2023  Review Also, please share these Blogs with your friends on social media.
Recommended
Keaton Beach Florida Map Locations. 
FAQ Questions of Keaton Beach