Rooster Rock Beach (Oregon) USA | Best Nude (Clothing Optional) Beach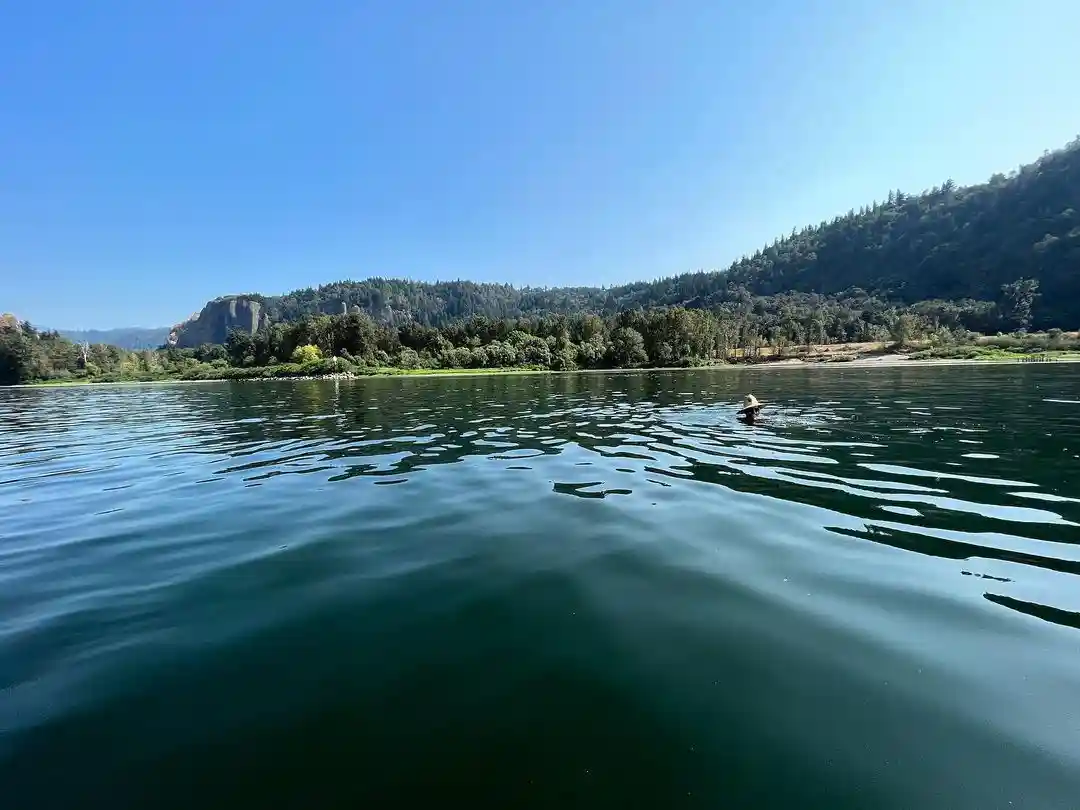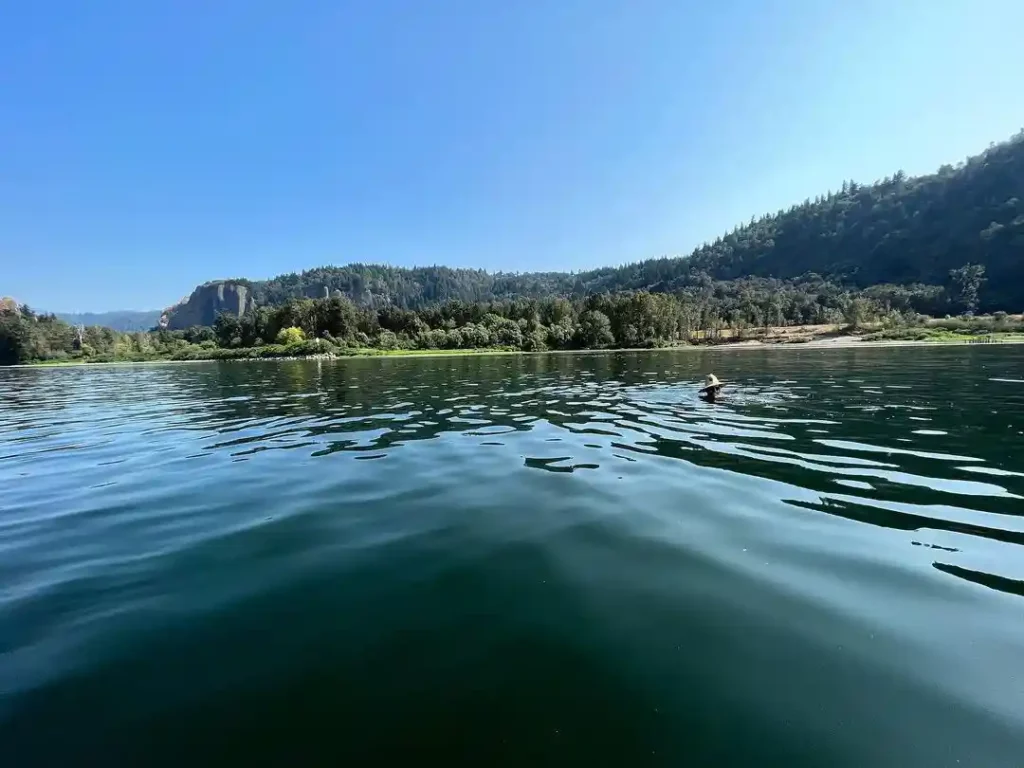 Rooster Rock Beach, nestled in the scenic state of Oregon, is renowned for being one of the best nude or clothing-optional beaches in the United States. With its sandy beaches, calm waters, and stunning vistas, it offers a unique experience for those seeking a more liberating and natural beach environment.
In this comprehensive guide, we will explore everything you need to know about Rooster Rock Beach, from its locations and attractions to how to get there and what to expect. Whether you're a seasoned naturist or just curious about this beautiful beach, let's dive into the sun-kissed shores of Rooster Rock.
About Rooster Rock Beach & Its Locations
Rooster Rock Beach is a captivating destination located alongside the Columbia River in Oregon. Just a short distance away from Portland, this state park offers a perfect day trip for both locals and tourists seeking a scenic and adventurous escape. Here's what you need to know about Rooster Rock Beach and its various locations:
Rooster Rock State Park features a stunning beach area that attracts windsurfers when strong east winds blow, creating an exciting spectacle for visitors to witness. The park is renowned for its windsurfing opportunities, making it a popular spot for water sports enthusiasts. The beach area is also known for its clothing-optional section, providing a unique and inclusive experience for visitors who prefer a clothing-optional atmosphere.
Apart from the beach, Rooster Rock State Park offers an array of activities to suit various interests. For nature enthusiasts, there is a flat Volkswalk Trail, perfect for leisurely walks and enjoying the surrounding natural beauty. Additionally, visitors can partake in disc golf courses, enjoy picnics in the park's designated picnic shelters, and engage in paddling and fishing in the tranquil lagoon.
To enhance the visitor experience, Rooster Rock State Park has plans to install electric vehicle charging stations at the main day-use parking area, making it accessible and eco-friendly for electric vehicle owners.
How to Reach Rooster Rock Beach
 To reach Rooster Rock Beach, located at Bridal Veil, OR 97010, United States, follow the instructions below:
1. By Car: Rooster Rock Beach is easily accessible by car from various locations. If you are coming from Portland, Oregon, follow these directions:
Head east on I-84 E from Portland.
Take Exit 25 toward Rooster Rock State Park.
Merge onto Historic Columbia River Highway.
Follow the signs to Rooster Rock State Park and reach the beach area.
2. By Public Transport: For those who prefer public transportation, you can use the Columbia Gorge Express bus service. The Columbia Gorge Express provides convenient transportation from Portland to Rooster Rock Beach and other scenic locations along the Columbia River Gorge. Check the official website of Columbia Gorge Express for the latest schedules and fares.
3. By Bicycle or Hiking: Rooster Rock Beach is also accessible by bicycle or hiking if you enjoy outdoor activities and wish to explore the beautiful landscapes along the way. The Historic Columbia River Highway offers scenic routes for cyclists and hikers to enjoy before reaching the beach.
4. Nearest Airport: For visitors coming from outside Oregon, the nearest major airport is Portland International Airport (PDX). From the airport, you can rent a car or use public transportation to reach Rooster Rock Beach.
Also, if you are looking best hotels and Homestay deals then we recommended book your hotels and homestay with priceline.com
What is Rooster Rock Beach Most Known for?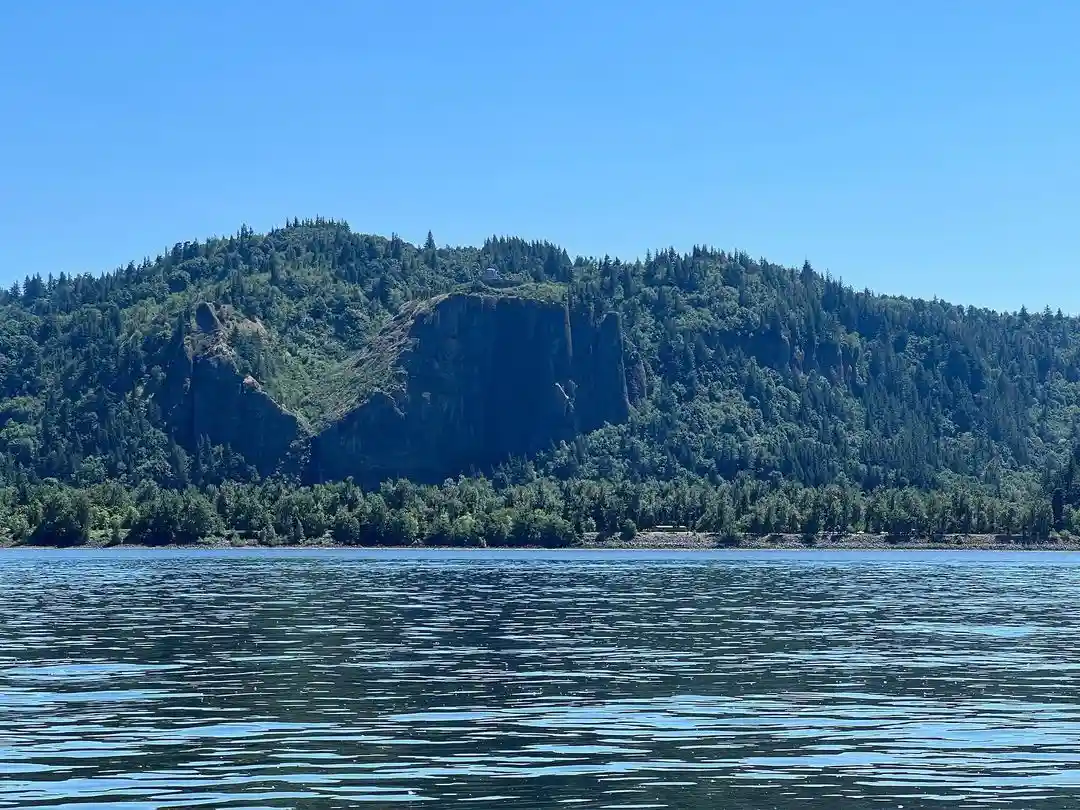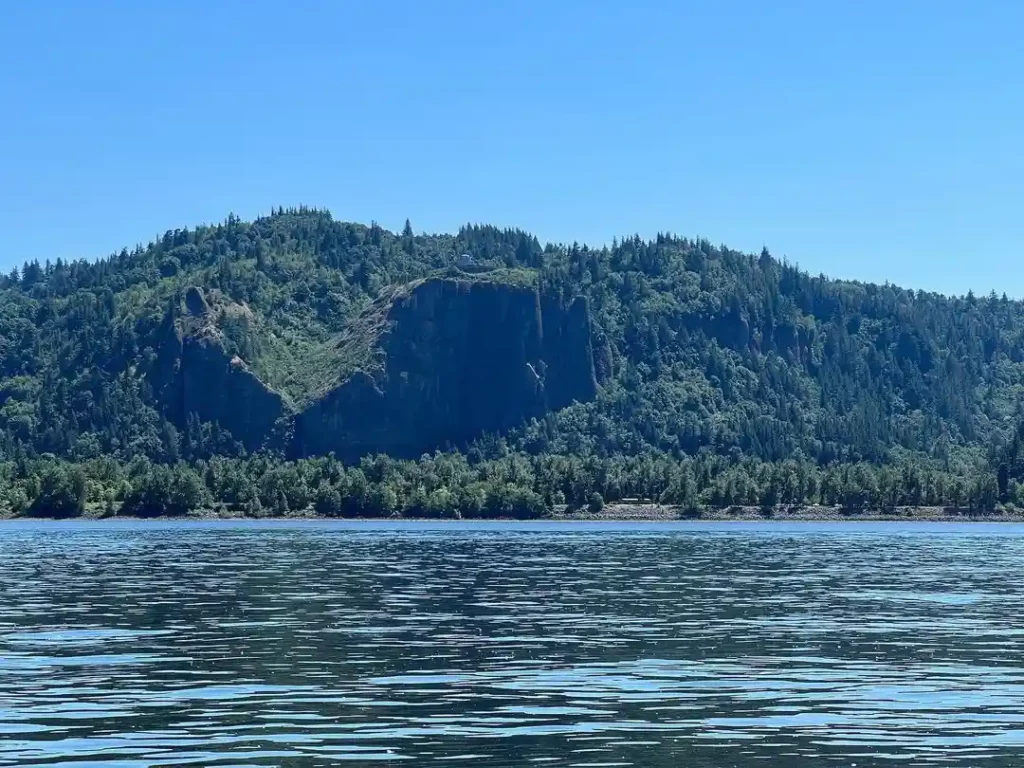 Rooster Rock Beach is most renowned for being a clothing-optional beach, providing visitors with the freedom to enjoy the sun and water without the constraints of clothing. This beach has a relaxed and accepting atmosphere, attracting individuals who appreciate the beauty of nature and embrace body positivity.
Activities and Things to Do in Rooster Rock Beach
Rooster Rock Beach offers a variety of activities to keep visitors entertained throughout their visit. Some popular activities include:
Swimming: The clear and calm waters of Rooster Rock Beach are perfect for swimming and cooling off during warm days.
Hiking: Explore the trails surrounding Rooster Rock State Park and enjoy scenic views of the Columbia River Gorge.
Picnicking: Pack a delicious picnic and enjoy a leisurely meal with family and friends amidst the picturesque surroundings.
Volleyball: Engage in beach volleyball with fellow beachgoers and make new friends.
Attractions Point Near Rooster Rock Beach
Apart from Rooster Rock Beach, the area offers other attractions worth exploring, including other nude beaches nearby:
Collins Beach: Located across the river from Rooster Rock, Collins Beach is another popular clothing-optional beach in the area.
Sauvie Island Nude Beach: Situated on Sauvie Island, this secluded beach offers a serene and clothing-optional environment.
Hotels Near Rooster Rock Beach
 Hotels near Rooster Rock Beach, Oregon, USA, offer a range of accommodations to suit various preferences and budgets. Whether you're seeking a luxurious stay or a cozy retreat, you'll find suitable options close to this picturesque beach. Here are some recommended hotels:
Skamania Lodge: Located 8.2 miles away from Rooster Rock Beach, Skamania Lodge offers a serene escape amidst nature. The hotel provides fully refundable rooms at $220 per night from Jul 23 to Jul 24, ensuring added flexibility for travelers. With exceptional reviews, guests can expect a comfortable and enjoyable stay at this beautiful property.
Best Western Plus Columbia River Inn: Situated just 2.9 miles away from the beach, Best Western Plus Columbia River Inn provides a convenient location and excellent amenities. The hotel offers rooms at $114 per night from Jul 20 to Jul 21, making it a budget-friendly choice for travelers. With rave reviews, guests can expect a pleasant and comfortable stay here.
Camas Boutique Hotel: If you prefer to be closer to the beach, Camas Boutique Hotel is a fantastic option, located just 0.2 miles away. The hotel offers fully refundable rooms at $126 per night from Aug 7 to Aug 8, allowing flexibility in your travel plans. With excellent reviews, this charming hotel promises a delightful stay near Rooster Rock Beach.
When searching for accommodation, consider factors such as proximity to the beach, amenities offered, and guest reviews. Additionally, you may want to check for any special promotions or discounts that hotels may be offering to enhance your travel experience.
Food to Eat
Rooster Rock Beach, located in Oregon, USA, is not only famous for its scenic beauty but also offers a delightful range of food options to enhance your beach experience. When visiting Rooster Rock Beach, be sure to savor these delicious foods:
Oregon Seafood: Being a coastal state, Oregon is known for its fresh and succulent seafood. Indulge in a variety of dishes, including Dungeness crab, salmon, halibut, and oysters. Many nearby restaurants and food trucks serve these delicacies, allowing you to relish the taste of the ocean.
Picnic Delights: Rooster Rock Beach is an ideal spot for picnics. Pack your favorite sandwiches, salads, and snacks to enjoy a delightful meal by the beach. Fresh fruits and veggies can add a refreshing touch to your picnic basket.
Barbecue and Grilled Delights: Some areas of Rooster Rock Beach allow barbecue grills. If you're a fan of grilled food, bring along some marinated meats, veggies, and charcoal to enjoy a flavorful beach barbecue with friends and family.
Local Food Trucks: During peak seasons, you might find local food trucks near the beach, offering a variety of dishes to satisfy your hunger. From seafood platters to gourmet burgers, these food trucks provide a convenient and tasty dining option.
Fresh Salads and Smoothies: Opt for light and refreshing fare, like fresh salads and smoothies, to keep you hydrated and energized while enjoying the beach activities.
Beach Snacks: Don't forget to pack some classic beach snacks such as chips, popcorn, and ice cream. They're perfect for nibbling on as you soak up the sun and enjoy the scenic views.
Beach-Friendly Beverages: Stay hydrated with chilled water, coconut water, or flavored drinks. Avoid alcoholic beverages if you plan to partake in water activities for safety reasons.
Remember to clean up after your meal and dispose of trash responsibly to help preserve the natural beauty of Rooster Rock Beach for everyone to enjoy. Enjoy the food, the beach, and the memorable experience at one of the best nude beaches in the USA!
Things to Avoid?
While Rooster Rock Beach in Oregon is a beautiful and inviting destination, there are certain things to avoid to ensure a safe and enjoyable experience for yourself and others. Here are some essential tips on what to avoid during your visit:
Nude Beach Etiquette: Rooster Rock Beach is a clothing-optional beach, which means that some visitors may choose to be nude while others might not. It's crucial to respect everyone's choices and maintain a non-judgmental attitude. Avoid staring or making others uncomfortable with your actions or comments.
Alcohol and Substance Abuse: Consumption of alcohol and drugs is not permitted at Rooster Rock Beach. These substances can impair judgment and coordination, leading to accidents or inappropriate behavior. Stay sober and enjoy the beach responsibly.
Leaving Trash Behind: Rooster Rock Beach is a pristine and natural environment, so it's essential to leave no trace. Avoid littering and dispose of trash properly in designated bins. Help keep the beach clean and preserve its beauty for others to enjoy.
Feeding Wildlife: As tempting as it may be to share your snacks with the wildlife, feeding animals can disrupt their natural behaviors and lead to health issues. Avoid feeding any animals you encounter on the beach and admire them from a safe distance.
Disruptive Behavior: Rooster Rock Beach is a place of relaxation and enjoyment. Avoid engaging in loud or disruptive behavior that can disturb other beachgoers seeking tranquility.
Ignoring Safety Warnings: Pay attention to any posted signs or warnings, such as tide information, swimming restrictions, or dangerous conditions. Ignoring safety advisories can put you and others at risk.
Unauthorized Camping or Fires: Overnight camping and bonfires are not allowed at Rooster Rock Beach. Respect the rules and regulations of the area to maintain its natural beauty and protect the environment.
Nudity Beyond Designated Areas: While Rooster Rock Beach allows clothing-optional recreation, nudity is limited to specific sections of the beach. Make sure to be aware of the boundaries and respect them to maintain a comfortable environment for all visitors.
Unprotected Sun Exposure: Rooster Rock Beach can get sunny and hot. Avoid prolonged sun exposure without sunscreen and protective clothing to prevent sunburn and potential health risks.
Leaving Valuables Unattended: Like any public space, be cautious with your belongings. Avoid leaving valuables unattended and consider using lockers or keeping them in a secure bag.
By following these guidelines, you can have a respectful, safe, and memorable experience at Rooster Rock Beach while appreciating its natural beauty and serenity.
Conclusion
Rooster Rock Beach stands as a symbol of body acceptance and natural beauty, drawing visitors from near and far. Whether you're an avid naturist or simply seeking a different beach experience, Rooster Rock has something unique to offer. With its sandy shores, tranquil waters, and clothing-optional section, this beach is an excellent destination to unwind and connect with nature. Embrace the liberating spirit of Rooster Rock Beach and create unforgettable memories at this iconic Oregonian gem.
How much did you like Our detailed Rooster Rock Beach (Oregon) USA | Best Nude (Clothing Optional) Beach? Review Also, please share these Blogs with your friends on social media.
Recommended
Rooster Rock Beach Map Locations
Rooster Rock Beach FAQ