Lowdermilk Beach Park Naples Florida
Lowdermilk Park, nestled in Naples, Florida, is renowned as one of the region's prime beachfront destinations. This coastal gem offers a range of attractions and amenities that cater to visitors of all ages, making it a must-visit location in Naples.
The park boasts a stunning white sand beach, providing the perfect backdrop for a day of relaxation and fun. In addition to the pristine shoreline, Lowdermilk Park offers a wealth of facilities, including parking spaces, sand volleyball courts, a children's playground, picnic tables, benches, and well-maintained restroom and shower facilities. For those seeking shade or hosting special events, two charming gazebos are available for rent, and ADA beach access mats ensure inclusivity for all beachgoers.
How to Get There?
Driving:
If you have access to a car, driving is one of the most convenient ways to reach Lowdermilk Park.
Use GPS or a mapping app to navigate to the park's address: 1301 Gulfshore Blvd North, Naples, FL 34102.
Once you arrive in the vicinity, you can follow local road signs to the park's entrance.
Keep in mind the parking regulations mentioned earlier, and make sure to have the required parking permit or payment.
Public Transportation:
Naples has a public bus system that may have routes passing near Lowdermilk Park.
Check the local bus schedule and routes to see if there's a convenient bus stop near the park.
Public transportation can be an eco-friendly and cost-effective way to reach the park.
Cycling:
If you're in the local area and prefer an active approach, you can cycle to the park.
Naples often has bike lanes and bike-friendly routes, making it accessible by bicycle.
Rideshare Services:
Rideshare services like Uber and Lyft operate in Naples, and you can use these apps to request a ride to Lowdermilk Park.
Parking Information
Park Hours: The park operates from timing 5:00 am to 11:00 p.m. daily, providing visitors with ample time to enjoy its amenities.
Parking Regulations: When it comes to parking at Lowdermilk Park, there are specific regulations in place for beach access:
To park and access the beach in the City of Naples, individuals must either possess a valid beach parking permit or utilize the pay-by-space system.
These regulations are enforced year-round to ensure proper management of the parking facilities and beach access.
Parking Meter Payment: For those using the pay-by-space system, the following details apply:
The parking meter payment rate is $4.00 per hour.
There is a minimum payment requirement of $2.00.
Pay stations accept payment in the form of quarters as well as major credit cards, including MasterCard, Discover, American Express, and Visa.
This information is provided to assist visitors in understanding the parking payment process.
By following these regulations and payment procedures, visitors can conveniently access and enjoy the facilities at Lowdermilk Park while contributing to its maintenance and upkeep.
Gazebo Rentals at Lowdermilk Beach
| | | | |
| --- | --- | --- | --- |
| Gazebo Rentals at Lowdermilk Beach | Rental Rate per Hour | Tax (if applicable) | Damage Deposit |
| Collier County Residents | $35 | Plus tax | $50 (refundable) |
| Non-Collier County Residents | $165 | Plus tax | $50 (refundable) |
| Non-profit Collier County Residents | $25 | Plus tax | $50 (refundable) |
Water Quality at Lowdermilk Park Beach
The water quality at Lowdermilk Park Beach is generally good, but it can vary depending on a number of factors, including weather conditions, runoff from nearby land, and the presence of harmful algal blooms.
According to the Swim Guide, a website that tracks water quality at beaches around the world, Lowdermilk Park Beach has passed water quality tests at least 95% of the time over the past five years. However, there have been some instances of poor water quality, particularly during the summer months.
Nearby Attractions and Activities
Fleischmann Park: Fleischmann Park is a community park located near Lowdermilk Park. It offers a wide range of amenities, including racquetball courts, volleyball courts, basketball courts, a game field, playgrounds, a water splash area, a game room, a skate park, and restrooms. It's an excellent place for outdoor recreation and family-friendly activities.
Naples Museum of Military History: The Naples Museum of Military History is a museum dedicated to showcasing significant war relics and artifacts from various historical periods, including the Revolutionary War, War of 1812, Civil War, World War I, World War II, Korean War, Vietnam War, and Gulf War. Visitors can explore letters, books, drawings, posters, weapons, uniforms, medals, ribbons, and models donated by veterans and their families.
Baker Park: Baker Park is a waterfront park located along the Gordon River. It offers a serene natural setting with various amenities, including a kayak launch, an outdoor fitness facility, picnic shelters, a sunrise terrace, and playgrounds. It's an ideal spot for outdoor enthusiasts and nature lovers.
The Naples Depot Museum: The Naples Depot Museum provides insights into the region's railroading history, particularly focusing on the Roaring Twenties railroading boom. Visitors can explore how technology and transportation were used to conquer the area's challenges. The museum features artifacts such as Seminole dugout canoes, a mule wagon, an antique swamp buggy, and restored rail cars.
These nearby attractions offer diverse experiences, from outdoor recreation and history exploration to cultural insights. Visitors to Lowdermilk Park can easily explore these sites, making their visit to the area both entertaining and educational.
Public Reviews About Lowdermilk Park Beach by TripAdvisor Sites

Nearby Beaches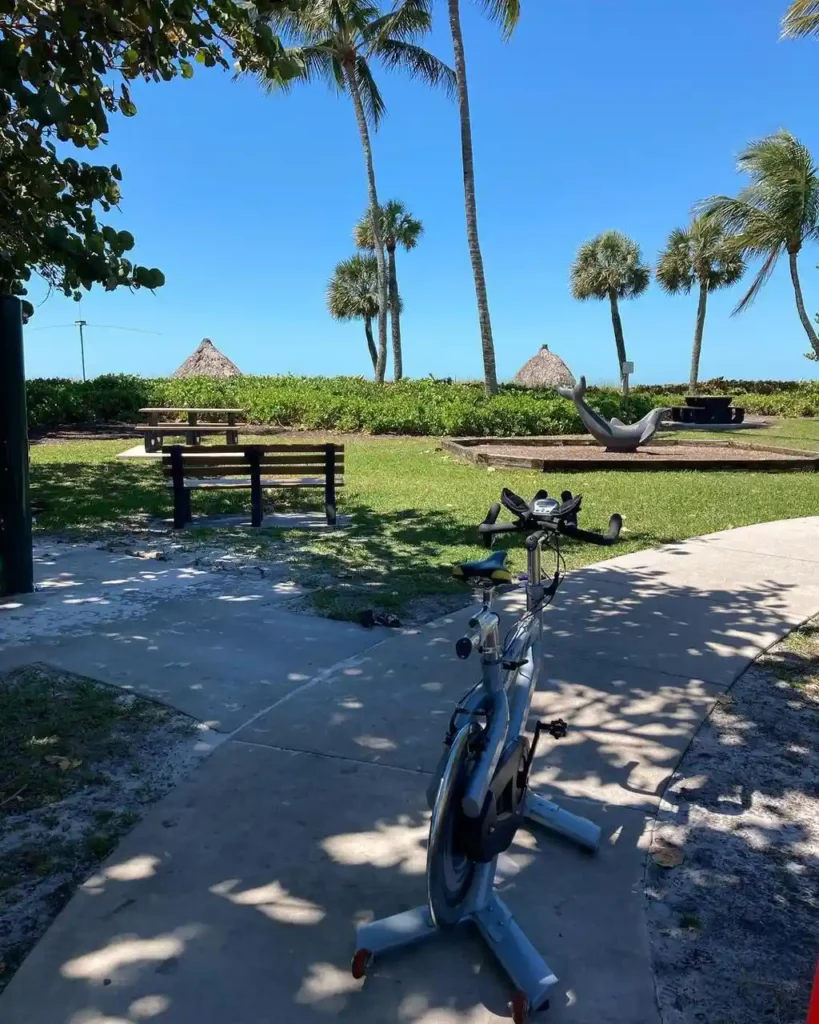 Lowdermilk Beach: Lowdermilk Beach is one of Naples' premier beachfront parks, known for its amenities such as gazebos, picnic tables, and a concession stand. It offers a well-rounded beach experience.
Naples Pier Beach: Located nearby, Naples Pier Beach offers a picturesque fishing pier and stunning sunsets, making it a popular spot for beachgoers. It's just a short distance from Lowdermilk Beach.
Vanderbilt Beach: Known for its soft, white sands and clear waters, Vanderbilt Beach is another favorite among locals and visitors. It's a bit further north of Lowdermilk Beach.
Delnor-Wiggins Pass State Park: This park features a pristine beach, nature trails, and opportunities for wildlife viewing, providing a more natural beach experience. It's a short drive north of Lowdermilk Beach.
Clam Pass Beach Park: Accessible via a scenic boardwalk through mangrove forests, Clam Pass Beach Park offers a unique coastal experience and is located near Lowdermilk Beach.
Barefoot Beach Preserve: Located a bit further north, Barefoot Beach is a natural preserve with a beautiful beach, dunes, and excellent birdwatching opportunities.
Restaurants near Lowdermilk Beach
Truluck's Ocean's Finest Seafood and Crab: Truluck's is an upscale seafood restaurant known for its high-quality seafood offerings, including crab and fresh fish. It offers a fine dining experience with oceanfront views.
D'Amico's The Continental: D'Amico's The Continental serves Persian-inspired cuisine and offers a diverse menu featuring dishes like crab soufflé, grilled octopus, filet mignon, and tomahawk ribeye in an elegant setting.
Lamoraga Restaurant: enjoy dishes like garlic shrimp, tuna tartare, lamb skewers, and serrano pinches in a contemporary and stylish atmosphere.
Alexander's Restaurant: Alexander's Restaurant offers American and European-inspired cuisine. It serves a variety of delectable dishes such as miso sea bass, Faroe Island salmon, and lamb tagine in a welcoming setting.
These restaurants provide diverse culinary experiences, ensuring that visitors to Lowdermilk Beach have a range of dining options to choose from. Whether you're in the mood for seafood, Mediterranean flavors, or classic American and European dishes, these nearby restaurants have something for everyone to savor after a day at the beach.
Lowdermilk Beach Instagram Photo
Hotels near Lowdermilk Beach
The Ritz-Carlton Golf Resort, Naples (5-Star): The Ritz-Carlton Golf Resort is a luxurious 5-star hotel located about 20 minutes away from Lowdermilk Beach. It offers upscale accommodations, an outdoor pool, a poolside eatery, two restaurants, two golf courses, and a fitness center. It's perfect for those seeking a high-end and relaxing stay.
Inn at Pelican Bay (4-Star): Inn at Pelican Bay is a 4-star hotel that offers comfortable accommodations, an outdoor heated pool, a lounge, and a fitness center. It provides a more mid-range option with excellent amenities, and it's conveniently located for beachgoers.
Naples Garden Inn (3-Star): Naples Garden Inn is a modestly priced 3-star hotel near Lowdermilk Beach. It features an outdoor heated pool, a sundeck, and a complimentary breakfast, making it a cost-effective choice for travelers.
These hotels cater to various preferences and budgets, ensuring that visitors to Lowdermilk Beach have a range of accommodation options to choose from, whether they seek luxury, comfort, or affordability.
Park and Gazebo Rental Rules and Regulations
Reserved Signage: A reserved sign will be provided for posting at the rental site. Posting any other signs is prohibited.
Prohibited Items: Alcohol, glass containers, gambling, and vehicles on turf areas are strictly prohibited on all City property.
Beach Access: The beach is a public access area, and no one is allowed to block or impede public access in any way. Items such as chairs, arches, or tents are not permitted on the beach.
Tree Protection: The use of nails, staples, or any other materials on trees and roping off areas is strictly prohibited.
Parking: Parking is only allowed in designated parking spaces. Parking in areas other than these designated spaces is not permitted.
Event Organizer Responsibility: Event organizers are responsible for guest parking and their behavior during the event.
Cleanliness: Areas used for the event must be cleaned, and trash should be deposited in dumpsters provided. Failure to do so may result in a loss of the security deposit or additional charges.
Damage and Loss: Any damage or loss of rental equipment, facilities, or property must be replaced or repaired at the renter's expense, or it will result in additional charges.
Reservation Changes: The reservation application is valid only for the date(s) and time(s) listed and cannot be transferred or changed without park approval.
Picnic Tables: Picnic tables must not be removed from their designated locations.
Open Fires: Open fires, including tiki torches and grills, are prohibited.
Amplified Music and Tents: Amplified music, tents, large attendance, and similar arrangements require a Special Event Permit through the Community Services Department and must be approved through Fleischmann Park first. A 60-day advance notice is required, and additional fees may apply.
These rules and regulations are in place to maintain a safe, enjoyable, and organized environment for all visitors and event organizers at Lowdermilk Beach and its facilities. It's essential for renters to comply with these guidelines to ensure a positive experience for themselves and others using the park and gazebo areas.
Conclusion
Lowdermilk Beach in Naples, Florida, is a true coastal paradise that caters to a variety of interests and preferences. This pristine beachfront park is nestled along the Gulf of Mexico, boasting a stunning white sand beach that invites visitors to relax, sunbathe, and take leisurely strolls along the shore. For those seeking some beachside fun, there are sand volleyball courts and well-equipped children's playgrounds, ensuring that both adults and kids have an enjoyable time.
The park is thoughtfully designed to provide convenience and comfort, offering picnic tables, benches, well-maintained restroom and shower facilities, and ADA-accessible beach access mats, ensuring that everyone can make the most of their visit. If you're looking for a unique spot for gatherings or events, Lowdermilk Beach also offers charming gazebos available for rent, providing a picturesque backdrop for special occasions.
Lowdermilk Beach Map Locations
How much did you like Our Detailed Discover Lowdermilk Beach (Park): At Naples Florida, United States? Review Also, please share these Blogs with your friends on social media.
Recommended