Visit Rocky Neck State Beach and Park) East Lyme, USA| 2023 Updated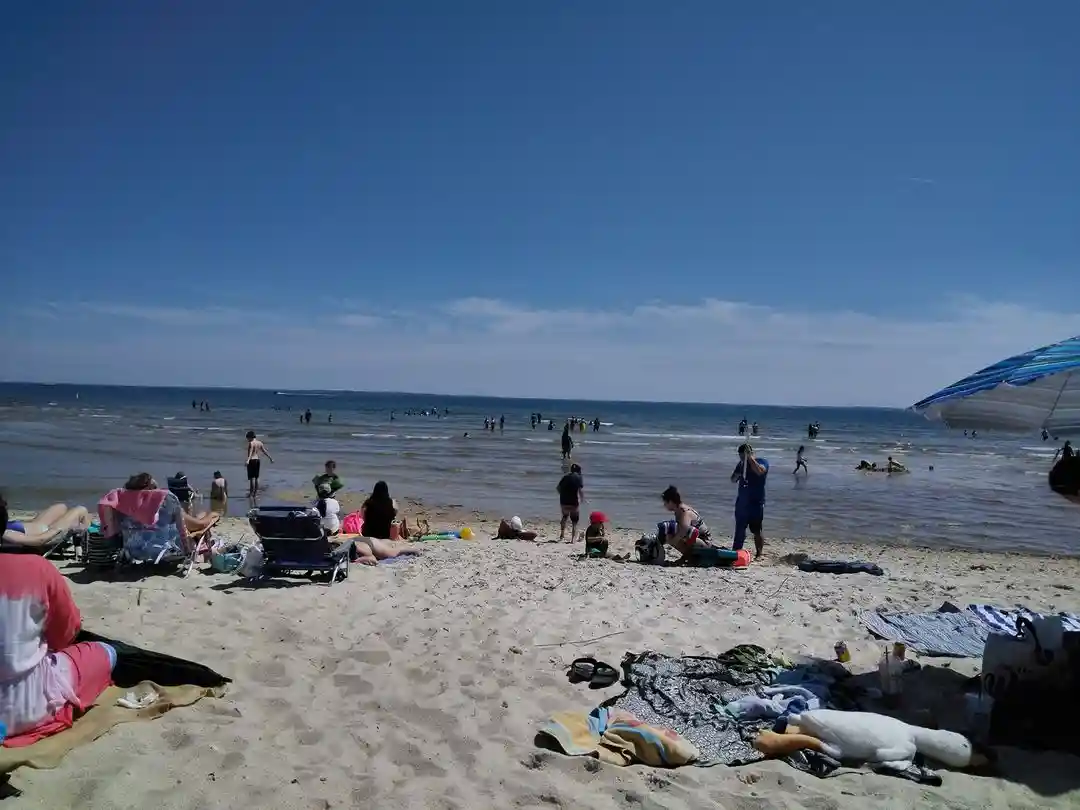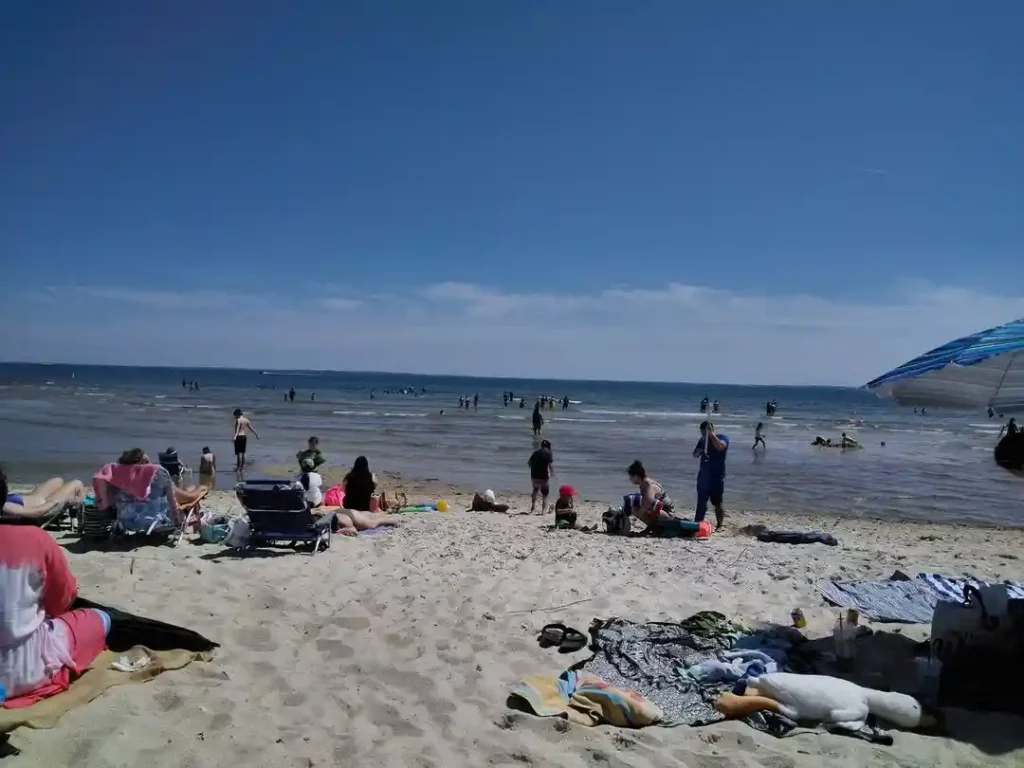 Welcome to a world of coastal wonder and natural beauty in East Lyme, where the pristine shores of Rocky Neck State Beach beckon beachcombers and sun-seekers alike. Nestled within the scenic Rocky Neck State Park, this idyllic destination promises an escape to paradise. But that's not all; East Lyme's allure extends beyond the sandy shores.
Explore the nearby attractions, from the mesmerizing Niantic Bay Boardwalk to the time-honored treasures of the Old Lyme Historical Society. Embark on a journey filled with adventure, art, and enchantment, as we uncover the hidden gems that make East Lyme a true haven for travelers.
About Rocky Neck State Beach: A Coastal Paradise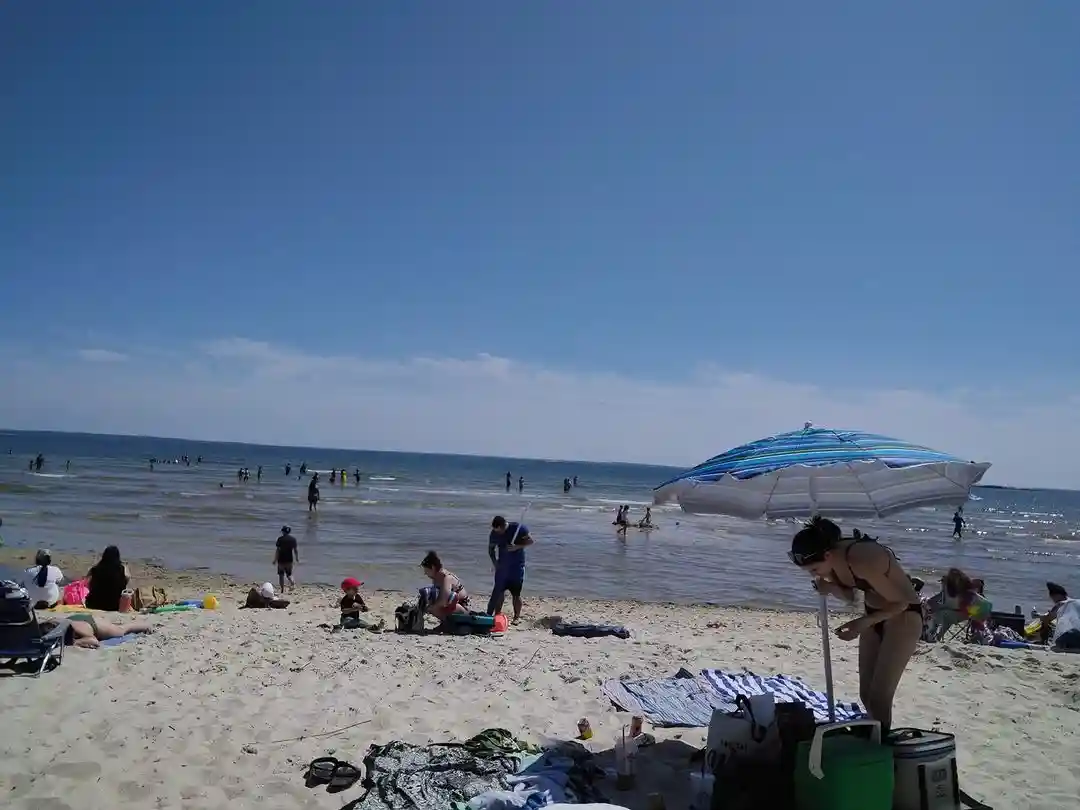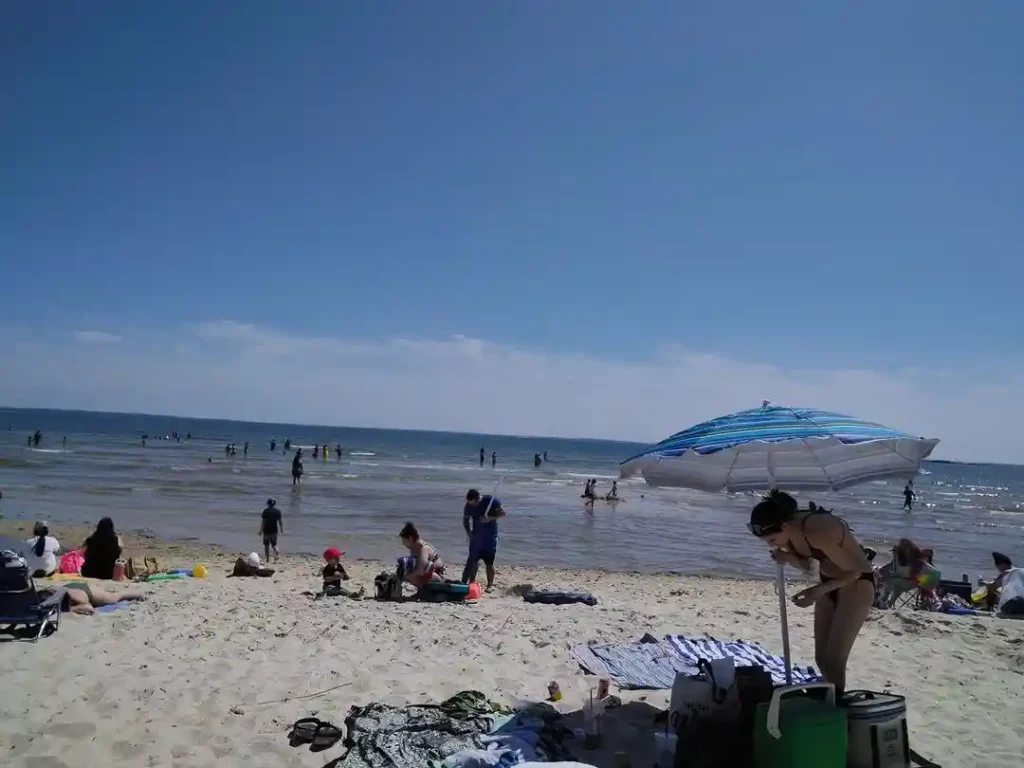 Rocky Neck State Park is a popular public recreation area located on Long Island Sound in the town of East Lyme, Connecticut, USA. The park covers 708 acres and offers a variety of attractions for visitors to enjoy. Its main features include a beautiful half-mile-long sandy beach, perfect for swimming and sunbathing. The park also has picnic areas, a tidal river, salt marsh viewing platforms, and diverse trail systems, making it ideal for nature enthusiasts and hikers. Additionally, there is a seasonal pavilion, bathhouses, and concession stands available for visitors' convenience.
Rocky Neck State Park is known for its scenic beauty, and it is a favorite destination for locals and tourists alike. With its sandy shorelines, diverse wildlife, and recreational opportunities, it attracts nature watchers, beachgoers, campers, hikers, and fishermen throughout the year. The park's camping facilities make it possible for visitors to stay overnight and extend their experience in this serene coastal environment.
Visiting Rocky Neck State Park can be an excellent opportunity to enjoy the natural beauty of the Connecticut shoreline and experience outdoor activities in a peaceful setting.
How to Get There?
Getting to Rocky Neck State Beach is easy and convenient, as it is well-connected to major cities and transportation routes. Here are some common ways to get there:
Address: Rocky Neck State Beach 244 West Main Street East Lyme, CT 06357 USA
By Car: If you are traveling by car, you can use GPS or navigation apps to find the most suitable route to Rocky Neck State Beach. The park is located in East Lyme, Connecticut, and is easily accessible from major highways.
Public Transportation: If you prefer public transportation, you can take a train or bus to a nearby station or terminal and then use a taxi or rideshare service to reach the park. Some cities may also have direct bus routes to East Lyme or nearby towns.
Airport: If you're coming from farther away or from another state or country, you can fly into a nearby airport such as Bradley International Airport (BDL) or T.F. Green Airport (PVD) and then rent a car or use public transportation to reach Rocky Neck State Beach.
Also, if you are looking best hotels and Homestay deals then we recommended book your hotels and homestay with priceline.com
Spectacular Scenery
 The breathtaking scenery at Rocky Neck State Beach is one of its most alluring features, drawing visitors from near and far. This coastal paradise offers a captivating combination of natural elements that create a truly picturesque and awe-inspiring environment.
1. Coastal Vistas: As you step onto the beach, you'll be greeted by panoramic views of the Long Island Sound, stretching far and wide to the horizon. The sight of the sparkling blue waters meeting the clear sky is nothing short of mesmerizing.
2. Rocky Formations: The beach gets its name from the fascinating rocky formations that adorn its shoreline. These unique geological features not only add character to the landscape but also provide excellent vantage points for photographers to capture the beauty of the sea.
3. Sunsets and Sunrises: The sunsets and sunrises at Rocky Neck State Beach are simply breathtaking. As the sun dips below the horizon, the sky comes alive with hues of orange, pink, and purple, creating a magical canvas. Witnessing the sunrise over the water is equally enchanting, setting the tone for a perfect day at the beach.
4. Lush Greenery: The beach is surrounded by lush vegetation and foliage, providing a delightful contrast to the sandy shores and azure waters. The vibrant colors of the flora create a refreshing and serene ambiance throughout the park.
5. Wildlife Encounters: The park's natural beauty extends beyond its shoreline. As you explore the area, you may encounter various wildlife species, such as migratory birds, small mammals, and marine life. Keep your camera ready to capture these precious moments.
6. Picnic Spots: There are several designated picnic areas scattered around the park, nestled amidst the natural beauty of the surroundings. These spots offer the perfect setting to enjoy a meal while relishing the stunning scenery.
7. Tranquil Beach Atmosphere: Whether you're walking along the shore or simply relaxing on a beach towel, the tranquil atmosphere of Rocky Neck State Beach will soothe your senses. The sound of gentle waves, the caress of a coastal breeze, and the feeling of warm sand underfoot create a serene and rejuvenating experience.
8. Dunes and Salt Marshes: The beach is home to fascinating dunes and salt marshes, which play a crucial role in supporting the local ecosystem. These natural habitats are not only aesthetically pleasing but also provide opportunities for nature enthusiasts to learn about coastal ecology.
9. Seaside Flora and Fauna: Explore the area surrounding the beach to discover unique plant species that have adapted to the coastal environment. The dunes and marshes are home to specialized flora and fauna that thrive in this delicate ecosystem.
10. Clamming and Seashells: Rocky Neck State Beach is a treasure trove for beachcombers and clam enthusiasts. The beach is known for its abundant seashells and offers an opportunity for visitors to engage in clamming activities during certain times of the year.
Whether you're a nature lover, a photography enthusiast, or simply seeking a serene retreat, the spectacular scenery at Rocky Neck State Beach promises an unforgettable experience. As you immerse yourself in the natural wonders, take a moment to appreciate the beauty that surrounds you and create lasting memories in this coastal haven.
Facilities and Amenities
 Rocky Neck State Beach offers a wide range of facilities and amenities to ensure a comfortable and enjoyable experience for all visitors. Whether you're planning a day trip or an extended stay, the park provides everything you need to make your visit convenient and memorable.
Restroom Facilities: The beach provides clean and well-maintained restroom facilities conveniently located throughout the park. These facilities are easily accessible to visitors, ensuring comfort during your stay.
Outdoor Showers: After a refreshing swim in the Long Island Sound, rinse off the salt and sand with the outdoor showers available at the beach. These showers allow you to freshen up before heading back to your car or picnic area.
Picnic Areas: Rocky Neck State Beach offers designated picnic areas equipped with tables and benches, making it the perfect spot for a family gathering or a leisurely lunch with friends. Enjoy your meal surrounded by the beauty of nature.
Barbecue Grills: To enhance your picnic experience, the park provides barbecue grills at some of the picnic spots. Bring along your favorite grillable and enjoy a delicious cookout by the sea.
Beach Accessible Wheelchairs: The park is committed to accessibility, and visitors with mobility challenges can access beach-friendly wheelchairs at designated locations. These wheelchairs are designed to move easily on the sand, allowing everyone to enjoy the beach.
Visitor Center: Rocky Neck State Beach has a visitor center that provides valuable information about the park's history, wildlife, and recreational activities. It's an excellent place to start your journey and learn more about the area.
Concession Stands: For those who prefer to indulge in beach snacks and refreshments, concession stands are available at the park. Treat yourself to ice cream, snacks, or beverages as you soak in the sun.
First Aid Stations: Your safety is a priority at Rocky Neck State Beach. First aid stations are strategically located throughout the park to address any minor injuries or health concerns.
Beach Rentals: If you didn't bring beach gear with you, don't worry! The park offers beach chair and umbrella rentals, allowing you to relax comfortably by the water.
Parking Area: Ample parking space is available for visitors, making it convenient to park your vehicle and access the beach and its facilities.
Nature Trails: For those interested in exploring the park's natural beauty on foot, well-marked nature trails are available, providing an opportunity to immerse yourself in the surrounding flora and fauna.
Volleyball Courts: Sports enthusiasts can enjoy beach volleyball at the designated courts, offering a fun way to stay active during your visit.
Accessibility Services: Rocky Neck State Beach is committed to providing accessible facilities for all visitors, including accessible walkways and reserved parking spaces.
Pet-Friendly Areas: Rocky Neck State Beach is pet-friendly, and there are designated areas where you can take your furry companions for a stroll along the coastline. Remember to keep pets on a leash and clean up after them.
With its wide array of facilities and amenities, Rocky Neck State Beach ensures that your visit is convenient and enjoyable, allowing you to focus on creating cherished memories in this coastal paradise.
Exciting Outdoor Activities
 Rocky Neck State Beach offers an array of exciting outdoor activities that cater to visitors of all ages and interests. Whether you're an adventure enthusiast, a water lover, or simply looking to enjoy nature's wonders, the park has something thrilling in store for everyone.
Swimming: The Long Island Sound provides a safe and refreshing environment for swimming. Enjoy the cool waters and gentle waves as you take a dip in the ocean.
Beach Volleyball: Gather your friends or family for a friendly game of beach volleyball. The sandy shores offer the perfect setting for this classic beach activity.
Kayaking and Canoeing: Explore the coastal beauty from a different perspective by renting a kayak or canoe. Paddle along the shoreline, discovering hidden coves and captivating landscapes.
Paddleboarding: Stand-up paddleboarding is a fantastic way to enjoy the water and improve your balance skills. Rent a paddleboard and glide across the calm waters of the Long Island Sound.
Sandcastle Building: Let your creativity shine as you and your loved ones build sandcastles on the beach. It's a fun activity for kids and adults alike.
Nature Walks: Take a leisurely stroll along the nature trails that wind through the park. Immerse yourself in the natural beauty, spot wildlife, and enjoy the peaceful surroundings.
Birdwatching: Rocky Neck State Beach is a haven for birdwatchers. Bring your binoculars and spot various bird species that inhabit the coastal area.
Nature Photography Expeditions: For avid photographers and nature enthusiasts, Rocky Neck State Beach presents endless opportunities for nature photography expeditions. The diverse landscapes, ranging from rocky shores to lush marshlands, offer captivating subjects for your lens. Capture the vibrant colors of the flora, the delicate dance of butterflies, and the playful antics of seagulls, all in their natural habitat.
Sunset Yoga: Embrace tranquility and mindfulness with a soothing sunset yoga session by the shore. Practicing yoga on the beach allows you to connect with nature, find inner peace, and witness the sun gently dip beneath the horizon, painting the sky in a palette of stunning hues.
Nearby Attractions
There are several nearby attractions to Rocky Neck State Beach in East Lyme, USA.
Rocky Neck State Park: While the beach itself is a major attraction, the park offers various recreational activities, including picnicking, hiking, and birdwatching. There are also opportunities for fishing and crabbing in the area.
McCook Point Park: Located nearby in Niantic, this park offers stunning views of Long Island Sound and features walking trails, picnic areas, and a beautiful lighthouse.
Niantic Bay Boardwalk: Enjoy a leisurely stroll along the boardwalk, which extends along Niantic Bay. It's a great spot for a relaxing walk with beautiful views of the water.
The Children's Museum of Southeastern Connecticut: A family-friendly attraction in Niantic, this museum offers interactive exhibits and educational programs for kids.
Niantic Bay Shellfish Farm: If you're a fan of seafood, consider visiting this shellfish farm to learn about oyster and clam farming in the area.
Essex Steam Train & Riverboat: Located a short drive away in Essex, this attraction offers scenic train rides and boat tours along the Connecticut River.
Old Lyme Historical Society: Learn about the history of the local area at this historical society, which features exhibits and events related to the town's past.
Gillette Castle State Park: This unique and picturesque park, located in East Haddam, is home to the castle of the famous actor William Gillette. Explore the castle and the surrounding grounds for a memorable experience.
Connecticut River Museum: Situated in Essex, this museum focuses on the history and heritage of the Connecticut River and the surrounding region.
Florence Griswold Museum: Also in Old Lyme, this museum is dedicated to American Impressionism and features a collection of artworks in a historic setting.
Remember to check the opening hours, availability, and any potential changes or restrictions related to these attractions before planning your visit. Enjoy your time exploring the area around Rocky Neck State Beach!
Best Time to Visit
Rocky Neck State Beach is a year-round destination, each season offering a different kind of charm. However, the best time to visit is during the spring and summer months when the weather is pleasant and outdoor activities are in full swing.
Conclusion
Rocky Neck State Beach in East Lyme, USA, offers a beautiful and inviting beach experience, complemented by the surrounding Rocky Neck State Park. The park provides opportunities for picnicking, hiking, fishing, and birdwatching, making it an excellent destination for outdoor enthusiasts and families alike.
Additionally, there are several other attractions in the nearby areas of Niantic, Essex, and Old Lyme, offering a diverse range of experiences for visitors. These attractions include scenic parks, boardwalks with beautiful views, museums celebrating the region's history and art, and unique sites like Gillette Castle.
When planning your visit to these attractions, it's essential to check for the latest updates, opening hours, and potential restrictions to ensure a smooth and enjoyable experience. Overall, the area around Rocky Neck State Beach presents a mix of natural beauty, recreational activities, and cultural experiences for all to enjoy.
How much did you like Our detailed Rocky Neck State Beach and Park? Review Also, please share these Blogs with your friends on social media.
Recommended
Rocky Neck State Beach and Park directions
Rocky Neck State Beach and Park FAQs