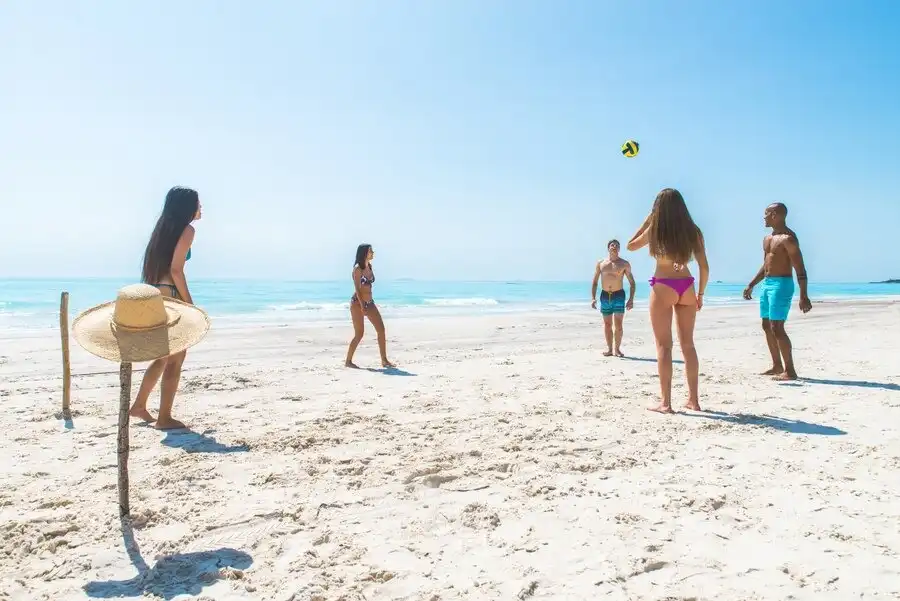 Are you planning a
trip to Pattaya and wondering where to find the best beach experience? Well,
we've got exciting news for you! Yin Yom Beach is the place to be, and we'll
tell you exactly why. Imagine pristine shores, plenty of fun activities, and a
chance to soak in the beauty of Pattaya's coastline.
In this review,
we'll guide you through why Yin Yom Beach is the ultimate destination for your
perfect beach vacation. Let's explore what makes this beach stand out and why
it should be your top choice.
History of Yin Yom Beach Pattaya
History of Yin Yom Beach Pattaya Yin Yom is a beautiful sandy beach in Pattaya, Thailand. History says that it was once an island but due to the construction of a causeway, it is now connected to the mainland.
The word "yin" means shadow in Thai and "Yom" means sun, hence the name Yin Yom which means Shadow of the Sun. It is believed that the name was given because in the olden days, there were no buildings on the mainland and so the island was completely in the shadow of the sun. The beach is very popular with locals and tourists alike and is well known for its clear water and lovely views.
There are plenty of activities to keep you busy such as swimming, sunbathing, windsurfing, jet skiing, and parasailing. If you're looking for a quiet spot to relax, then Yin Yom Beach is worth a visit.
How to Reach Yin Yom Beach

Address: WV55+65P, Jomtien Beach Road, Pattaya City, Bang Lamung District, Chon Buri, Thailand
By Taxi or Ride-Sharing Service: The most convenient way to reach Yin Yom Beach is by taking a taxi or using a ride-sharing service like Grab (if available in the area). You can provide the address "WV55+65P, Jomtien Beach Road, Pattaya City, Bang Lamung District, Chon Buri, Thailand" to the driver. Make sure the driver knows the location or has access to GPS directions from your destinations.
By Public Transportation:
Songthaew: Songthaews are shared pickup trucks with benches in the back and are a common form of public transportation in Pattaya. You can hop on a Songthaew heading in the direction of Jomtien Beach and ask the driver to drop you off at Yin Yom Beach, specifying the address if needed.
Baht Bus: Pattaya also has Baht Buses, which are converted pickup trucks with covered seating in the back. You can flag one down along the route and ask the driver to take you to Jomtien Beach. From there, you can walk to Yin Yom Beach or ask locals for directions.
Walking: If you are staying in the vicinity of Jomtien Beach, you may be able to walk to Yin Yom Beach. Use a map or navigation app to find your way.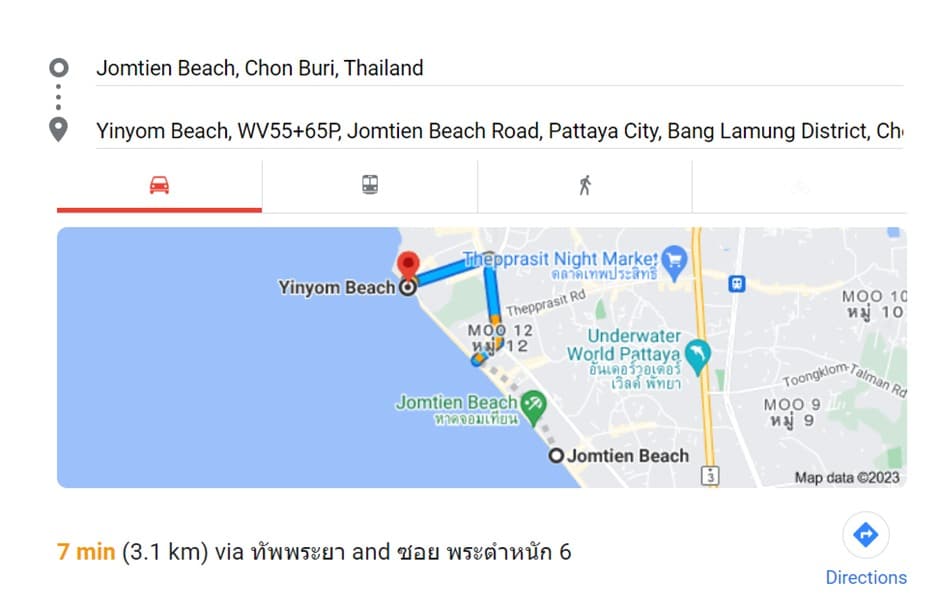 Why to visit Yin Yom Beach
Yin Yom Beach is a beautiful coastal destination located near Pattaya, Thailand. It is known for its serene and tranquil ambiance, making it an excellent spot for relaxation and sunbathing. The beach is often considered one of the best places in Pattaya, offering visitors a peaceful escape from the hustle and bustle of the city.
Visitors to Yin Yom Beach can enjoy its pristine sandy shores and clear blue waters. It provides a more secluded and less crowded alternative to some of the more popular beaches in the area. The calm and peaceful atmosphere makes it a preferred destination for those seeking a quiet beach experience.
Perfect time to Visit Yin Yom Beach
There is no perfect Answer Yin Yom Beach is the perfect place to visit any time of year. Yin Yom Beach is the perfect place to relax and enjoy the natural beauty of Thailand. The clear blue water and white sand beaches are a perfect backdrop for a day of swimming, sunbathing, and simply enjoying the company of friends and family. 
The beach is also a great place to take part in a variety of activities such as kayaking, windsurfing, and stand-up paddle boarding. 
Also, if you are looking best hotels and Homestay deals then we recommend booking your hotels and homestay with priceline.com
What is Yin Yom Beach famous for?
For many people, a trip to the beach is all about soaking up the sun and relaxing in the sand. However, Yin Yom Beach in Thailand is famous for its dramatic cliffs, crystal-clear water, and secluded location. Located on the west coast of Phuket Island, Yin Yom Beach is only accessible by boat or by hiking down a steep cliffside path.
Once you arrive, you'll be rewarded with views of limestone cliffs towering over the sea and a stretch of untouched sand. This serenity comes at a price, as there are no lifeguards on duty and no amenities nearby.
However, if you're looking for a truly unique beach experience, Yin Yom Beach is well worth a visit.
Activity, Things to Do and Explore Near Yin Yom Beach, Pattaya
Yin Yom Beach, located in Pattaya, Thailand, offers visitors a tranquil and picturesque environment. Here are some activities and places to explore near Yin Yom Beach:
Beach Relaxation: Enjoy the pristine sands and crystal-clear waters of Yin Yom Beach. Relax, sunbathe, or take a leisurely swim to unwind and soak in the natural beauty of the area.
Water Sports: Engage in various water sports like snorkeling, jet-skiing, and kayaking to add some adventure to your beach experience.
Explore Nearby Beaches: Pattaya Beach and Jomtien Beach are nearby and worth a visit for their vibrant atmosphere, water activities, and dining options.
Dining: Sample delicious Thai cuisine at the beachside restaurants and stalls. Fresh seafood is a highlight in this region, so don't miss out.
Scenic Views: Visit the viewpoint near Yin Yom Beach to capture breathtaking views of the coastline and surrounding landscapes. It's a great spot for photography.
Local Culture: Immerse yourself in the local culture by interacting with friendly locals and experiencing traditional Thai hospitality.
Nearby Attractions: Explore other attractions in Pattaya such as the Sanctuary of Truth, Nong Nooch Tropical Botanical Garden, and the vibrant Pattaya nightlife scene.
Remember that Yin Yom Beach offers a more peaceful and laid-back atmosphere compared to some of the busier beaches in Pattaya, making it an ideal spot for relaxation and enjoying the natural beauty of the area.
Yin Yom Beach Photos
What Best cuisine to eat near Yin Yom Beach?
| | |
| --- | --- |
| Cuisine | Recommended Dishes |
| Thai Street Food | – Pad Thai (stir-fried noodles) |
|   | – Som Tum (papaya salad) |
|   | – Moo Ping (grilled pork skewers) |
|   | – Gai Yang (grilled chicken) |
| Seafood | – Tom Yum Goong (spicy shrimp soup) |
|   | – Pla Rad Prik (fried fish with chili sauce) |
|   | – Hoy Tod (oyster omelet) |
| Thai Curries | – Green Curry |
|   | – Red Curry |
|   | – Massaman Curry |
| Noodles | – Pad See Ew (stir-fried wide rice noodles) |
|   | – Boat Noodle Soup |
|   | – Khao Soi (northern Thai curry noodle soup) |
| Fruit Shakes | – Mango |
|   | – Pineapple |
|   | – Coconut |
| Coconut Ice Cream | – Served in coconut shells |
| International Cuisine | – Italian, Japanese, Chinese, and more options |
| Mango Sticky Rice | – Classic Thai dessert with ripe mangoes and rice |
Nearby Must-See Attractions
| | | |
| --- | --- | --- |
|   | Top Nearby Attraction | Famous For |
| 1 | Sanctuary of Truth Museum | Intricate wooden architecture and sculptures |
| 2 | Nong Nooch Botanical Garden | Beautiful gardens and cultural shows |
| 3 | Pattaya Beach | Sunbathing, water sports, and vibrant nightlife |
| 4 | Walking Street | Nightlife, bars, and entertainment |
| 5 | Pattaya Elephant Village | Elephant interactions and cultural shows |
| 6 | Ripley's Believe It or Not! Pattaya | Oddities and unusual exhibits |
| 7 | Mini Siam and Mini Europe | Miniature replicas of famous landmarks |
| 8 | Pattaya Park Tower | Observation deck and revolving restaurant |
| 9 | Colosseum Show Pattaya | Spectacular Roman-themed cabaret show |
| 10 | Big Buddha Temple | Giant Buddha statue and panoramic views |
Also, read – Top Places to Visit in Bangkok
Where to Stay at Yin Yom Beach?
If you're looking for an easy way to get your hands on a free book while in Pattaya, head to the beachside cafes – they'll likely have books that are free or available for only a few minutes before being taken away. Or, if you're feeling more adventurous, try bargaining – many sellers will provide books with free entry into the city during peak hours.
BEDTIME
Bedtime. Find amazing hotels in Yim Yon Beach
Things to Avoid?
Yin Yom Beach is a beautiful place to relax and enjoy the sun. However, there are a few things you should avoid doing while you're there.
First and foremost, avoid getting sunburned. Yin Yom Beach is famous for its strong sun, so make sure to put on sunscreen regularly.  wraparound sunglasses
Another thing to avoid at Yin Yom Beach is littering.  The staff does their best to keep the beaches clean, but it's up to visitors to help by disposing of their trash properly. Not only is littering unsightly, but it's also harmful to the environment.
Finally, avoid staying out too late at night. While the atmosphere at Yin Yom Beach is generally safe, it's always best to err on the side of caution and head back to your hotel before it gets too dark.
By following these simple tips, you can have a fun and enjoyable experience at Yin Yom Beach.
Also, read = Madrona Beach
Conclusion
If you're looking for a beach to relax and enjoy the sun, Pattaya Yom Beach is a great choice. The benefits of visiting this beach include getting a free book at the end, enjoying the weather, and taking pictures! If you're looking for an all-encompassing travel destination, be sure to explore other areas of Pattaya such as Yotel or Silom.
Yim Yom Beach FAQ
Yim Yon Beach is 50 minutes away from U-Tapao-Rayong-Pattaya International Airport (43.4 km)
If you are looking to book budget-friendly hotels, resorts, Airport Taxis, cars, etc. So, we recommend you book your stay from Booking.com Or Omio you will get plenty of deals along with verified hotels and a homestay.
If You Are Looking for a Luxury Family experience, we recommend you book your luxury stay with Radisson Hotels.
WV55+65P, Jomtien Beach Road, Pattaya City, Bang Lamung District, Chon Buri, Thailand
Related Article –
Where is Yin Yom Beach (Map Locations)?