Grand Haven Beach, MI, USA | Beach Camp & Location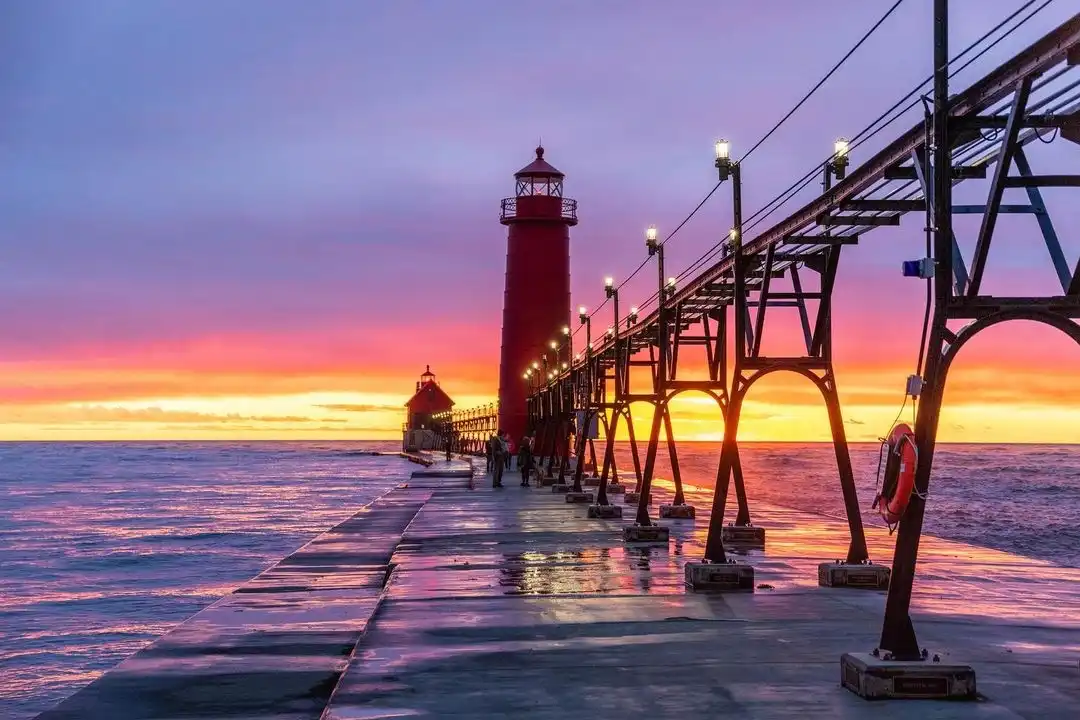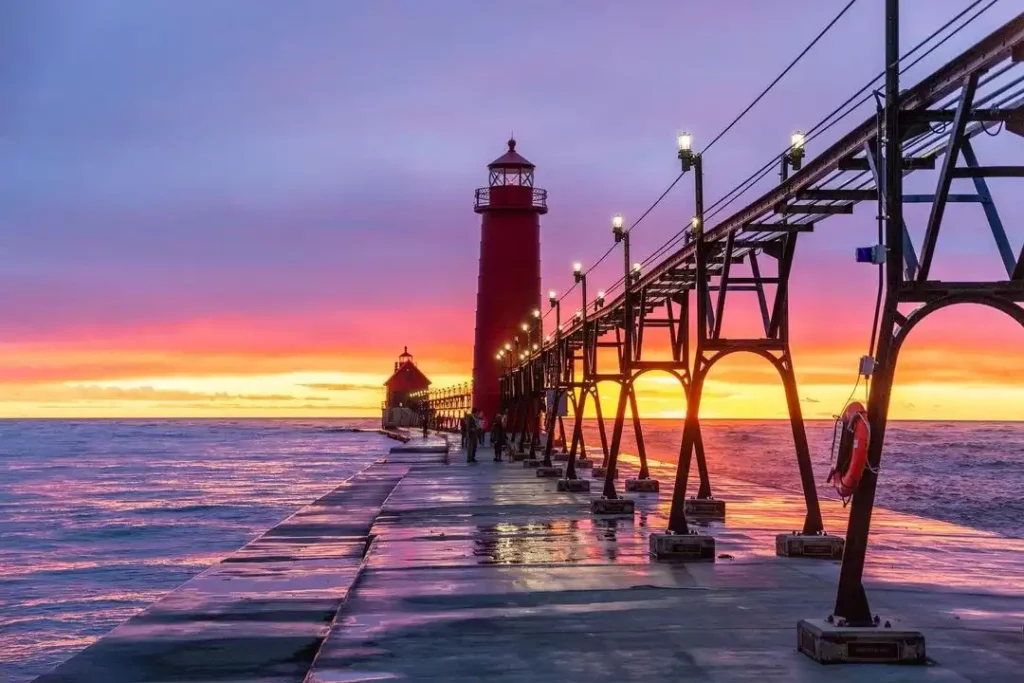 Grand Haven Beach | Podcast
Imagine a place where the sand is soft beneath your feet, the sun warms your skin, and the blue-sky blankets itself above you. That's how it feels at Grand Haven Beach in Michigan USA – an experience unlike any other: vibrant sunshine and gentle waves that bring with them relaxation, joy, and peace of mind.
Here on Grand Haven Beach, you will find all kinds of beach activities from swimming to kayaking; enjoy long walks on the miles of shoreline or read and relax while soaking up some Vitamin D.
Whether you're looking for a beach vacation destination or just a day trip away from home, there's something special about spending time enjoying this natural paradise by the sea – come see for yourself!
About grand haven beach & Its Locations
Grand Haven beach is a stunning stretch of sand that hugs Lake Michigan's shoreline. It is located in the coastal town of Grand Haven, Michigan, and its expansive two-mile-long beach area offers spectacular views at any time of day.
Whether visitors come here to relax or play in the water, they will find plenty to do when they visit Grand Haven beach. Anglers can take part in some of the most abundant and diverse freshwater fishing, while sunbathers can enjoy relaxing under warm sunshine throughout the summer months.
Families and friends alike can take part in building sandcastles or playing in the gentle waves along the shore. After a long day at Grand Haven beach, visitors can sojourn to the downtown area for delicious eats and nightlife entertainment options. 
How to Reach grand haven beach?
There are a few ways to reach Grand Haven State Park and its beach:
By car: The park is located at 1001 S Harbor Dr, Grand Haven, MI 49417. It is easily accessible by car from major highways such as I-96 and US-31.
By bus: The Macatawa Area Express (MAX) bus service offers several routes that stop near the park.     
By train: The Amtrak Pere Marquette train service runs between Grand Rapids and Chicago, and has a stop in Grand Haven. From the station, you can take a taxi or bus to the park.
By plane: The nearest airport to Grand Haven is Gerald R. Ford International Airport (GRR) in Grand Rapids, which is about 30 miles away. From there, you can rent a car or take a bus or taxi to the park.
By boat: The park also has a marina, which can be accessed via Lake Michigan, if you are coming from a boat.
If You are planning to visit Indonesia and looking for the best flight booking from your destination to Indonesia then, So we recommend you book your flight (Malaysia airlines)
Also, Read– Top famous Places to visit in Indonesia
What is Grand Haven Beach Known for?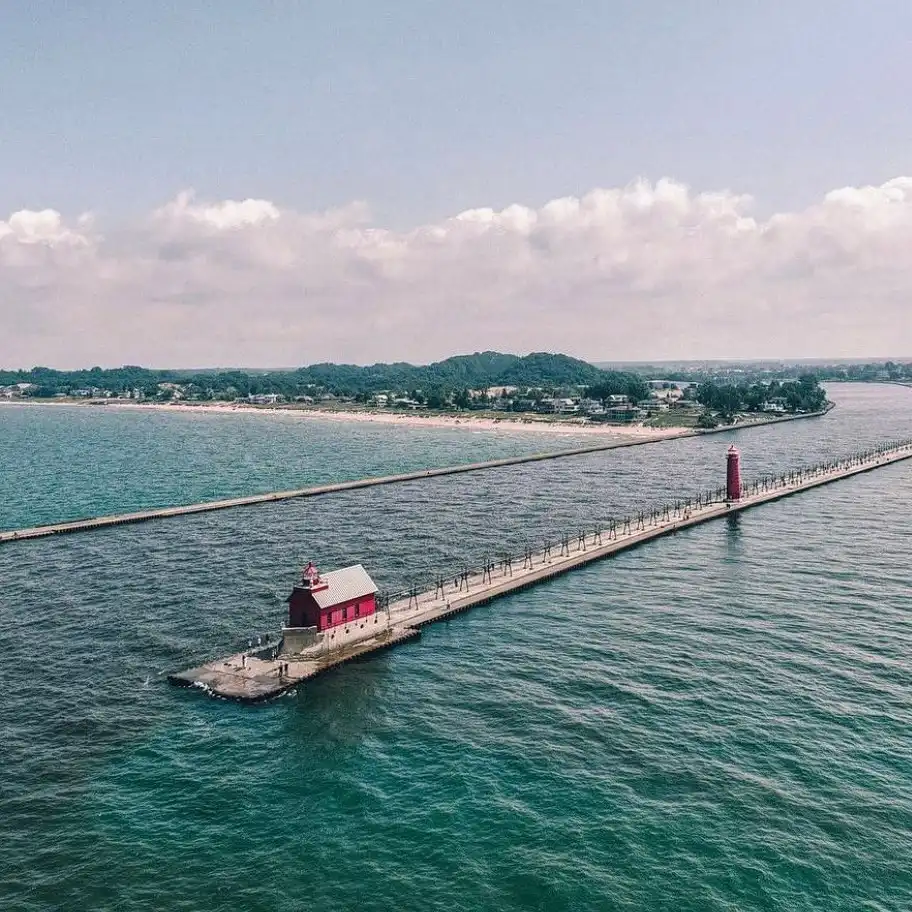 Grand Haven Beach is a popular spot on the Great Lakes, known for its beautiful shoreline, sunny days, and potential for fun activities. Boating, Camping, and fishing have both been longtime attractions at the beach, with Lake Michigan providing plenty of space for motorized boats seeking adventure or anglers looking for those big catches. 
Read This– 100 Best Places to Visit in Maldives
Activities and Things to do at grand haven beach?
Grand Haven State Park offers a variety of activities and things to do for visitors:
Swimming and sunbathing: The park's large, sandy beach is a popular spot for swimming, sunbathing, and building sandcastles.
Fishing: The park has a fishing pier and a boat launch for anglers to catch a variety of fish species such as perch, salmon, and steelhead.
Hiking and biking: Several trails wind through the park, including the paved Lake Michigan Trail, which offers great views of the lake.
Picnicking: The park has several picnic areas with grills, tables, and playgrounds for visitors to enjoy.
Camping: The park has a large campground with over 200 sites for tents and RVs, with modern restrooms and showers.
Lighthouse & pier: The Grand Haven South Pierhead Lighthouse and the Grand Haven North Pier Lighthouse are popular spots for sightseeing and photography.
Musical fountain: The Grand Haven Musical Fountain offers a light and water show during the summer months. It's a great spot to relax and enjoy the sights and sounds of the fountain.
Shopping and dining: The park is located near the downtown area of Grand Haven, which offers a variety of shops, restaurants, and ice cream parlors.
Grand haven Beach Photos
Attraction Point Near grand haven beach
Grand Haven Lighthouse: The iconic Grand Haven South Pierhead Lighthouse is located within the park and is a popular spot for sightseeing and photography.
Tri-Cities Historical Museum: This museum is dedicated to the history of the Grand Haven, Spring Lake, and Ferrysburg area. It is located approximately 3.5 miles (5.6 km) from the park.
Grand Haven Musical Fountain: The Grand Haven Musical Fountain is located in the park, and is a popular spot for visitors to enjoy the light and water show during the summer months.
Chinook Pier: This pier is located about 1.4 miles (2.3 km) from the park, and offers great views of Lake Michigan and the city of Grand Haven.
P.J. Hoffmaster State Park: This state park is located approximately 5.8 miles (9.3 km) from Grand Haven State Park and offers dune formation, hiking trails, and campsites.
Must Read Post– Top 22 places to visit in Phuket |Thailand
Accommodations and Restaurants Near the Beach   
There are several options for accommodations and restaurants near Grand Haven State Park and its beach:
Accommodations:
Grand Haven Beach House: This vacation rental home is located just steps from the beach.
Grand Haven Travelodge: Located approximately 1.8 miles (2.9 km) from the park, this hotel offers comfortable rooms and a convenient location.
The Boardwalk: Located just off the beach and offers a variety of rooms and suites with beautiful views of Lake Michigan.
Best Western Harborfront Inn: This hotel is located on the waterfront of Lake Michigan and is just over 1 mile (1.6 km) from the park.
Restaurants:
The Kirby: This seafood restaurant is located on the waterfront and offers a variety of fish and seafood dishes.
The Grand Haven Fish Market: Located just off the beach, this market offers a variety of fresh seafood to take home or eat on the spot.
The Toasted Pickle: This casual eatery serves sandwiches and burgers, and is located just off the beach.
The Harbor Restaurant: This casual restaurant is located on the waterfront and offers a variety of American dishes and a great view of the lake.
Food to Eat
Grand Haven, Michigan is known for its seafood, and several restaurants near the beach offer a variety of fish and seafood dishes. Some popular seafood dishes that you may find on menus include:
Whitefish: This freshwater fish is a local specialty, and can be prepared in a variety of ways, such as grilled, pan-fried, or baked.
Perch: Another popular freshwater fish that is common in Lake Michigan, perch can be breaded and fried, or grilled.
Salmon: This popular fish is often grilled or baked, and can be paired with a variety of sauces and sides.
Shrimp: This popular seafood can be enjoyed in a variety of ways such as grilled, fried, or in a shrimp cocktail.
Clam chowder: a creamy soup made with clams and vegetables, it's a hearty and comforting dish.
Lobster roll: a sandwich that features cold lobster meat served on a toasted roll with butter, lemon juice, and seasonings.
Crab cakes: a dish made of crab meat, breadcrumbs, and seasonings, it's a popular seafood dish that can be enjoyed as an appetizer or main course.
Things to Avoid
Grand Haven Beach may be one of the most picturesque spots in Michigan, but there are some things you should avoid doing while visiting.
First and foremost, don't forget your sunscreen! The harsh midday sun can often leave visitors burnt and regretting their decision to ignore slathering up with SPF.
Second, Also, it's important to not fire off fireworks as they are illegal on public beaches.
Additionally, to both save yourself some hassle and show respect for the environment, also stay away from releasing sky lanterns or helium balloons into the sky; they pose a risk of starting fires or simply being a hazard in the sky above beachgoers heads.
Finally, to best preserve its beauty for all who visit, keep any glass items away from Grand Haven Beach – sans bottles of iced tea and lemonade when visiting with the family!
Conclusion
Grand Haven Beach is the perfect place to spend a summer vacation. The beach is beautiful and the campgrounds are well-maintained. There are plenty of activities for everyone to enjoy, from swimming and sunbathing to fishing and hiking. If you're looking for a fun-filled travel destination that won't break the bank, Grand Haven Beach should be at the top of your list!
How much did you like Our detailed Grand Haven Beach, MI, USA | Beach Camp & Location? Review Also, please share these Blogs with your friends on social media.
Recommended
Grand haven beach Map
Grand haven Beach FAQ