Landa Park (New Braunfels) TX | 10 Fun Activities to do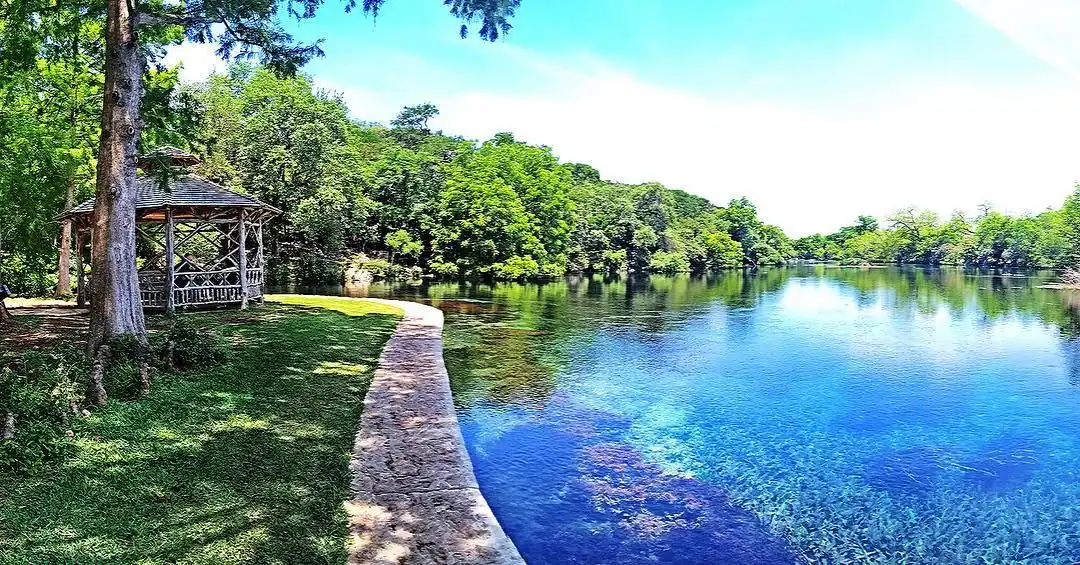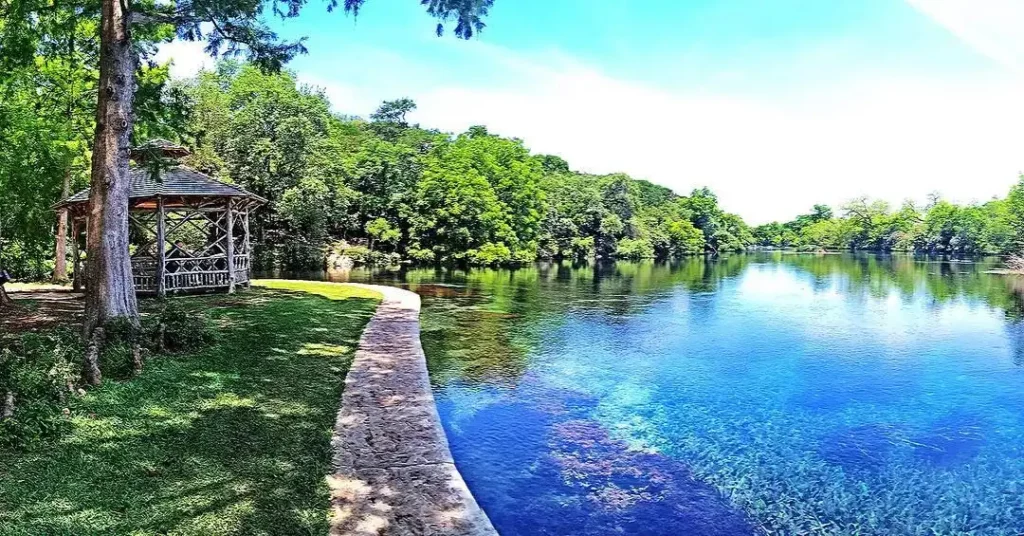 Landa Park, in New Braunfels TX – is an enchanting public area with lush green surroundings, historic sites, and excellent opportunities for both local and international travelers. If you are looking for a place to explore nature and experience all kinds of leisure activities, then Landa Park is the perfect destination.
Here you will find miles of cycling trail paths, crystal-clear mineral springs to relax in, and plenty of areas to picnic or camp out under the stars. In addition, multiple attractions such as Schlitterbahn waterpark appeal to different ages and tastes.
From family-friendly boat tours on the adjacent Comal River to thrilling hikes through scenic trails, this park offers something fun for everyone! Read on as we discuss the 10 best experiences awaiting your visit to Landa Park.
What are Landa Park and its locations?
Landa Park is a park located in New Braunfels, Texas. It features picnic areas, hiking trails, a playground, a mini-train, and a spring-fed pool. The park is situated along the Comal River and has scenic views of the surrounding hill country. It is a popular destination for locals and tourists alike, offering outdoor recreational activities and a tranquil environment. 
History of Landa Park
Holding a place of significance to New Braunfels History, Landa Park was initially owned by Harry and Joseph Landa from 1847 to 1927 and was developed as a private park for their family and guests. By 1898, the growth of the region brought railroad spurs into Landa's Park, allowing visitors from San Antonio and other parts of Texas to enjoy its beauty.
To accommodate the influx of tourists, many picturesque amenities were created such as a Philippine-style gazebo near the lake shore, one-of-a-kind footbridges made with cedar branches, and elegant pavilions used for dining occasions and social gatherings. It quickly gained renown as the "Beauty Spot of Texas" which endured until 1927.
The heart of this beloved park is still its natural artesian springs known as Comal Springs – the largest springs in Texas and the North American Southwest. In 1936, Landa Park was officially opened to the general public.
How to Reach Landa Park
Landa Park is located at 164 Landa Park Drive, New Braunfels, Texas 78130, United States.
To reach Landa Park by car, one can take the I-35 exit for New Braunfels and follow the signs for Landa Park Drive. Parking is available at the park.
The nearest airport is San Antonio International Airport (SAT), located about 30 miles south of New Braunfels. From there, one can rent a car or take a taxi or ride-sharing service to reach Landa Park.
Public transportation options are limited, but one could take a bus from San Antonio to New Braunfels and then take a taxi or ride-sharing service to reach Landa Park.
if you are looking best hotels and Homestay deals then we recommended book your hotels and homestay with priceline.com 
Also, Read– Top famous Places to visit in Indonesia
What is Landa Park famous for?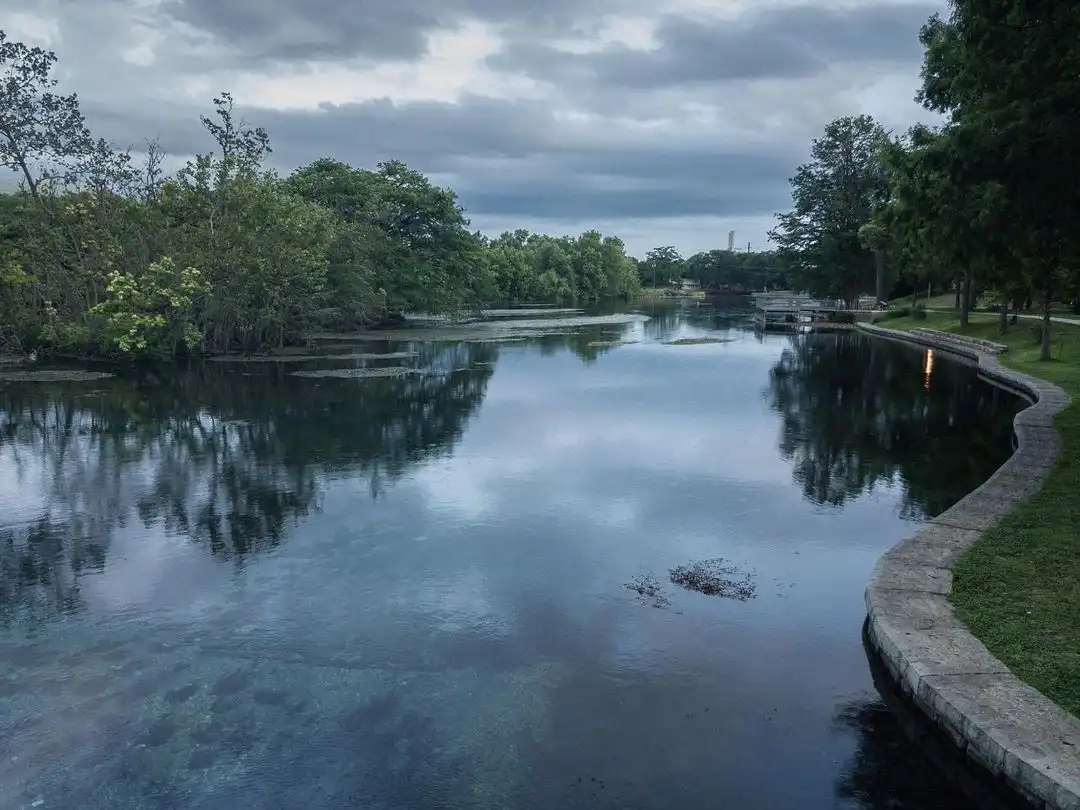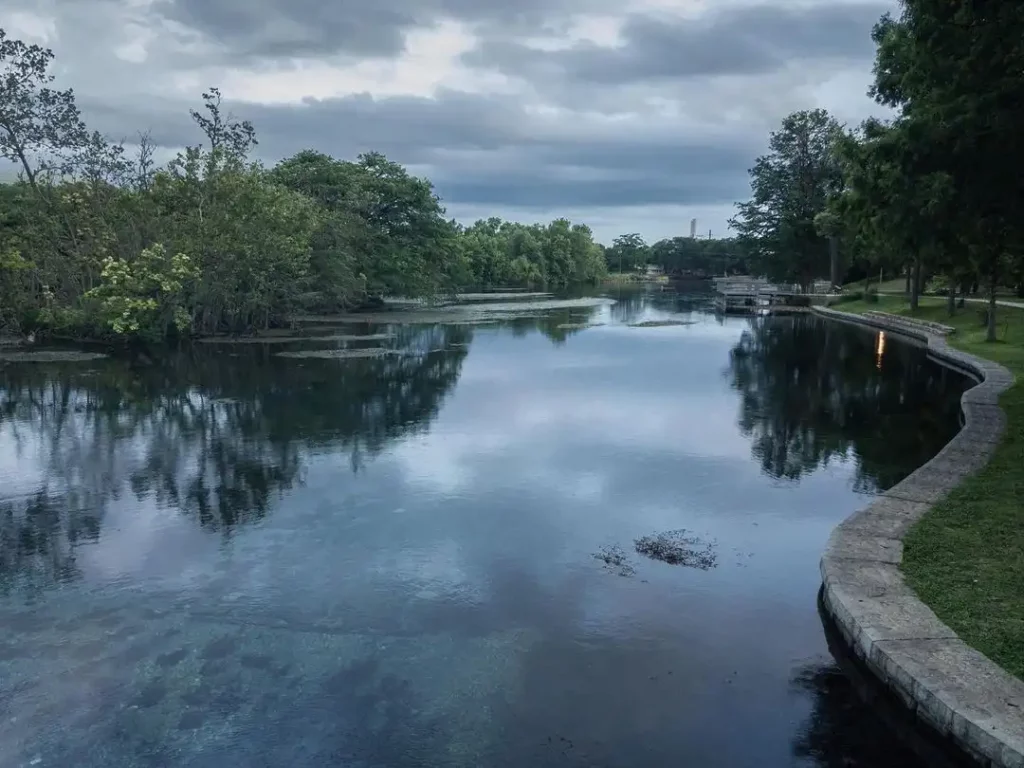 Landa Park in New Braunfels, Texas is famous for its scenic beauty and outdoor recreational activities. Some of the key features that make Landa Park a popular destination include:
Comal Springs: The largest springs in Texas and the North American Southwest, and the heart of Landa Park.
Hiking trails: The park offers several scenic hiking trails with views of the surrounding hill country.
Playground: A popular spot for children, the playground is equipped with swings, slides, and other play structures.
Mini-train: A fun and unique feature of Landa Park, the mini-train offers rides through the park and provides a great way to see the sights.
Spring-fed pool: A popular swimming spot in the summer, the spring-fed pool is cooled by the natural springs and offers a refreshing escape from the heat.
Picnic areas: Landa Park has several picnic areas with grills, tables, and shade trees, making it a popular spot for picnics and outdoor gatherings.
Read This– 100 Best Places to Visit in Maldives
Activities and Things to do at Landa Park
1. Hiking and Picnicking – Whether you're an avid hiker or simply looking for an easy walk with a nice view, there are plenty of trails to explore. Take your time and enjoy the scenery as you hike through the park. Once you're done, why not grab some snacks from nearby stores and have a picnic in one of the designated areas?
2. Swimming – There is no better way to cool off during those hot Texas summers than by taking a dip in one of Landa Park's two pools! The larger pool offers lap lanes for those looking to exercise or practice their swimming techniques, while the smaller pool is perfect for younger children who may not be ready to swim in deeper water yet.
3. Playing in the Playground – Kids will love playing on the playground equipment located near the pools. With multiple slides, swings, monkey bars, and other features, they'll never get bored! Plus, parents can relax knowing that all of the equipment has been recently inspected by certified safety professionals.
4. Visiting Comal Springs – Did you know that Landa Park is home to one of Texas's most popular natural springs? Comal Springs is made up of five main spring groups with several smaller springs scattered throughout them—all connected by water-filled channels called 'runways'! It's sure to be an experience unlike any other! 
5. Taking a Scenic Walk – If you want to explore beyond what nature has provided, why not take a stroll along one of Landa Park's paved walking paths? You can take in views of Lake McQueeney as well as beautiful wildflowers blooming from spring until fall. 
6. Having a Picnic Lunch – No day trip would be complete without food! Pack up some sandwiches or pick up something from one of many restaurants nearby and have yourself a picnic lunch at one of the many tables located throughout the park.
7. Volleyball Court – Grab some friends and head over to Landa Park's volleyball courts! Whether you prefer beach-style play or just hitting around with your family on grass courts, it's sure to be an enjoyable game every time!
8. Miniature Golf Course – Challenge your family (or yourself!) on this 9-hole miniature golf course designed with adults in mind but great fun for kids too!
9. Fishing Pier – For those looking for more peaceful activities while out at Landa Park, why not try your luck at fishing? The Fishing Pier located within Landa Park offers plenty of space for anglers—both experienced and newbies alike—to cast their lines into Lake McQueeney in search of bass or catfish!
10 Olympic Pool – If swimming laps is more your speed, check out the Olympic Pool located within Landa Park's boundaries – visitors must purchase tickets before entering this area but it's worth it if swimming laps provides relief from stress or allows visitors to work towards fitness goals – this pool also offers diving boards so swimmers can show off their skills or just have fun splashing around with friends & family members!  
Must Read Post– Top 22 places to visit in Phuket |Thailand
Landa Park Photos
Attractions Point Near Landa Park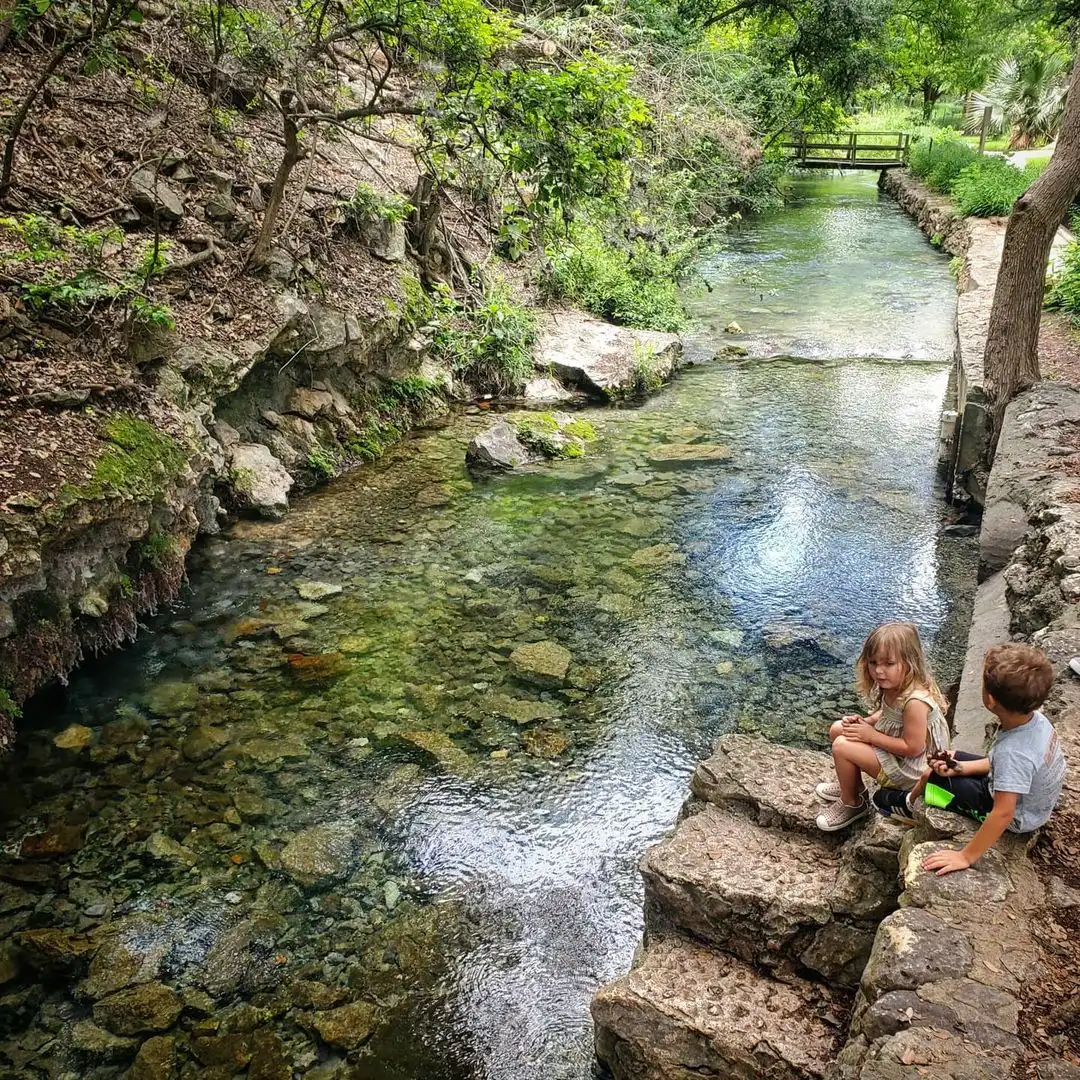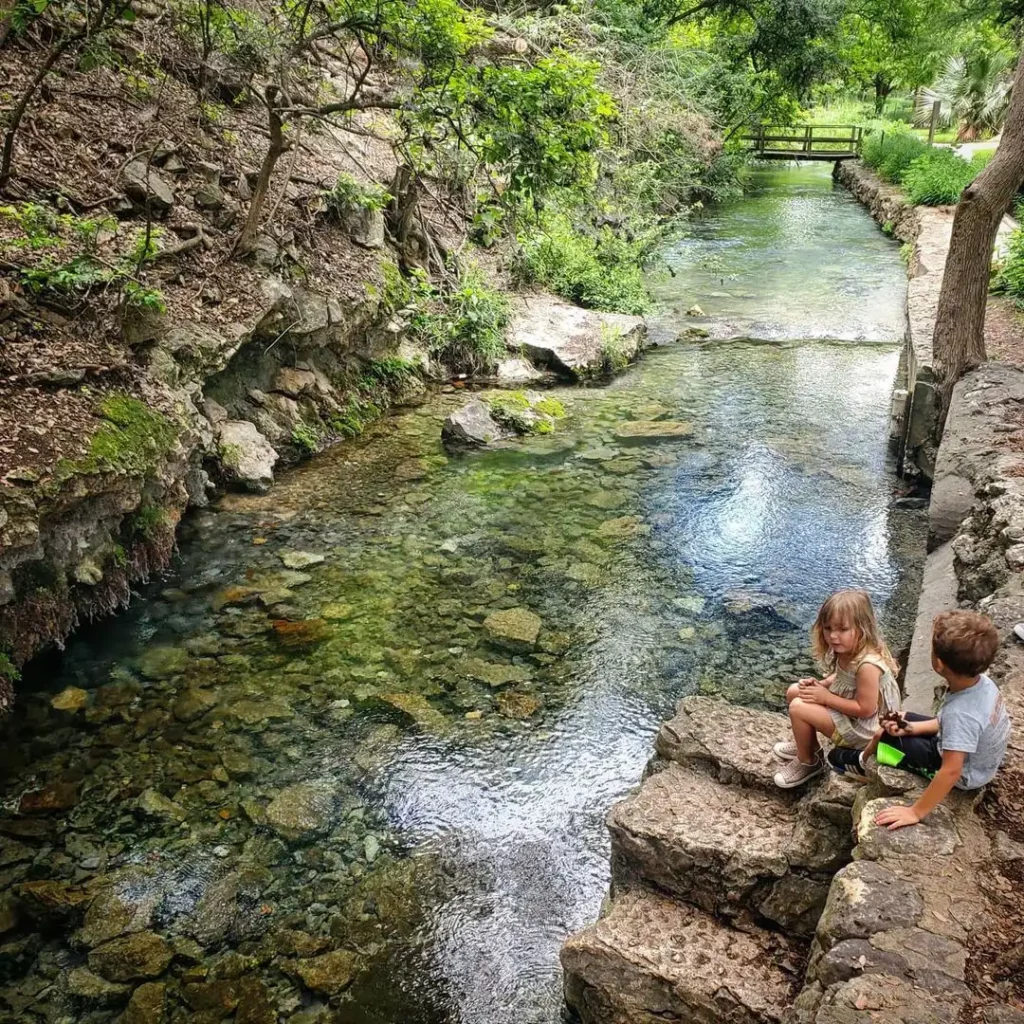 Schlitterbahn New Braunfels Water Park 4 min (1.3 mi)
Gruene Historic District- 11 min (4.8 mi)
New Braunfels Farmers Market -4 min (1.1 mi)
Brauntex Theatre -4 min (1.1 mi)
New Braunfels Smokehouse-5 min (1.5 mi)
New Braunfels Conservation Society- 8 min (3.1 mi)
Heritage Museum of New Braunfels- 8 min (3.0 mi)
Accommodations and Amenities at Landa Park
Landa Park is one of the most unique and picturesque parks around, offering plenty of cozy accommodations and amenities for visitors looking to explore the beauty of New Braunfels. From lush greenery and blooming flowers to nearby cabins with comfortable beds and warm fireplaces, this park has nothing short of deluxe amenities available, designed to make you feel as plush and relaxed as possible during your stay. 
Things to Avoid
Here are some things to avoid when visiting Landa Park in New Braunfels, Texas:
Littering: Please keep the park clean and dispose of all trash in the designated waste bins.
Damaging Natural Resources: Please do not disturb the natural springs, wildlife, or other park resources.
Feeding Wildlife: Do not feed the ducks, geese, or other wildlife in the park as it can harm their health and disrupt their natural behaviors.
Smoking: Smoking is not allowed in Landa Park.
Fireworks: The use of fireworks is not allowed in the park.
Pets: Pets are not allowed in designated swimming areas and must be kept on a leash at all times.
Loud Music: Please keep noise levels down and be respectful of others, especially in the early morning and late evening hour
Conclusion
Texas is a great state for outdoor activities, and Landa Park in New Braunfels is a perfect example of that. With so many things to do, you're sure to have a blast no matter what your interests are. So get out there and explore all that Landa Park has to offer!
How much did you like Our detailed Landa Park (New Braunfels) TX | 10 Fun Activities to do? Review Also, please share these Blogs with your friends on social media.
Recommended
Landa Park Map Directions
Landa Park FAQ