North avenue beach (Chicago) IL | How to Reach & Parking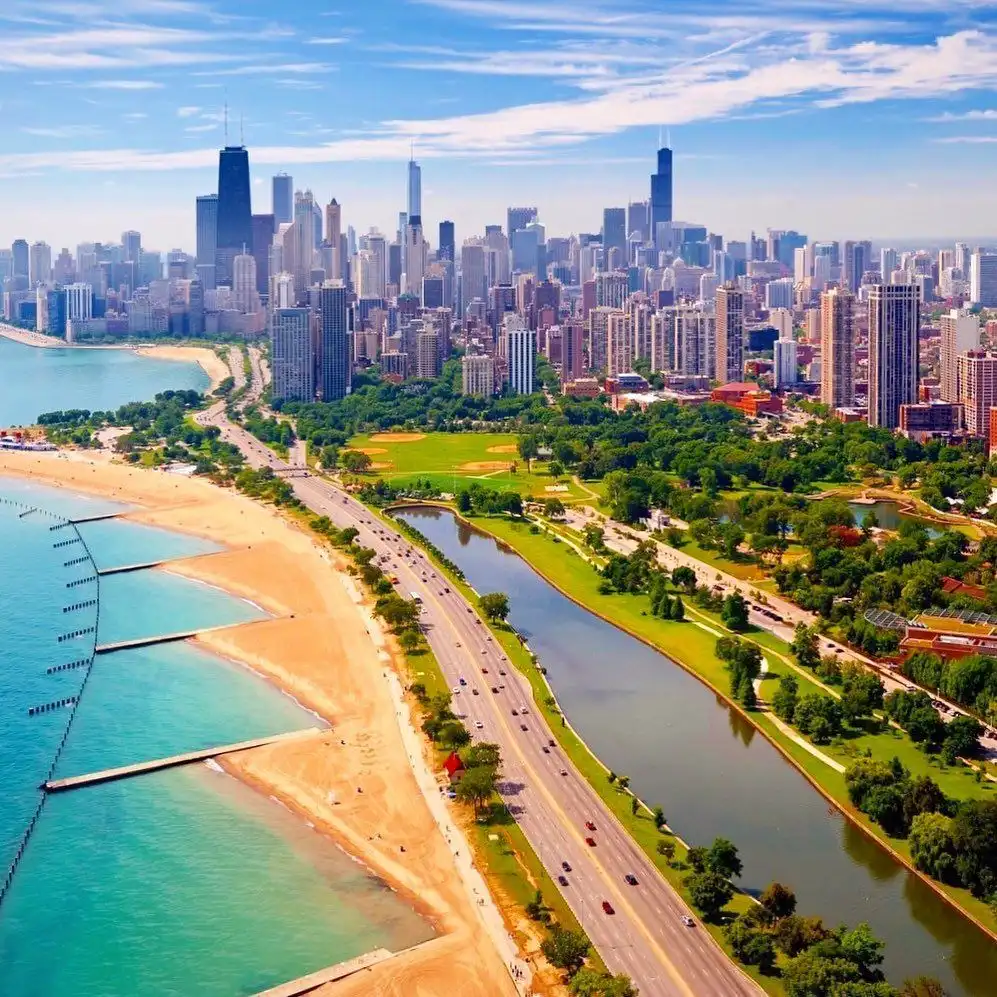 North avenue beach | Podcast
North Avenue Beach, located in the heart of Chicago, Illinois, is a popular destination for both locals and tourists seeking a day of fun and relaxation by the water. As one of the city's most famous beaches, North Avenue Beach boasts stunning views of the Chicago skyline and Lake Michigan's crystal-clear waters. The beach offers a range of activities and amenities for visitors, including volleyball courts, concession stands, and bike rentals.
In this article, we will explore what makes North Avenue Beach such a popular spot and highlight some of the things to do and see in the area. 
About North Avenue beach & its location
North Avenue Beach is located in Lincoln Park, a beautiful neighborhood in the northern part of Chicago, Illinois. The beach stretches over 0.6 miles along Lake Michigan's shore and offers a variety of amenities for visitors to enjoy. The beach features restrooms, showers, and changing facilities for those looking to freshen up after a swim or beach activities.
Additionally, visitors can take advantage of the beach's volleyball courts, beach yoga, and other activities. North Avenue Beach is also a great spot for families, with a playground area for children and plenty of open space to play games or have a picnic. 
Getting There: How to Reach North Avenue Beach
North Avenue Beach is located in the Lincoln Park neighborhood of Chicago, Illinois, and is easily accessible by car, public transportation, and bike.
By car: Visitors can reach North Avenue Beach by taking Lake Shore Drive and exiting at North Avenue. There are several paid parking options nearby, including metered parking and parking lots.
By public transportation: Visitors can take the CTA Bus #72 or #151 to North Avenue Beach. Additionally, the Brown and Purple lines of the CTA's "L" train stop at the nearby Sedgwick station, and visitors can take a short walk to the beach from there.
By bike: Visitors can take advantage of the Lakefront Trail, an 18.5-mile-long paved path that runs along the Lake Michigan shoreline, to reach North Avenue Beach. There are bike rental options available at the beach for those who don't have their bike.
If arriving by air, O'Hare International Airport is approximately 18 miles northwest of North Avenue Beach, while Midway International Airport is approximately 13 miles southwest of the beach. Visitors can take public transportation or hire a taxi or rideshare service to reach the beach from either airport.
If You are planning to visit the USA and looking for the best flight booking from your destination to Indonesia then, So we recommend you book your flight (Malaysia airlines) 
How to reach North Avenue beach (Chicago) IL
North Avenue Beach is located in Chicago, IL and you can reach it in several ways:
Driving: If you are driving, you can use the map location (North Avenue Beach Chicago, IL) from several destinations to reach this place 
Public transportation: Take the CTA bus route 72 North Avenue or the 146 Inner Drive/Michigan Express. You can also take the Red Line L train to the North/Clybourn station and walk to the beach.
If You are planning to visit the USA and looking for the best flight booking from your destination to Indonesia then, So we recommend you book your flight (Malaysia airlines)
Also, Read– Top famous Places to visit in Indonesia
What is North Avenue beach famous for?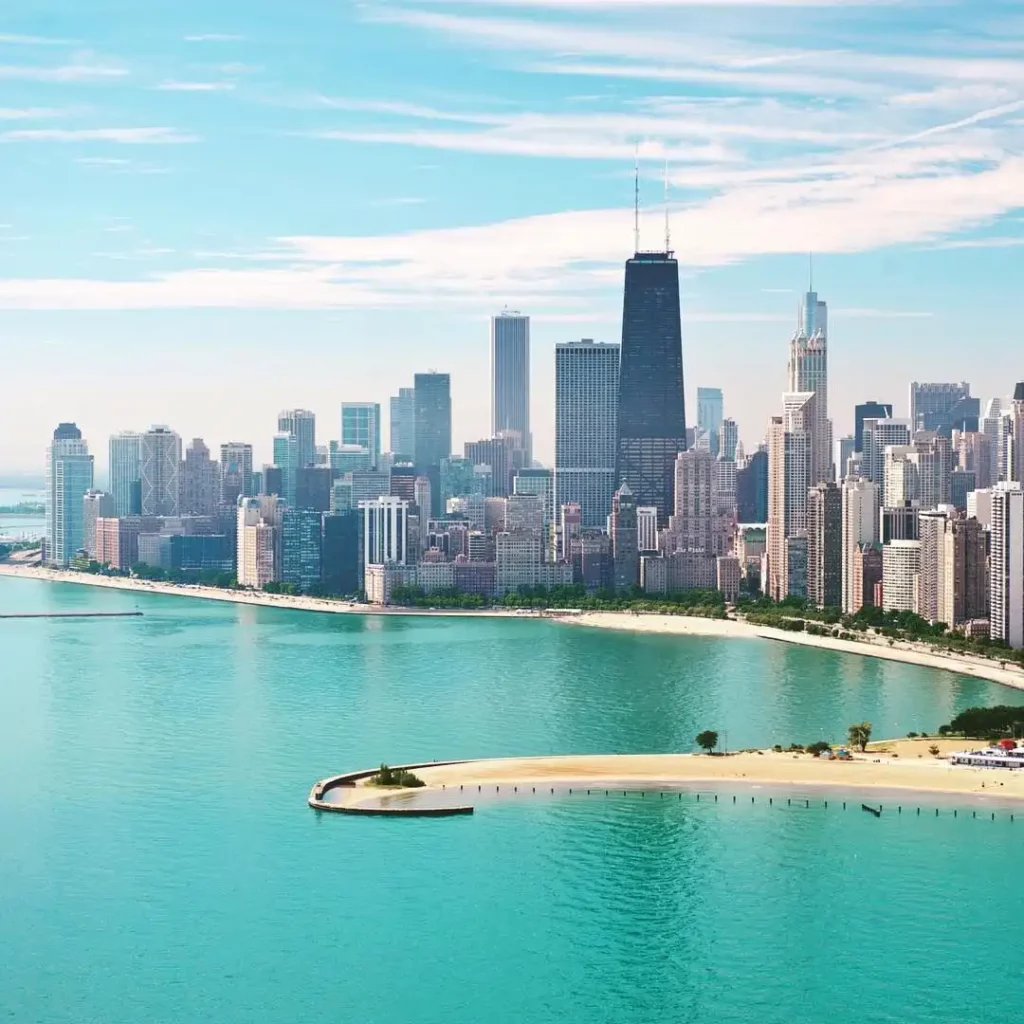 North Avenue beach is a famous Chicago landmark, known for its stunning views and the myriad of activities that can be enjoyed there. From swimming in Lake Michigan to sunbathing on the shore, North Avenue beach has something for everyone.
It also offers spectacular sunrise and sunset views, making it even more popular during summertime. Other highlights include volleyball courts, a fitness center, camping sites, and numerous restaurants that are just steps away from the sand. 
Read This– 100 Best Places to Visit in Maldives
Top Things to Do: Activities, Things to See & Do in North Avenue Beach
Swim in Lake Michigan: North Avenue Beach offers a designated swimming area in Lake Michigan, which is open from Memorial Day through Labor Day. The water is generally clean and clear, making it a great spot for a refreshing swim.
Play beach volleyball: North Avenue Beach is home to several beach volleyball courts, which are available on a first-come, first-served basis. Visitors can bring their ball or rent one from a nearby vendor.
Enjoy the views: North Avenue Beach offers stunning views of Lake Michigan and the Chicago skyline. Visitors can take a stroll along the beach or relax on one of the many benches or picnic tables.
Take a boat tour: Several boat tour companies operate out of North Avenue Beach, offering visitors a unique perspective on the city's skyline and waterfront.
Visit the beach house: The beach house at North Avenue Beach is a historic landmark and serves as a hub for beachgoers. Visitors can access restrooms, showers, and a beachside restaurant and bar from the beach house.
Go for a bike ride: Visitors can rent bikes from a nearby vendor and explore the Lakefront Trail, a scenic path that runs along the Lake Michigan shoreline.
Attend a special event: North Avenue Beach hosts several special events throughout the year, including concerts, festivals, and sporting events. Check the beach's calendar of events for upcoming activities.
You Also May Like it– Top 22 places to visit in Phuket |Thailand
North Avenue Beach Photos
Attraction Point Near North Avenue beach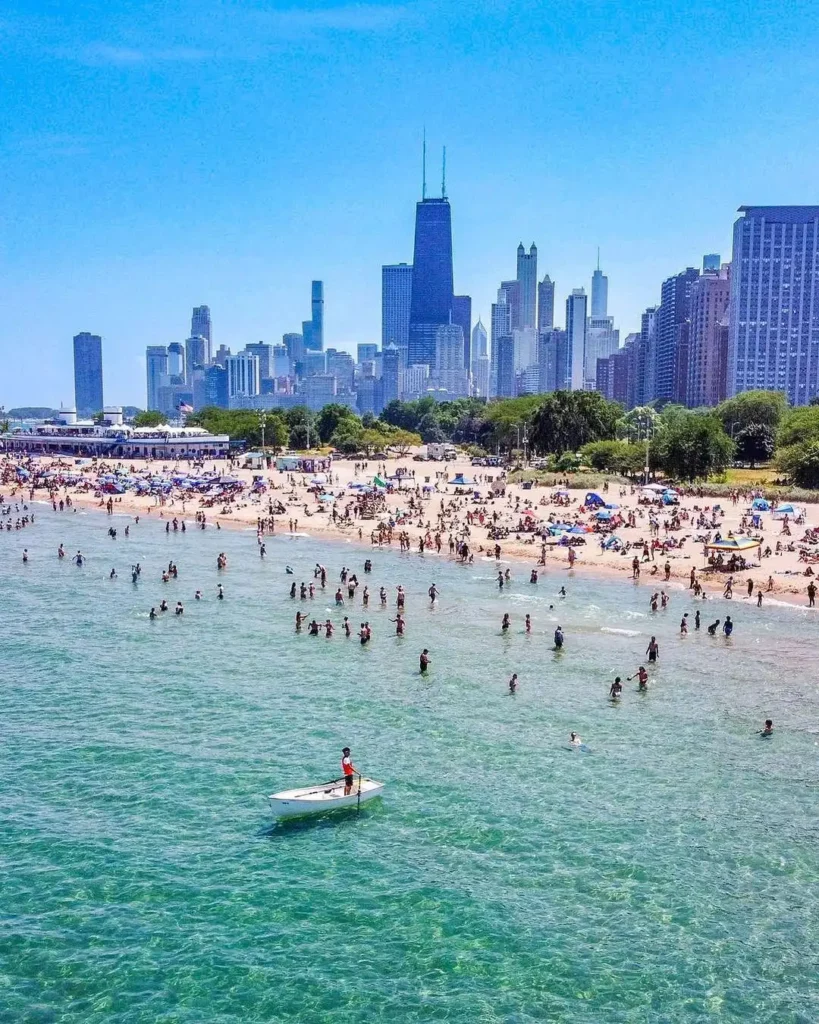 There's an attraction point nearby worth exploring as well–a small amusement park with exciting rides and fun activities for all ages!
Families can take a ride on the Ferris wheel or mini roller coaster while teens get the adrenaline rush of a lifetime on the thrilling kamikaze.
Couples can enjoy a romantic stroll around the lake afterward and admire the gorgeous views of Lake Michigan.
All in all, North Avenue Beach combined with its adjacent Attraction Point makes for an unforgettable day filled with entertainment and adventure.
Accommodations and hotels near North Avenue beach  
There are plenty of nearby accommodations that can suit any budget. Chicago IL offers beautiful choices among hotels and apartments with stunning views of the beach, perfect for unwinding after a long day. With options ranging from inexpensive inns and motels to luxury resorts and condos, visitors are sure to find something that meets their needs.
All of these establishments are well-maintained, reasonably priced, and provide excellent service so that you can enjoy an unforgettable experience in this breathtaking destination without breaking the bank.
Food to Eat
If you're looking for a casual beach snack, the area is full of wonderful local restaurants with outdoor seating, so you can enjoy your meal while gazing out onto the beautiful lake views.
If deep-dish pizza is what gets your taste buds tingling then Chicago's famous Lou Malnati's pizzeria is only five minutes away!
You'll find plenty of other great food choices nearby too, like coastal seafood dishes at Brett's Café and pub classics at Quenchers Saloon. Food to Eat near North Avenue Beach in Chicago is worth a visit.
Things to Avoid
When planning a trip to Chicago's North Avenue beach, some things should be avoided.
First of all, swimming is strictly prohibited due to unsafe water conditions.
Additionally, camping and bonfires are not allowed at the beach, so those activities must be saved for another location.
It is also important to avoid distractions when enjoying the area, such as loud music or other activities that could disturb wildlife while they make their home in the surrounding wetlands.
By respecting these regulations and avoiding these activities, one can safely and pleasantly enjoy all that North Avenue beach has to offer without running afoul of any rules.
Conclusion
North avenue beach (Chicago) IL is a great place to spend the day. You can get there by car or public transportation, and there is plenty of parking available. The beach has a wide variety of activities to keep you busy, from swimming and sunbathing to volleyball and picnicking. There are also several restaurants and cafes nearby if you need a break from the sand and sun. 
How much did you like Our detailed North avenue beach (Chicago) IL | How to Reach & Parking? Review Also, please share these Blogs with your friends on social media.
Recommended
North Avenue beach (Chicago) IL Map Directions
North Avenue beach FAQ
Summer Month
If you're looking for warm, sunny days and cool nights then visiting in the summer is ideal. But if you prefer breezy weather with mild temperatures and beautiful fall foliage, then autumn might be your preferred season.
24 hours a day, 7 days a week
The beauty of Chicago's North Avenue beach has long been enjoyed by residents and visitors alike. It stands to reason that the public beach is open for visits 24 hours a day, 7 days a week. Any time day or night, you can take in the beautiful Lake Michigan views and watch the sunsets from this spectacular location.
$12.00 per hour and $30 per day
If you'd like to experience the beauty of North Avenue beach, you will need to be aware of its parking prices. Currently, the cost is $12.00 per hour and $30 per day. Bear in mind that parking may fluctuate during peak seasons and that an attendant may be on duty at certain times.