Pura Ulun Danu Bratan Bali Indonesia: The Best Temple to Visit in Bali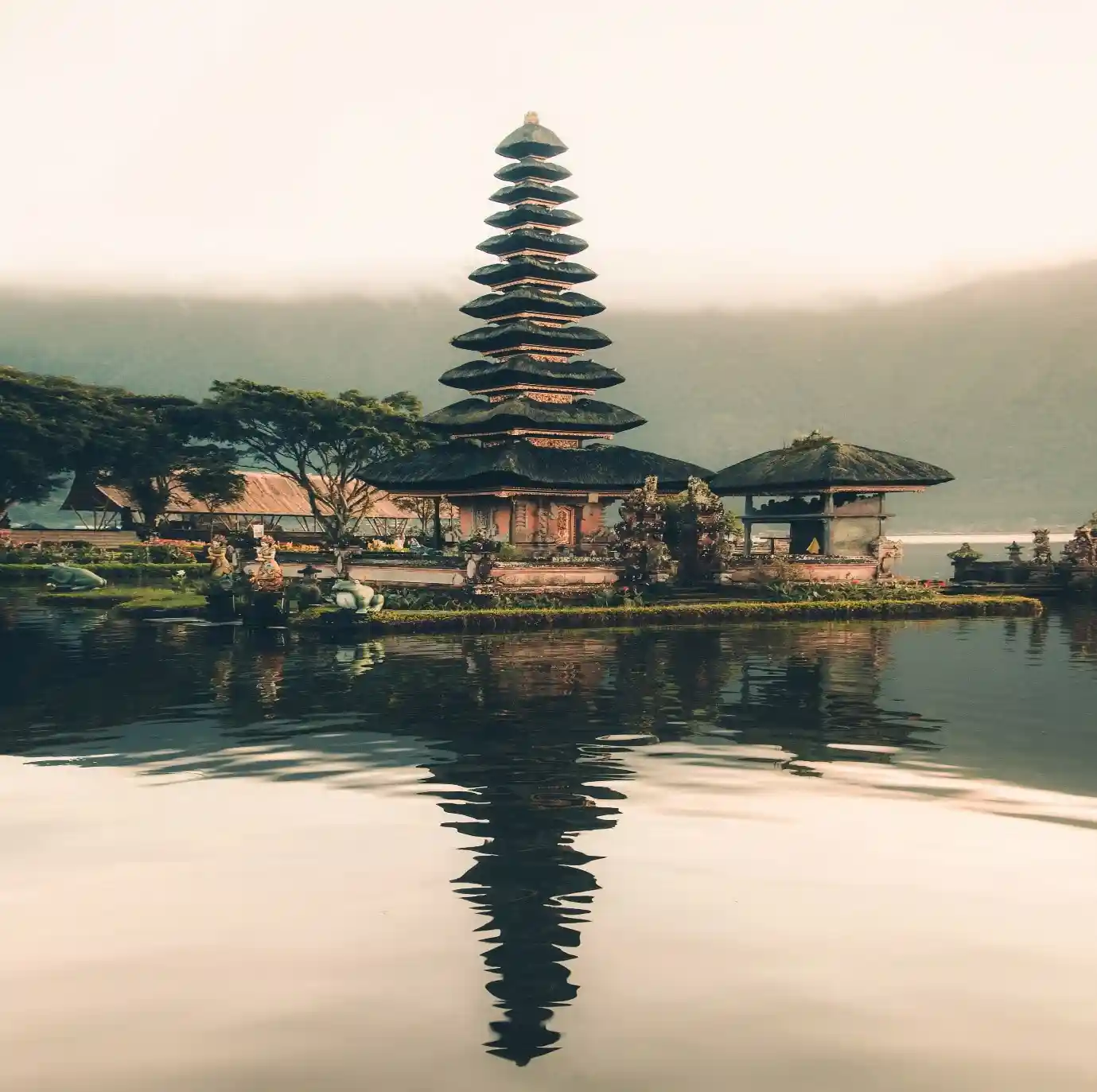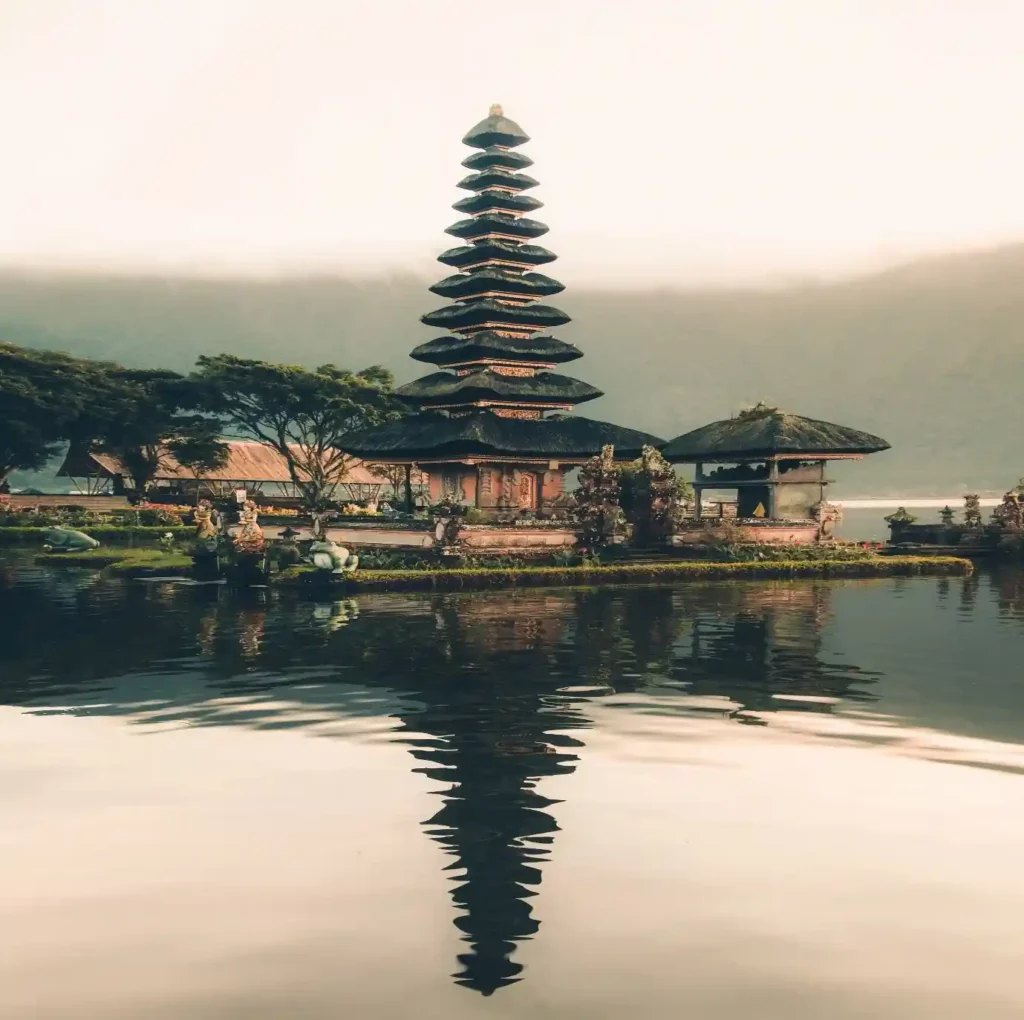 Pura Ulun Danu Beratan (PUB) or Pura Bratan is the most important temple in Bali. Located on the shore of Lake Bratan, the lake is believed to be the lake of Gods.
This is a place where you can find both the Hindu and the Buddhist temples in harmony. PUB is a place that you can't miss on your visit to Bali and this blog is here to help you to plan a day in and around PUB with all the information that you would need.
What is Pura Bratan Temple and History?  
The Pura Bratan Temple is one of the most popular temples in Bali. It is also one of the oldest temples on the island. The temple is dedicated to the Hindu god Shiva. The history of the Pura Bratan temple dates back to the Saka years (AD).
At that time, "I Gusti Agung Putu," the very first king of Puri Mengwi in the Year 1556 (1634 AD) and established the temple under the guidance of Four Satakan from either the Traditional Village nearby, consisting of Candikuning, Baturiti Pesatak Gebog, Pesatak Proud Pesatak Gebog, Antapanan Pesatak Gebog.
The Pura Bratan temple is a beautiful example of Balinese architecture. The temple features an octagonal tower that is topped with a spire. The tower is made from sandstone and has beautiful carvings on its walls.
The temple also features several other impressive buildings, including a large pond and a gilded pavilion.
How to reach Pura Bratan Temple  
Pura Bratan Temple is one of the most popular temples in Bali. It is located in Danau Beratan, Candikuning, Baturiti, Tabanan Regency, Bali, Indonesia. Visitors can reach the temple by taking a boat from the nearby town of Bedugul.
If you are looking for a peaceful and relaxing holiday destination, Pura Bratan Temple is the perfect place for you.
Best time to visit the temple?
There is no definitive answer when it comes to the best time to visit Pura Ulun Danu Bratan, as the temple is open all year round. 
However, October and November are generally considered the best months to see as the weather is more relaxed and fewer tourists around.
Also, read- Top places to visit in Indonesia
What Pura Ulun Danu Bratan Bali Indonesia famous for?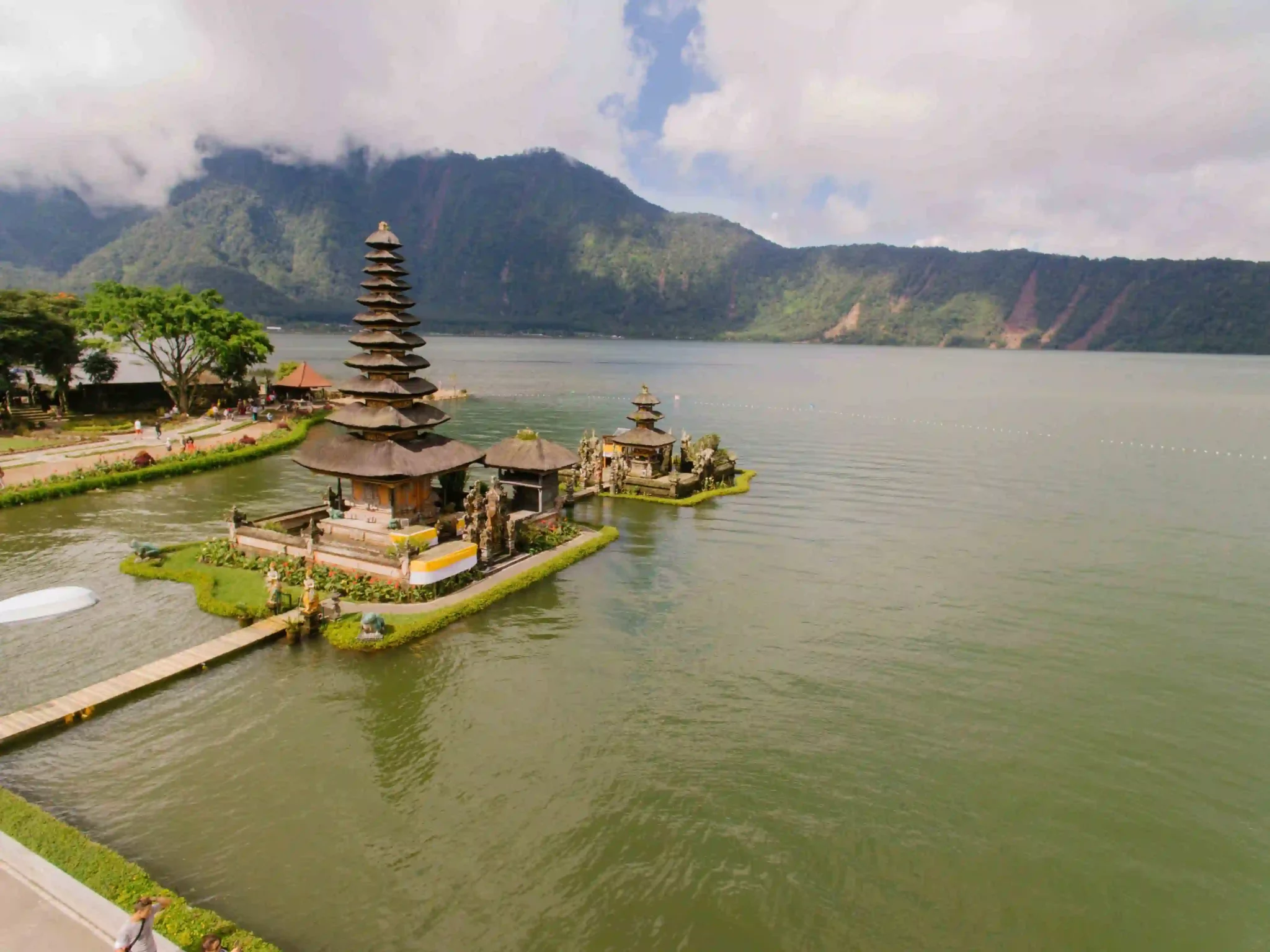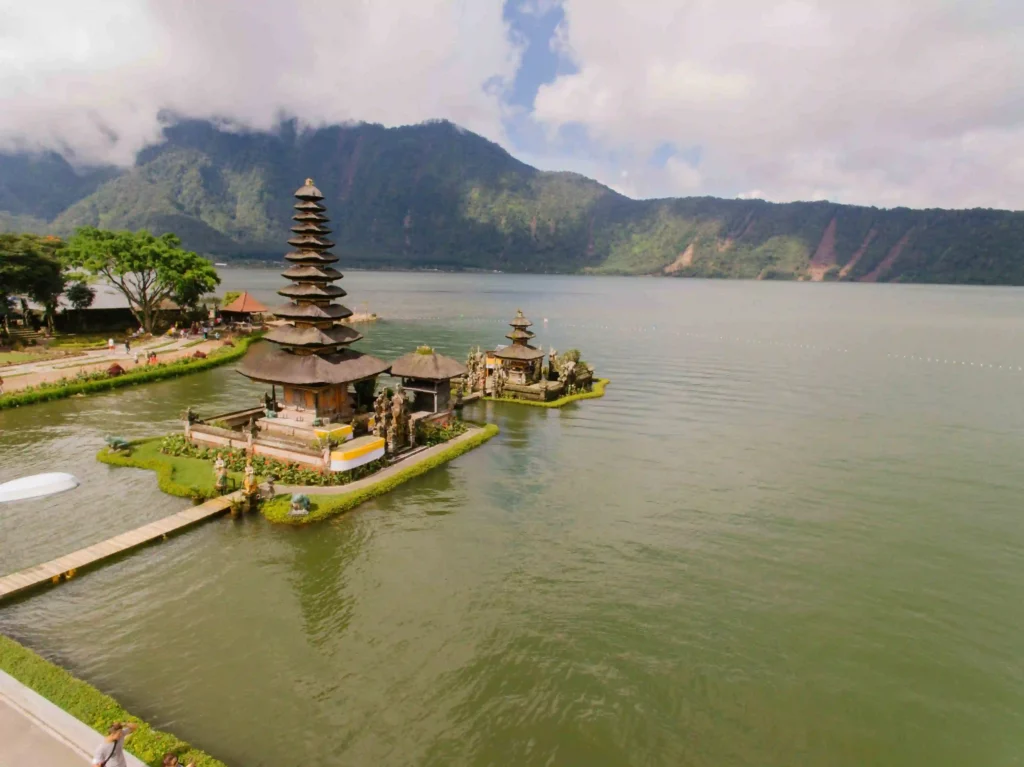 The temples of Pura Ulun Danu Bratan are well-known for their beautiful architecture and striking views. Hindu temples are known as "Pura" in Bali and are built as outdoor worship places within walled courtyards.
To access the compound walls, the devotee must pass through a series of elaborately painted gates without doors.
Things to do at Pura Ulun Danu Bratan Bali Indonesia?
Pura Ulun Danu Bratan is a temple located in the village of Beratan in the province of Bali, Indonesia. The temple is dedicated to the Hindu goddess Danu and is one of the most important temples in Bali.
The complex includes a five-tiered raja lingga, or royal lingga, as well as other shrines. The site has been dated back to the early 15th century. Pura Ulun Danu Bratan was designated a UNESCO World Heritage Site in 1994.
The temple's main attraction is the impressive royal lingga, which measures 106 feet (32 meters) in height and is made from polished granite. The temple also contains a small shrine to the Buddha and several beautiful gardens.
There are numerous ways to enjoy Pura Ulun Danu Bratan: you can visit the temple itself or spend time wandering among its many gardens and shrines.
You can also take a guided tour of the complex or hire a bicycle to explore on your own.
How do I contact Pura Bratan Temple?
If you're looking for contact information for Pura Bratan Temple, look no further. The temple's phone number is +62 368 2033143 and their opening hours are 7 am to 7 pm every day.
If you need to speak with someone in person, you can visit the temple during their open hours.
Accommodation and facility at Near Pura Ulun Danu Bratan Temple Bali Indonesia?
Near Pura Ulun Danu Bratan Temple in Bali Indonesia is one of the best places to stay. Many accommodation options are available, from luxurious villas to simple guesthouses.
You can also find a wide range of facilities and services, from restaurants and bars to massage clinics and yoga studios.
Whatever your needs may be, there's sure to be an option close by at Near Pura Ulun Danu Bratan Temple in Bali Indonesia.
If you are looking to book budget-friendly hotels, resorts, Airport Taxis, cars, etc. So, we recommend you book your stay from Booking.com you will get plenty of deals along with verified hotels and a homestay.
If You are looking for a luxury experience with family, then we recommend you book your luxury stay with Radisson Hotels.
Things to avoid?
If you're planning a trip to Bali and are considering visiting a famous temple, there are a few things to avoid if you want to enjoy your trip without any trouble. Here are some tips:
1. Don't go alone – especially in rural areas. There have been reports of tourists being taken advantage of or even assaulted in rural areas, so it's always best to travel with a friend or family member.
2. Don't leave your belongings unattended – especially on the beach. Theft is common in Bali, so keeping your belongings safe and out of sight is important.
3. Avoid drinking and driving – this is especially important on the Island of Bali where alcohol is often served at festivals and bars without restrictions. Drive carefully and stay sober to avoid getting into any accidents while visiting these beautiful places!
Conclusion.
In conclusion, the best places to visit in Bali are Pura Ulun Danu Bratan. Each location has its own unique charm that is sure to please visitors of all ages. Whether visitors are looking for relaxation and escape, or want to explore cultural experiences unique to each locale, there is something for everyone on the island of Bali.
How much did you like Our detailed Pura Ulun Danu Bratan Bali Indonesia: The Best Temple to Visit in Bali? Please share your view in the comment box. Also, please share these Blogs with your friends on social media.
FAQ
The distance between Pura Ulun Danu Bratan and Bali is 44 kilometers.
If you're looking to explore the beautiful Pura Bratan Temple, then you have to pay entry fees will follow- A fee of 50,000 IDR per person. This fee includes access to the entire temple complex, including the main temple and its surrounding gardens.
For children under the age of 10, the fee is only 25,000 IDR. If you're visiting during the daytime, you can expect a long line at the entrance; so be sure to arrive early.
• Holy Spring Water Temple
• Waterfalls
• Nature & Wildlife Tours
• Explore a Beautiful Garden near just by walking Pura Ulun Danu Bratan