The Ultimate Guide Travel to Maui | New travel blog in 2023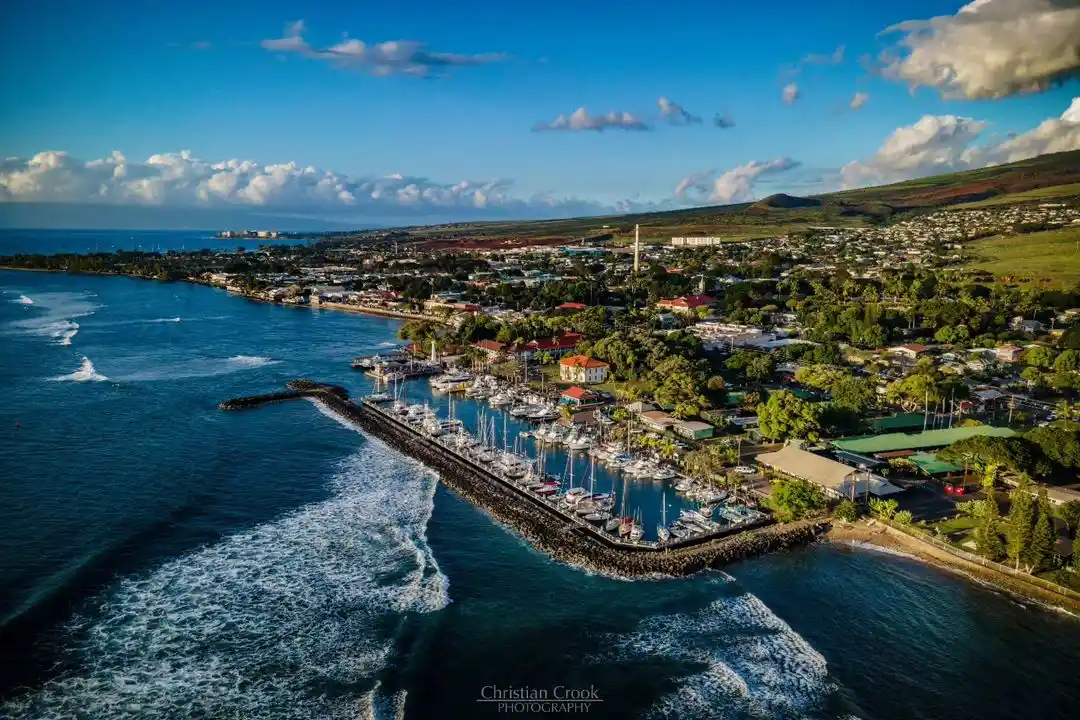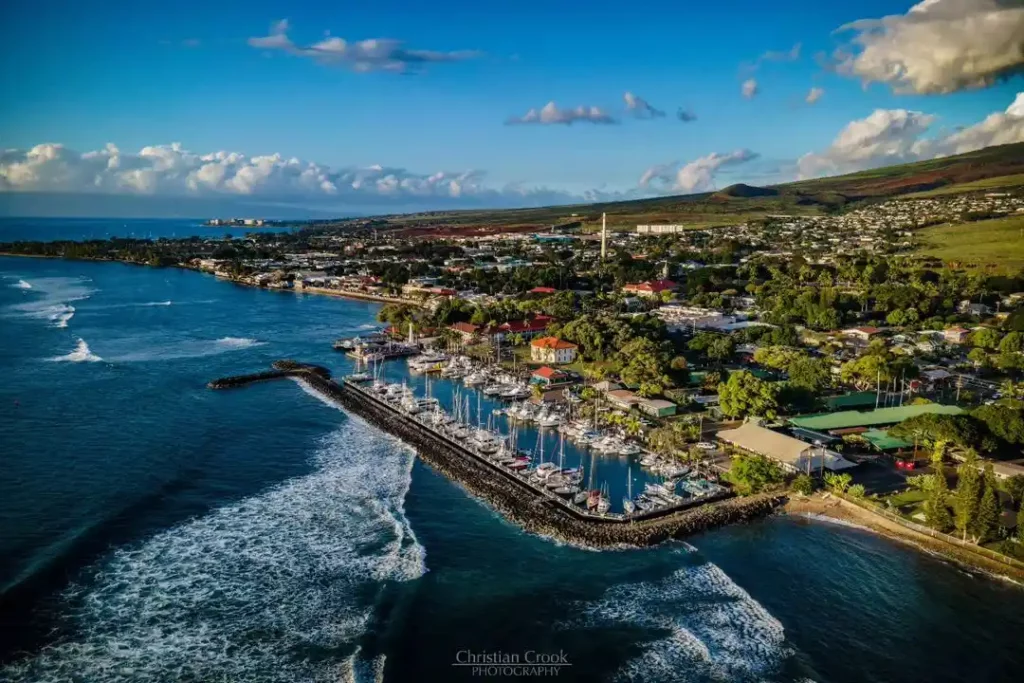 At AmazingWorld.Travel, we understand that planning a trip to Maui is more than just a vacation – it's an opportunity to immerse yourself in the breathtaking beauty and vibrant culture of this Hawaiian paradise.
Our comprehensive guide is your key to unlocking the hidden gems, must-visit spots, and unforgettable adventures that await you on the island in 2023. Get ready to embark on a journey that will create memories to last a lifetime.
About Maui: A brief to Hawaii.
 Maui, nestled within the Hawaiian archipelago, is a treasure trove of natural beauty and cultural richness. Known as the "Valley Isle," it boasts diverse landscapes, from the awe-inspiring dormant volcano Haleakalā to the lush rainforests of East Maui.
Adventure and relaxation intertwine seamlessly here, offering snorkeling, surfing, hiking to hidden waterfalls, and tranquil beach respites. The island's Polynesian heritage shines through hula performances and traditional feasts, embodying the spirit of "aloha." Culinary delights and breathtaking vistas further enrich the experience, creating timeless memories of a place where nature, culture, and hospitality harmonize in perfect balance. Maui isn't just a destination; it's a gateway to Hawaii's heart and soul.
How to Reach Maui
Reaching the enchanting island of Maui is an exciting part of your journey, and there are several options to consider for getting to this tropical paradise.
Maui is served by three airports, with Kahului Airport (OGG) being the primary gateway. Situated in Central Maui, Kahului Airport is well-connected to major cities and offers a range of flight options. Additionally, there are two smaller commuter airports catering to specific regions:
Kapalua Airport (JHM) in West Maui: This airport provides convenient access for those staying in the resort areas of West Maui. It's a great choice if your accommodations are in this part of the island.
Hāna Airport (HNM) in East Maui: For travelers seeking the beauty of East Maui and the famous Hāna Highway, this airport is a suitable option. It reduces travel time for those who want to explore the scenic eastern part of the island.
Also, if you are looking best hotels and Homestay deals then we recommend booking your hotels and homestay with priceline.com
Activities/ Things to Do: Tours and things to do on Maui
Maui offers a plethora of activities catering to all interests:
Snorkeling and Diving: Explore vibrant coral reefs and encounter marine life at Molokini Crater.
Hiking Adventures: Conquer the famous Pipiwai Trail, leading to the awe-inspiring Waimoku Falls.
Sunrise at Haleakalā: Witness a breathtaking sunrise from the summit of this dormant volcano.
Road to Hana: Embark on a scenic drive, stopping at waterfalls, viewpoints, and lush landscapes.
Luaus and Cultural Experiences: Immerse yourself in Hawaiian traditions through traditional luaus and cultural tours.
Best Times to Visit Maui: When to Visit Maui
 Choosing the right time to visit Maui can significantly impact your experience:
Peak Season (December – April): Ideal for whale watching, surfing, and pleasant weather.
Shoulder Seasons (May – June, September – November): Less crowded, with favorable weather and lower rates.
Off-peak Season (July – August): Higher temperatures, but fewer tourists and potential discounts.
Travel Costs and Budgeting: Save Money as You Explore the Island:
Managing your budget is essential for a memorable trip:
Accommodation: Research and book accommodations in advance to secure the best rates.
Transportation: Consider renting a car for convenience and flexibility in exploring the island.
Eating Smart: Enjoy local cuisine at food trucks and local eateries for cost-effective dining.
Activities: Prioritize must-do activities and consider bundled tour packages for savings.
What to Pack for a Trip to Maui:
Packing smart ensures you're prepared for all Maui has to offer:
Beach Essentials: Swimsuits, sunscreen, sunglasses, and a beach towel.
Hiking Gear: Sturdy footwear, a hat, and a refillable water bottle for outdoor adventures.
Casual Attire: Lightweight clothing for warm weather, along with a light jacket for cooler evenings.
Camera Equipment: Don't forget your camera to capture the breathtaking landscapes.
Maui Instagram Photos
Travel Full Itinerary to Maui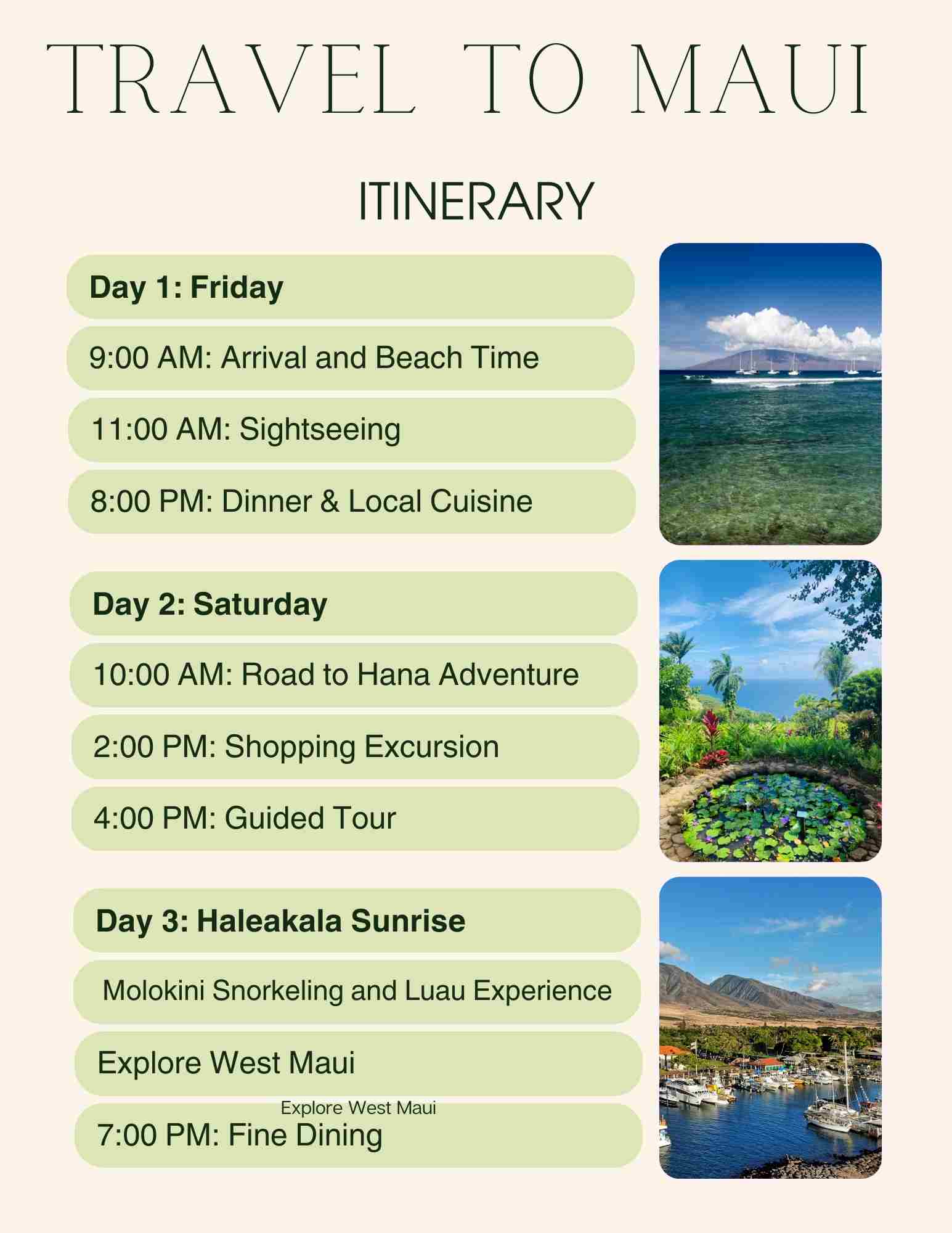 DAY 1: Arrival and Beach Time
MORNING: Start your day with a delicious breakfast at Kihei Caffe. Enjoy their famous banana macadamia nut pancakes or loco moco while sipping on freshly brewed Hawaiian coffee. After breakfast, head to the beautiful Ka'anapali Beach for some relaxation and sunbathing. Take a dip in the crystal-clear waters and soak up the tropical vibes.
AFTERNOON: For lunch, make your way to Mama's Fish House in Paia. Indulge in their mouthwatering seafood dishes made with locally sourced ingredients. After lunch, explore the charming town of Paia and browse through its unique shops and art galleries. If you're feeling adventurous, visit the nearby Ho'okipa Beach Park to watch surfers ride the waves.
EVENING: In the evening, enjoy a memorable dinner at Lahaina Grill in Lahaina. This award-winning restaurant offers a blend of contemporary American cuisine with a touch of Hawaiian flavors. Savor dishes like seared ahi tuna or roasted macadamia nut-crusted mahi-mahi while enjoying the vibrant atmosphere of Lahaina.
DAY 2: Road to Hana Adventure
MORNING: Embark on an unforgettable adventure along the Road to Hana (Hana Highway). Start early and grab some snacks from a local market before hitting the road. Enjoy scenic views of lush rainforests, cascading waterfalls, and breathtaking coastal vistas as you drive towards Hana. Make sure to stop at Wai'anapanapa State Park to explore its black sand beach and lava caves.
AFTERNOON: Continue your journey along the Road to Hana and make a stop at Pua'a Ka'a State Wayside Park. Take a refreshing swim in the natural pools and hike through the bamboo forest. If time allows, visit Haleakala National Park and hike the Pipiwai Trail to see the majestic Waimoku Falls.
EVENING: As you head back from Hana, stop by Paia for dinner at one of its local restaurants. Indulge in fresh seafood or try some Hawaiian fusion cuisine. After dinner, enjoy a relaxing evening stroll along the streets of Paia and soak in its laid-back atmosphere.
DAY 3: Haleakala Sunrise and Beach Time
MORNING: Wake up early to witness a breathtaking sunrise at Haleakala Crater. Bundle up and drive to the summit before dawn to experience the magical colors painting the sky as the sun rises above the clouds. After sunrise, warm up with a hot cup of coffee or tea.
AFTERNOON: Head down from Haleakala and spend the afternoon exploring the beautiful beaches of South Maui. Visit Makena Beach State Park for its pristine white sand beach or snorkel at Ahihi-Kinau Natural Area Reserve to discover vibrant marine life.
EVENING: For dinner, treat yourself to a memorable dining experience at Mama's Fish House. Enjoy their renowned seafood dishes while admiring panoramic ocean views. End your day with a leisurely walk along the beach under the starry night sky.
DAY 4: Molokini Snorkeling and Luau Experience
MORNING: Embark on an exciting snorkeling adventure to Molokini Crater. Join a guided tour that will take you to this unique underwater volcanic crater teeming with colorful fish and coral reefs. Spend your morning exploring this marine sanctuary and marveling at its beauty.
AFTERNOON: After snorkeling, head to Maalaea Harbor and enjoy a delicious lunch at one of the waterfront restaurants. Take some time to relax and soak up the sun before getting ready for an evening luau experience.
EVENING: Immerse yourself in Hawaiian culture with a traditional luau. Attend either the Royal Lahaina Luau or Te Au Moana Luau, both offering authentic Polynesian performances, live music, hula dancing, and a delicious buffet dinner. Enjoy the vibrant atmosphere and learn about Hawaii's rich history and traditions.
DAY 5: Explore West Maui
MORNING: Start your day by visiting Honolua Bay, a popular spot for snorkeling and diving. Discover the vibrant underwater world filled with tropical fish and coral formations. If you prefer to stay on land, take a scenic hike along the Kapalua Coastal Trail and enjoy panoramic views of the coastline.
AFTERNOON: For lunch, head to Ka'anapali Beach and find a beachfront restaurant offering stunning ocean views. Indulge in fresh seafood or try some local Hawaiian dishes. After lunch, spend the afternoon relaxing on the golden sands of Ka'anapali Beach or take a dip in its crystal-clear waters.
EVENING: End your trip with a memorable dinner at Lahaina Grill. Savor their exquisite cuisine while reminiscing about your adventures in Maui. Take a leisurely stroll through historic Lahaina town and explore its charming shops and art galleries before bidding farewell to this beautiful island.
Accommodations: Recommended hotels, hostels, and rentals.
Selecting the right accommodation enhances your stay:
Luxury Resorts: Indulge in world-class amenities and beachfront views at resorts like the Four Seasons Maui.
Budget-Friendly Options: Choose from a variety of hostels and guesthouses for affordable stays.
Vacation Rentals: Experience local living by renting condos, apartments, or vacation homes.
Maui Travel Guide: Things to Avoid
While Maui is a paradise that offers unforgettable experiences, there are certain things you should avoid to make the most of your journey and show respect for the local culture and environment:
Overcrowding Natural Attractions: Maui's natural wonders, such as waterfalls and beaches, can become crowded during peak hours. To fully appreciate their beauty, consider visiting during less busy times.
Feeding Wildlife: It's important not to feed or approach wildlife. Human food can harm animals and disrupt their natural behaviors.
Littering: Be sure to follow the principles of "Leave No Trace." Carry out everything you bring in, and dispose of waste properly to help preserve Maui's pristine landscapes.
Disrespecting Coral Reefs: If you're snorkeling or diving, avoid touching or standing on coral reefs. They are fragile ecosystems that can be easily damaged.
Ignoring Ocean Safety: Maui's ocean can be unpredictable. Always check weather and ocean conditions before swimming, and be cautious of strong currents.
Trespassing on Private Property: Respect local residents and their property. Avoid accessing beaches through private land unless there are designated paths.
Conclusion
In the heart of the Pacific Ocean, Maui emerges as a haven of beauty, adventure, and cultural richness. As you embark on your journey, armed with our comprehensive guide, you'll find yourself immersed in a world of turquoise waters, lush landscapes, and vibrant traditions.
Maui's diverse offerings cater to every traveler's desire, whether you seek thrilling escapades like diving into hidden waterfalls or tranquil moments watching the sunrise from atop a volcanic summit. The island's allure extends beyond its natural splendor; it's a place where you can indulge in local flavors, sway to the rhythm of traditional hula, and embrace the spirit of "aloha."
Our guide ensures you're well-equipped to navigate Maui's wonders, offering insights on everything from transportation to respecting local customs. By avoiding common pitfalls and making informed choices, you'll maximize your experience and leave a positive impact on the island and its communities.
In the end, Maui is more than a destination; it's an invitation to connect with nature, immerse yourself in culture, and create memories that will stay with you long after the sound of the waves has faded. So, pack your bags, embark on this island adventure, and let Maui's enchantment unfold before you.
Maui Map Locations
How much did you like Our Detailed The Ultimate Guide Travel to Maui | New travel blog in 2023? Review Also, please share these Blogs with your friends on social media.
Recommended