Sea Girt Beach (New Jersey) |Things to do & Boardwalk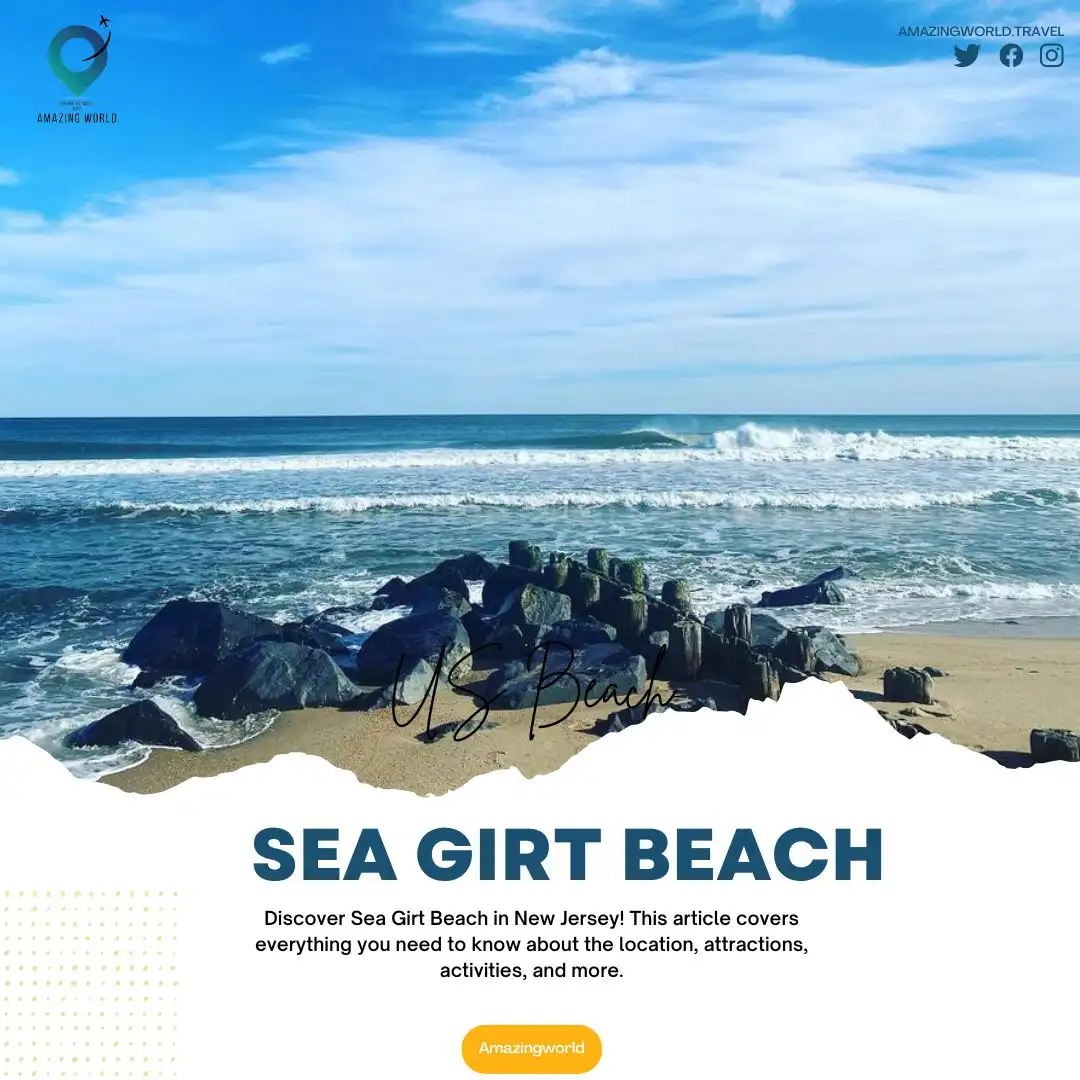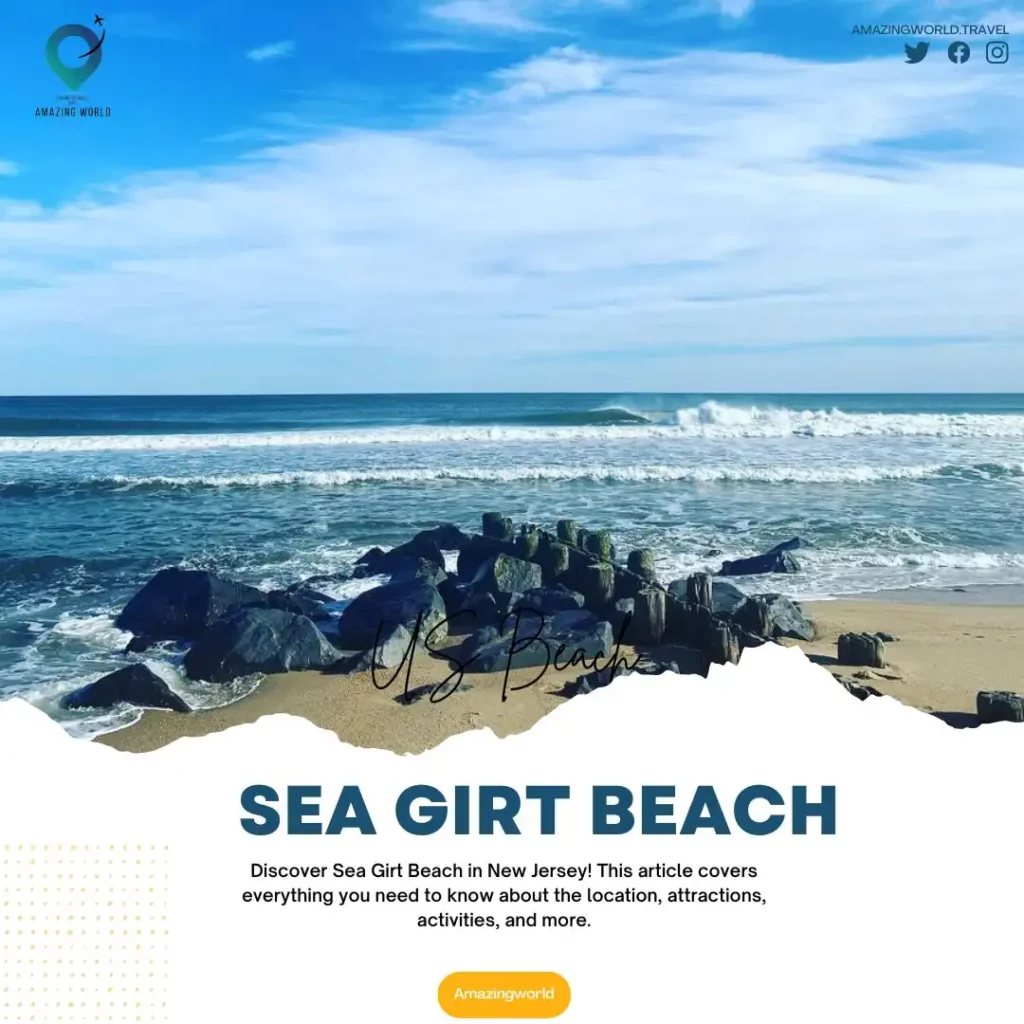 Sea Girt Beach | Podcast
Are you looking for a fun and memorable beach getaway? Sea Girt Beach in New Jersey is an amazing destination with easy access to 25 miles of shoreline with its white sand, sprawling boardwalk, and spectacular scenery, Sea Girt Beach in New Jersey is a perfect spot for visitors looking for relaxation and recreation alike.
Whether it's wading along the sun-dappled shore during low tide or taking an energizing walk along the boardwalk in the cool ocean breeze – there's always something to do at Sea Girt Beach! There are plenty of exciting activities including water sports, shopping opportunities, and excellent dining options that appeal to both adults and children. If you're visiting Sea Girt Beach this summer, here's your guide on some of our favorite things to do while in town.
About Sea Girt Beach & its Locations
Sea Girt Beach is a popular destination located on the Atlantic coast of New Jersey. The beach is a small borough in Monmouth County with a population of about 1,800 people. The beach is approximately 1.5 miles long and is known for its clean and well-maintained sandy beaches, making it a popular spot for visitors looking to soak up the sun and enjoy the ocean.
Sea Girt Beach is a picturesque location with a long and wide sandy beach that is perfect for sunbathing, swimming, and other beach activities. The beach also boasts a mile-long boardwalk that offers spectacular views of the ocean. The boardwalk is a popular spot for taking a stroll, jogging, or bike riding.
Getting There: How to Reach Sea Girt Beach
Sea Girt Beach is located in Sea Girt, NJ 08750, USA, and to reach the destinations you can reach visit via car or public transportation.
By Car: Sea Girt Beach is conveniently located near Route 35, which runs along the coast of New Jersey. If you are traveling by car, take the Garden State Parkway to exit 98 and follow the signs to Route 138 East. From Route 138, take Route 35 South and follow it until you reach Sea Girt Beach. There are several parking options available near the beach, including metered street parking and public parking lots.
By Public Transportation: If you prefer to use public transportation, the New Jersey Transit train system offers service to the Sea Girt station. The station is located within walking distance of the beach, making it a convenient option for visitors. The train runs on the North Jersey Coast Line, and you can take it from New York Penn Station or other stations on the line. Bus service is also available through NJ Transit Bus 317, which stops near the beach.
By Air: The nearest major airport to Sea Girt Beach is Newark Liberty International Airport, located about 50 miles away. From the airport, you can rent a car and drive to Sea Girt Beach or take public transportation, such as a train or bus, to reach the beach.
If You are planning to visit the USA and looking for the best flight booking from your destination to Indonesia then, So we recommend you book your flight (Malaysia airlines)
Why is it Called Sea Girt Beach?
The name "Sea Girt" is said to have been derived from the Scottish word "seagirt," which means "surrounded by the sea." Sea Girt Beach is located on the Atlantic coast of New Jersey, and it is surrounded by the ocean on all sides, which is likely the reason for the name.
The area that is now Sea Girt Beach was originally settled by Native Americans, and it remained relatively undeveloped until the late 1800s. In the early 1900s, the area became a popular summer resort for wealthy New Yorkers, who built large homes and estates in the area. The beach and surrounding area were developed into a borough in 1917, and the name "Sea Girt" was officially adopted.
Top Attractions: What is Sea Girt Beach Famous For?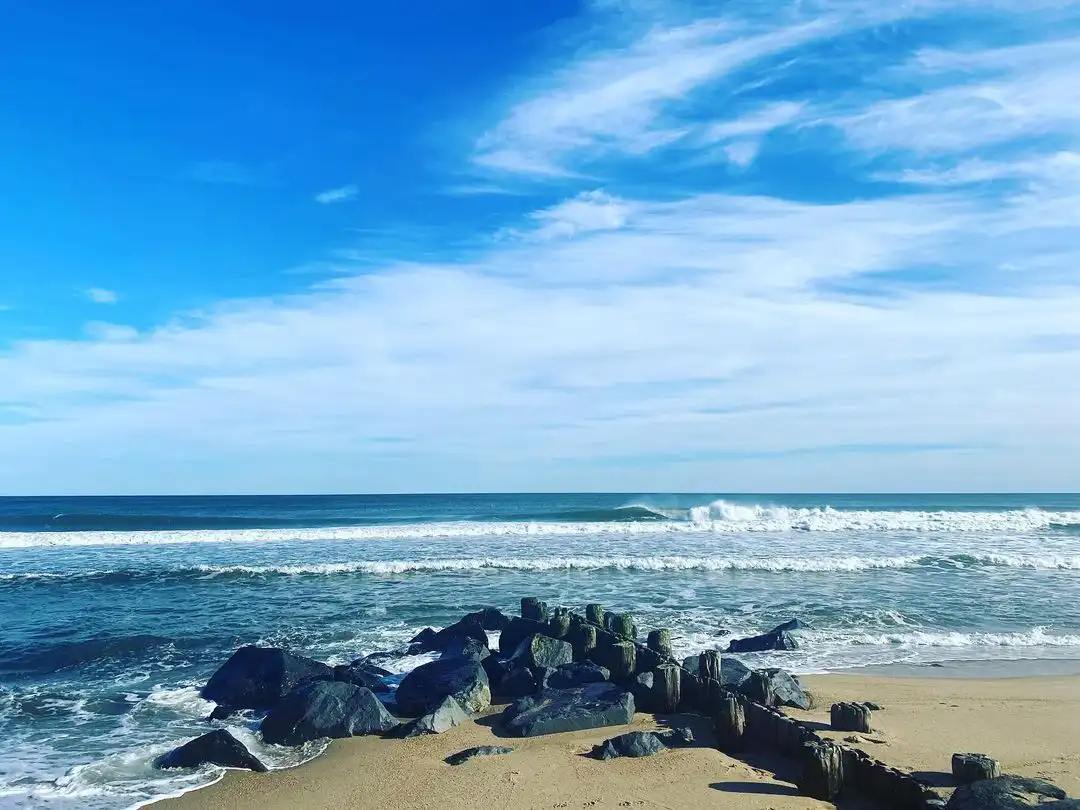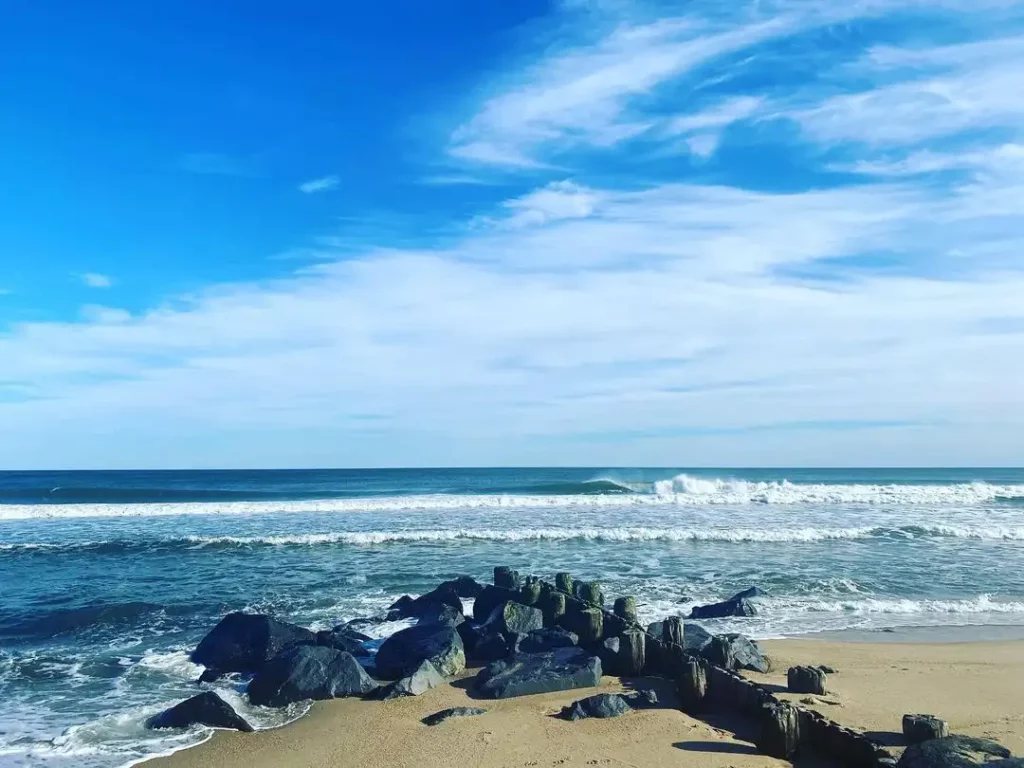 Sea Girt Beach is a popular destination for visitors looking to enjoy the sun, sand, and surf of the Jersey Shore. Here are some of the top attractions that make Sea Girt Beach famous:
Boardwalk: The Sea Girt Beach boardwalk is a popular attraction that offers stunning ocean views and is a great place to take a stroll. It's also an excellent spot for joggers and bikers, with a paved path that runs alongside the beach.
Beach: The wide, sandy beach is one of the primary attractions at Sea Girt. Visitors can relax on the beach, swim in the ocean, or participate in water sports such as surfing and paddleboarding.
Lifeguard Races: Sea Girt Beach is famous for its annual lifeguard races, which take place each summer and attract participants from all over the region. The races feature a variety of events, including swimming, running, and paddle boarding, and they are a fun and exciting way to experience the beach. And more
Also, read– Top famous Places to visit in Indonesia
Things to Do: Activities, Things to See & Do in Sea Girt Beach
Sea Girt Beach offers a range of activities and attractions for visitors to enjoy. Here are some of the top things to do and see at Sea Girt Beach:
Beach Activities: Relax on the wide, sandy beach and soak up the sun, or take a dip in the ocean to cool off. Visitors can also rent beach chairs, umbrellas, and boogie boards for an additional fee. For more adventurous visitors, surfing and paddleboarding are popular water sports at Sea Girt Beach.
Boardwalk: Take a stroll along the boardwalk and enjoy the stunning ocean views. The boardwalk is also an excellent spot for joggers and bikers, with a paved path that runs alongside the beach.
Sea Girt Lighthouse: Visit the historic Sea Girt Lighthouse, built in 1896, which is now open to the public for tours. Learn about the lighthouse's fascinating history and climb to the top for panoramic ocean views.
Sea Girt Army Camp Museum: Explore the history of the Sea Girt Army Camp, which was a military training camp during World War I and World War II. The museum features exhibits, artifacts, and photographs from the camp's history.
Shopping and Dining: Visit nearby downtown Sea Girt and explore the boutique shops, art galleries, and restaurants. Grab a bite to eat and enjoy the local cuisine, including seafood, Italian, and American fare.
Events and Festivals: Sea Girt Beach hosts several events and festivals throughout the year, including the annual Sea Girt 5K race and the Sea Girt Beach Movies on the Beach series during the summer. Check the local events calendar to see what's happening during your visit.
Read This– 100 Best Places to Visit in Maldives
Visual Delight: Sea Girt Beach Photos
Nearby Attractions: What Are the Attractions Near Sea Girt Beach?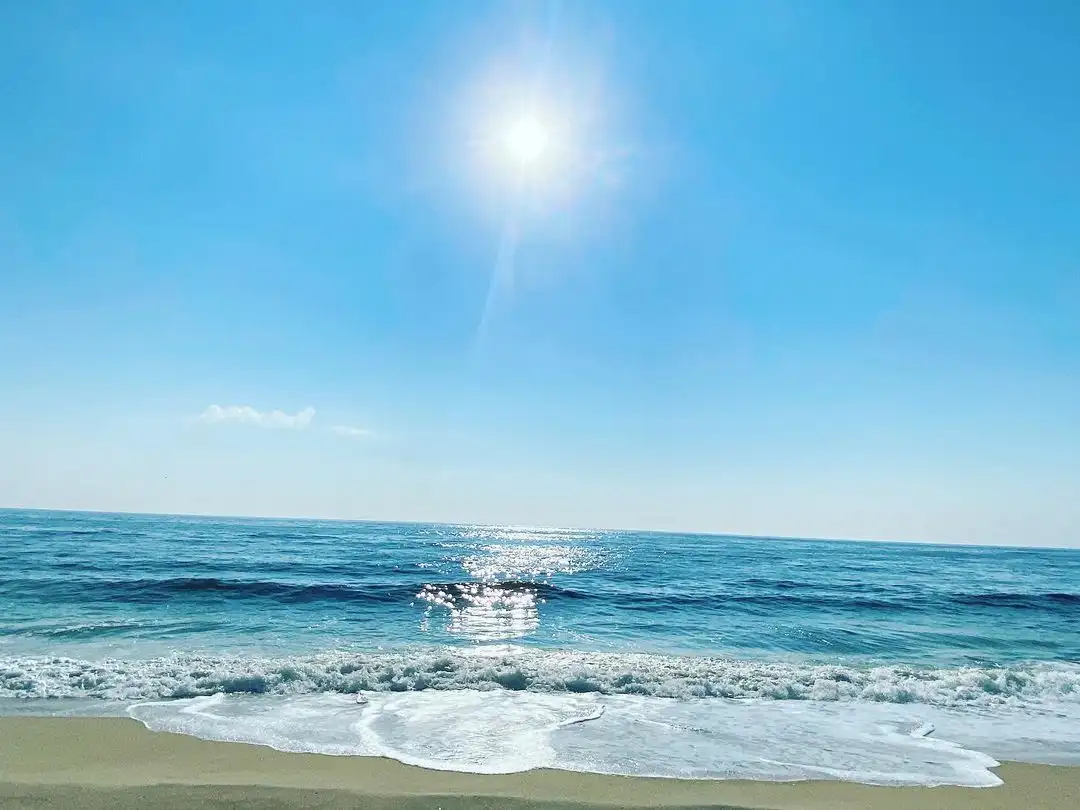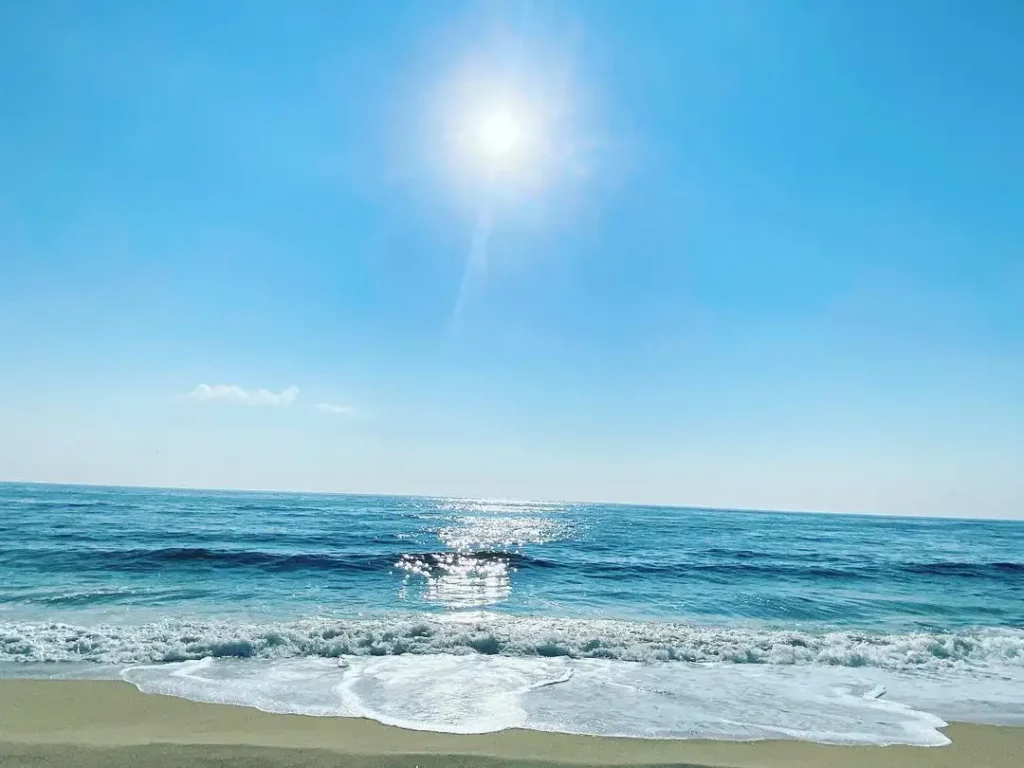 In addition to the activities and attractions at Sea Girt Beach itself, there are several nearby attractions to explore. Here are a few options:
Allaire State Park: Just a 15-minute drive from Sea Girt Beach, Allaire State Park is a beautiful natural area with hiking trails, fishing, and historic buildings to explore.
Jenkinson's Boardwalk: Located in nearby Point Pleasant Beach, Jenkinson's Boardwalk is a bustling oceanfront amusement park with rides, games, and attractions for all ages.
Belmar Beach: Just a few miles north of Sea Girt Beach, Belmar Beach is another popular New Jersey beach destination with a bustling boardwalk and a lively nightlife scene.
Monmouth Park Racetrack: Horse racing fans will want to check out Monmouth Park Racetrack in nearby Oceanport, NJ. The park hosts live races during the summer season and offer dining and entertainment options as well.
The Stone Pony: For music lovers, The Stone Pony in nearby Asbury Park is a legendary live music venue that has hosted countless famous acts over the years. Check the schedule and catch a show during your visit.
Asbury Park Boardwalk: Just a short drive south of Sea Girt Beach, the Asbury Park Boardwalk is a vibrant destination with eclectic shops, restaurants, and attractions. Check out the famous Asbury Park Convention Hall or catch a movie at the historic Paramount Theatre.
Rules and Regulations: What Are the Rules and Regulations at Sea Girt Beach?
To ensure that all visitors have a safe and enjoyable experience, several rules and regulations must be followed when visiting Sea Girt Beach. Here are some of the most important ones:
No Smoking: Smoking is strictly prohibited on the beach and boardwalk.
No Alcohol: Alcohol is also not allowed on the beach or boardwalk, and it is strictly enforced by the police.
No Littering: Visitors are expected to clean up after themselves and dispose of all trash in the proper receptacles.
No Pets: Dogs and other pets are not allowed on the beach or boardwalk, except for service animals.
No Swimming After Hours: Swimming is only allowed during the lifeguard hours, which are typically from 9 am to 5 pm.
No Fires: Fires, including grilling, are not permitted on the beach or boardwalk.
No Ball Playing: Ball playing is not allowed on the beach during the summer season.
No Surfing: Surfing is not allowed on the beach during the summer season, except in designated areas.
No Overnight Camping: Overnight camping on the beach or boardwalk is not allowed.
It is important to note that these rules and regulations are subject to change, so visitors should always check the official Sea Girt Beach website or contact the beach authorities for the most up-to-date information.
You Also My like it– Top 22 places to visit in Phuket |Thailand
Accommodations: Hotels Near Sea Girt Beach
There are several hotels and accommodations near Sea Girt Beach, ranging from budget-friendly options to more luxurious hotels. Here are some of the most popular ones:
Sea Girt Lodge: Located just a few blocks from the beach, this motel-style lodge offers comfortable rooms and suites with modern amenities, including free Wi-Fi and a flat-screen TV. The lodge also has an outdoor pool and free parking.
The Beacon House: This charming bed and breakfast is located just a block from the beach and features beautifully decorated rooms with antique furnishings and private bathrooms. Guests can enjoy a complimentary breakfast each morning, as well as afternoon tea and snacks.
The Chateau Inn and Suites: This upscale hotel is located just a short walk from the beach and features luxurious rooms and suites with high-end amenities, including a spa bath and fireplace. The hotel also has a gourmet restaurant and a rooftop terrace with ocean views.
The Hewitt Wellington Hotel: This historic boutique hotel is located just a few blocks from the beach and features elegant rooms and suites with antique furnishings and modern amenities, including free Wi-Fi and a flat-screen TV. The hotel also has a restaurant and bar, as well as a seasonal outdoor pool.
The Ocean House Hotel: This beachfront hotel offers stunning ocean views and direct access to the beach. The rooms and suites are spacious and feature modern amenities, including free Wi-Fi and a flat-screen TV. The hotel also has an outdoor pool, a fitness center, and a restaurant with a beachfront bar.
Food to Eat: Recommended Local Food
Sea Girt Beach and the surrounding area offer a variety of dining options, ranging from casual beachside cafes to upscale restaurants. Here are some recommended local food options that you can try:
Lobster House: Located just a few blocks from the beach, this restaurant serves up fresh seafood dishes, including their famous lobster rolls and clam chowder.
Fratello's Restaurant & Lounge: This family-owned Italian restaurant is a local favorite, serving up classic Italian dishes like chicken parmesan and homemade pasta.
Ray's Cafe: This casual beachside cafe serves up breakfast and lunch, with a menu that includes classic diner fare like pancakes and burgers.
Surf Taco: This local chain of casual Mexican restaurants serves up delicious tacos, burritos, and nachos, with a variety of fillings and toppings to choose from.
Shipwreck Grill: Located in nearby Brielle, this upscale seafood restaurant features a menu of fresh seafood dishes and a variety of other options, including steak and pasta dishes.
Mueller's Bakery: This family-owned bakery has been serving up fresh baked goods for over 100 years, including its famous crumb cake and jelly donuts.
Sweet: This ice cream shop and candy store offer a variety of ice cream flavors and toppings, as well as a selection of nostalgic candies and chocolates.
Conclusion
To wrap up, Sea Girt Beach is a great spot for beach lovers and those who want to explore everything New Jersey has to offer. From its beautiful ocean views to exciting activities and shopping on the boardwalk, it's an unbeatable destination. 
Before you head out, don't forget to pack a bathing suit and sunscreen for a day full of fun in the sun. Whether you're looking for a place to relax or find some adventure, Sea Girt Beach won't disappoint!
How much did you like Our detailed Sea Girt Beach (New Jersey) |Things to do & Boardwalk? Review Also, please share these Blogs with your friends on social media.
Recommended
Sea Girt Beach Map Directions
Sea Girt Beach FAQ