Explore Weko Beach | Bridgman, Michigan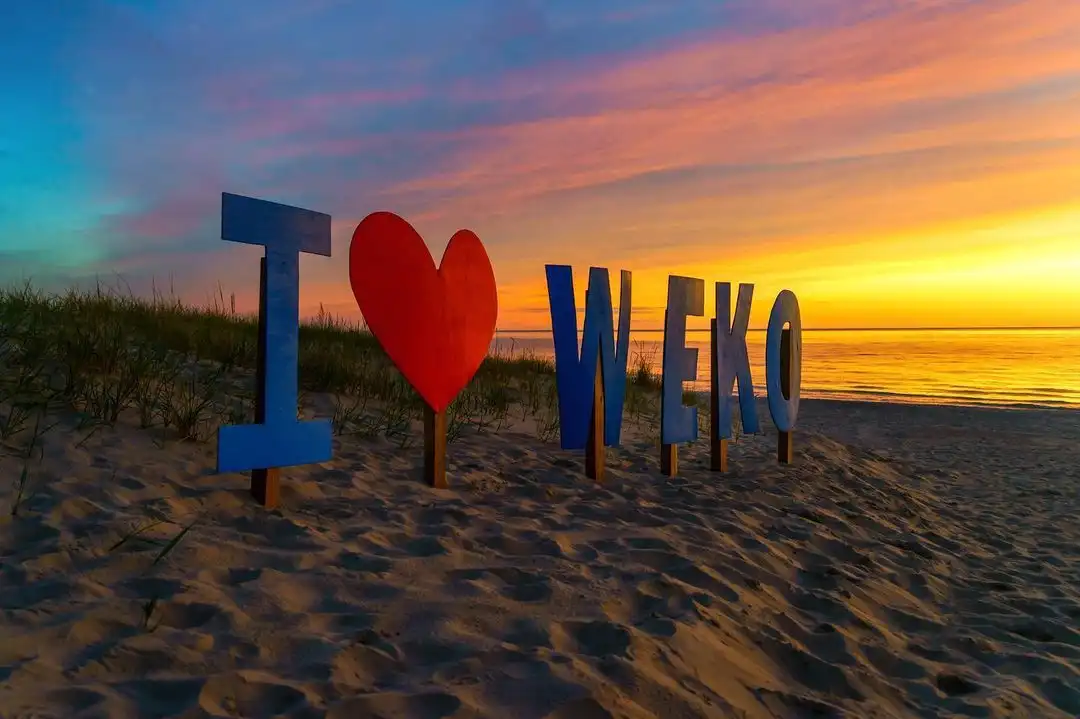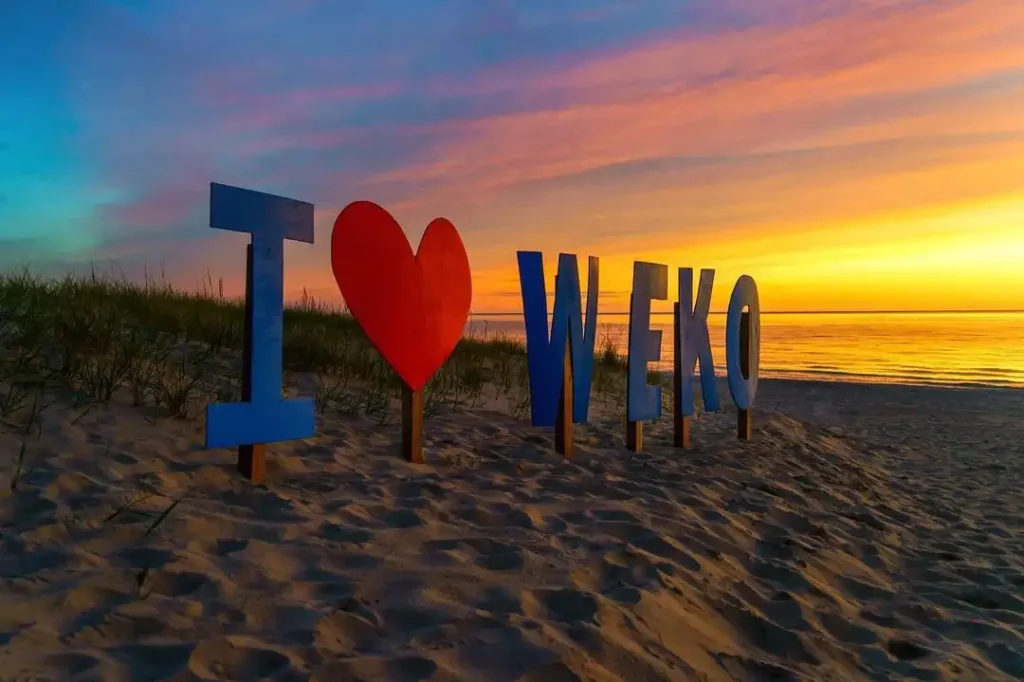 When you think of a beach, the clear blue waters and white sandy beaches come to mind. If this is what you're looking for in your next getaway, then look no further than Weko Beach in Bridgman, Michigan! This stunning resort overlooks Lake Michigan's breathtaking shoreline and offers endless opportunities for outdoor fun.
Whether it's swimming or sunbathing on the warm sand or jet-skiing around the lake; there are plenty of activities to keep you entertained during your stay here at Weko Beach.
And if it's the relaxation that you desire, don't miss taking some time out to savor breathtaking views of the sparkling waters while indulging in some iconic local cuisine along with music and laughter from all around—you won't regret spending some quality time rejuvenating yourself by immersing into nature! Join us as we explore what makes Weko Beach so special!
About Weko Beach & its locations
Weko Beach is a popular recreation area located in Bridgman, Michigan. It is situated on the shores of Lake Michigan and offers a variety of activities for visitors including swimming, sunbathing, and picnicking. There are several amenities available at Weko Beach, including changing rooms, showers, and restrooms, as well as picnic tables, grills, and a playground for children.
In addition to its beach and recreational facilities, Weko Beach is also known for its scenic beauty, with views of the lake and nearby dunes. The area is surrounded by lush vegetation and is popular for nature walks and bird-watching.
Weko Beach is located in the city of Bridgman, in Berrien County, Michigan. It is easily accessible by car and is a popular destination for both residents and visitors to the area.
How to Reach Weko Beach
Weko Beach is located at 5239 Lake St, Bridgman, MI 49106, United States. There are several ways to reach the beach, including by car and by public transportation.
By Car:
If you have a car, you can reach Weko Beach by driving directly to the beach. The beach is located just off Lake Street in Bridgman, MI. You can use GPS navigation or a map to find the beach's exact location.
By Public Transportation:
The nearest bus station is located in Bridgman, MI, and several bus lines run regularly to and from the station. You can use a public transportation route planner or ask the local transit authority for more information on the best way to reach the beach using public transportation.
If You are planning to visit the USA and looking for the best flight booking from your destination to Indonesia then, So we recommend you book your flight (Malaysia airlines)
Also, Read– Top famous Places to visit in Indonesia
What is Weko Beach Known for?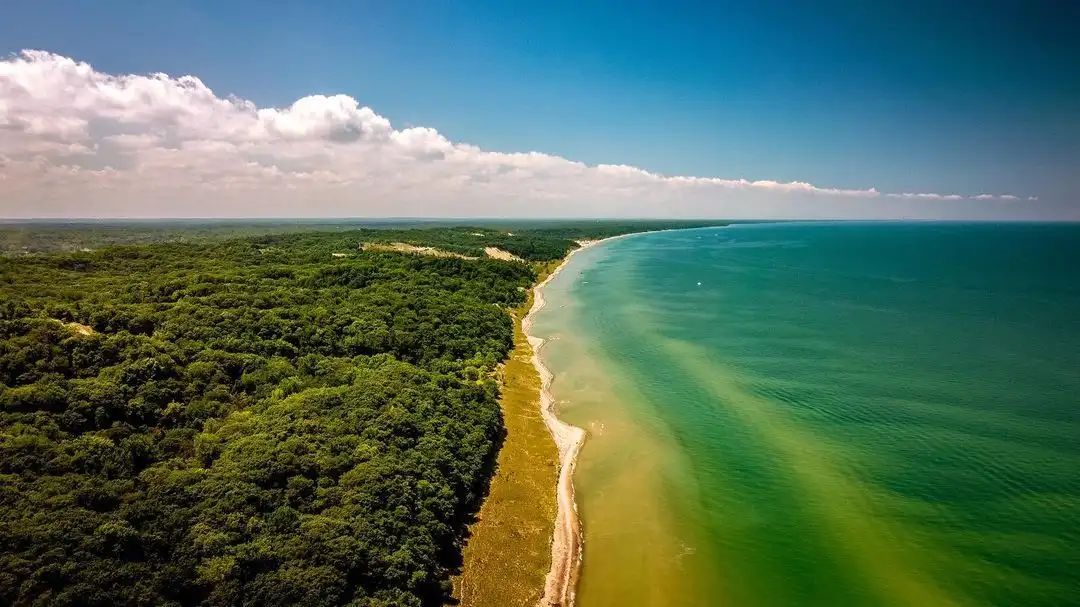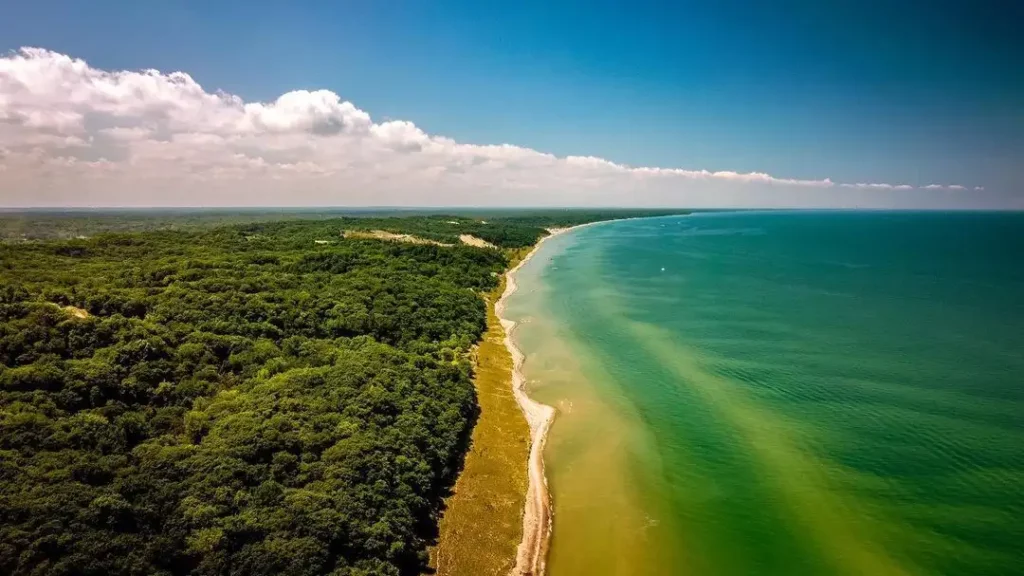 Located on the West coast of Michigan, Weko Beach has become known for its beautiful sunsets, winding trails, and bright white sand. The beach is beloved by locals due to its tranquillity and peace; visitors often feel like they're the only ones there with its lush green forest giving a sense of privacy.
Its unique topography draws in tourists from all over the midwest, seeking some rest without sacrificing small-town charm. What makes it truly special are its large layer formations along the shoreline – during certain times of day these layering structures serve as a magnificent backdrop to an unendingly beautiful view.
Read This– 100 Best Places to Visit in Maldives
Activities, things to do and see in Weko Beach
Weko Beach is a popular recreational area that offers a variety of activities and things to do for visitors. Some popular activities and attractions at Weko Beach include:
Swimming: The beach features a sandy shoreline and clear waters, making it a popular destination for swimming, sunbathing, and playing.
Fishing: Weko Beach is a popular fishing spot, and visitors can cast a line from the shore or rent a boat to go fishing in the lake.
Picnicking: The beach has several picnic areas with tables and grills, making it a great place to enjoy a meal and spend time with friends and family.
Hiking and Biking: The surrounding area of Weko Beach features several trails and paths that are ideal for hiking and biking. Visitors can explore the nearby parks and nature preserves for a chance to see the local wildlife and enjoy the natural beauty of the area.
Volleyball: Several volleyball courts are available at the beach, making it a great place to play and enjoy the sport.
Beach Parties: Weko Beach is a popular spot for beach parties and other special events, and visitors can often enjoy live music, food, and other entertainment during the summer months.
Must Read Post– Top 22 places to visit in Phuket |Thailand
Weko Beach Photos
Attractions Point Near Weko Beach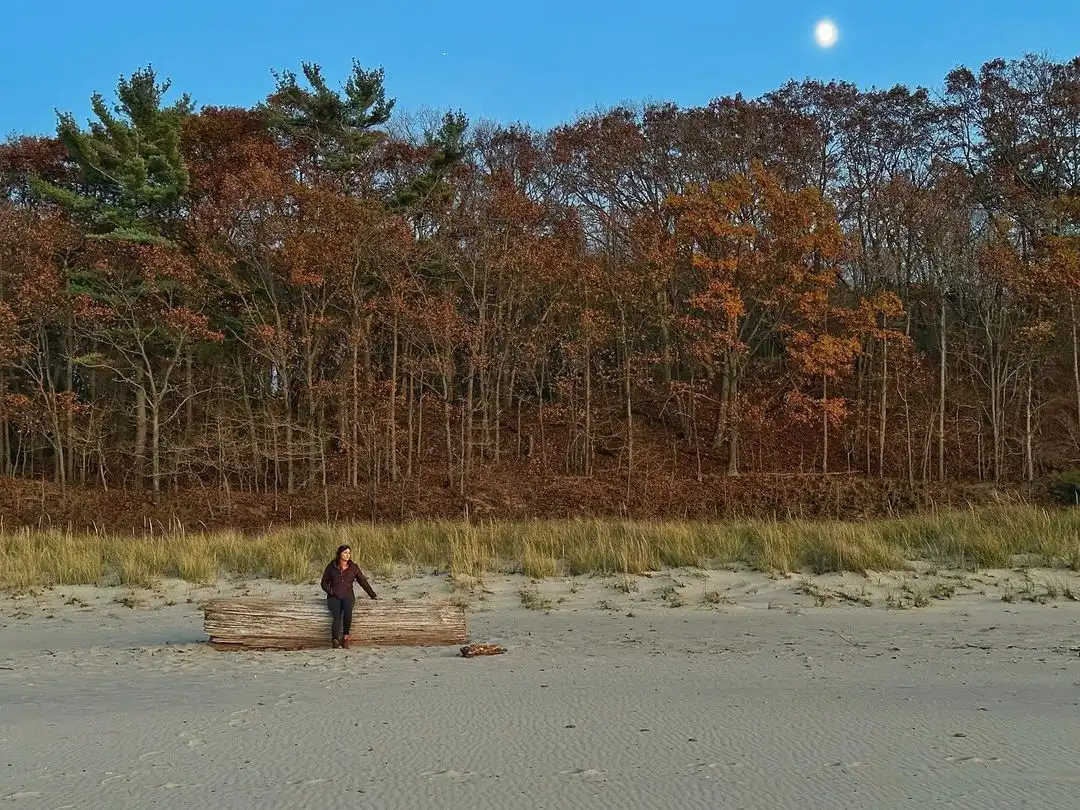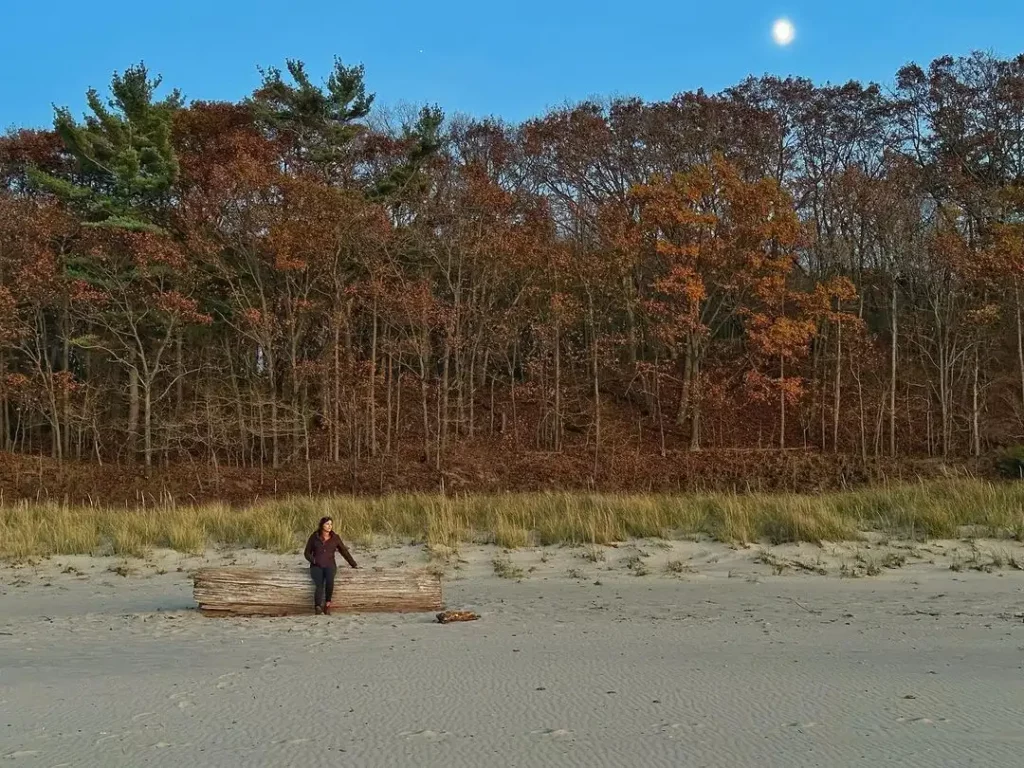 Several attractions near Weko Beach are located within a 10 km radius. Some popular places to visit include:
Warren Dunes State Park: This beautiful park is located just a few minutes from Weko Beach and features towering dunes, hiking trails, and a lakefront beach.
Galien River County Park: This park is located along the Galien River and offers visitors a chance to enjoy fishing, boating, and picnicking.
The Round Barn Winery: This unique winery is located in nearby Baroda and is housed in a round barn that was built in the early 1900s. Visitors can tour the winery, sample the wines, and enjoy live music on the weekends.
Four Winds Casino Resort: This popular casino resort is located just a few minutes from Weko Beach and offers visitors a chance to try their luck at the gaming tables, enjoy live entertainment, and dine at the many restaurants.
Accommodations and facilities at Weko Beach?
Weko Beach is the perfect place to relax and take a break from reality. Accommodations and facilities at this beach are top-notch – they provide their guests with everything necessary for a great getaway. The resort has dozens of comfortable rooms available, equipped with luxurious amenities like spacious beds, flat-screen TVs, and lovely balconies overlooking the ocean.
There is also an onsite restaurant that serves up delicious meals featuring freshly caught seafood and local cuisine; they even offer late-night snacks for those looking to munch before turning in for the night. 
Food to Eat
There are several delicious food options to enjoy near Weko Beach. Here are a few of the most popular options:
Beachside Snacks: At the beach itself, you can find a variety of snacks and light bites such as ice cream, hot dogs, sandwiches, and soft drinks.
Seafood: Bridgman and the surrounding areas are known for their delicious seafood, and several restaurants near Weko Beach specialize in dishes like lobster, crab, and fish.
Barbecue: If you're in the mood for barbecue, several restaurants near Weko Beach serve up delicious ribs, chicken, and brisket.
Pizza: Whether you're in the mood for a slice or a pie, you can find delicious pizza options near Weko Beach.
Ice Cream: If you're looking for a sweet treat, several ice cream shops near Weko Beach serve up scoops of your favorite flavors.
Things to Avoid
Weko Beach is a popular vacation destination, but there are a few things to keep in mind if you plan on spending some time here.
To ensure that your stay is enjoyable and safe, be sure to avoid swimming at night, as the visibility may not be ideal and there could be unexpected hazards lurking in the dark waters.
Additionally, make sure to always wear sunscreen regardless of the time of day – sunburns can quickly spoil an otherwise perfect day!
Finally, be aware of any wildlife that may be present – it's best to observe species from a safe distance rather than attempt to interact with them.
Once you remember these few simple things, you're sure to have a great time at Weko Beach!
Conclusion
To summarize, Weko Beach in Bridgman, Michigan is an experience like no other. With a breathtaking beach, plenty of swimming and sunbathing spots, a serene campground, and unmissable hiking trails, there's something for everyone at this incredible location. On top of all that, the town is home to some amazing local restaurants with food acclaimed by visitors all around the country.
How much did you like Our detailed Explore Weko Beach | Bridgman, Michigan? Review Also, please share these Blogs with your friends on social media.
Recommended
Weko Beach Map Directions
Weko Beach FAQ
Summer months
The best time to visit this stunning shoreline is during the summer months when warm weather brings a light breeze and temperatures reach a delightful average in the mid-70s. The endless days of sunshine dip down below 70 degrees in the evening, which brings out a spectacular collection of stars in the night sky.
24 hours a day
Weko Beach opens its doors 24 hours a day, allowing you to unwind on our golden sands with the sun on your skin or by watching the stars come out one by one in the night sky
$15 a day
For just a fee of $15 a day, visitors can easily park their vehicle close to the beach and enjoy their time there without having to worry about where they left their car.